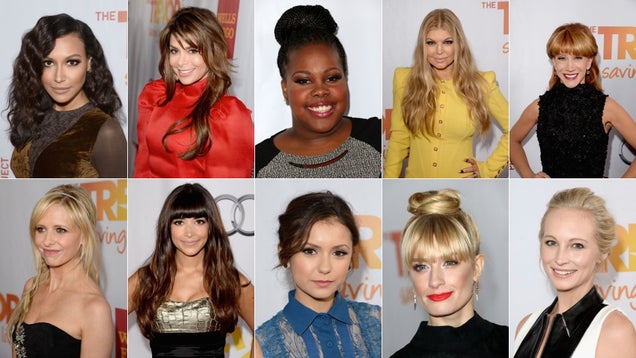 S
Last night in Los Angeles, stars gathered to celebrate the 15th anniversary of the Trevor Project — an organization and 24-hour hotline providing intervention and suicide prevention for LGBTQ youth — and to honor Trevor Hero Jane Lynch. The cause was good, the clothes were bad.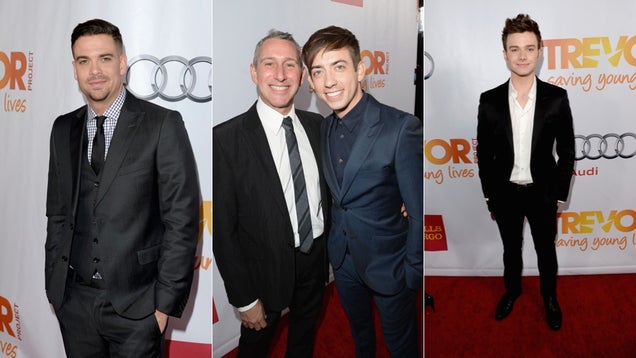 S
Starting with some men in suits: Glee's Mark Salling; director/choreographer Adam Shankman and Glee's Kevin McHale; Chris Colfer.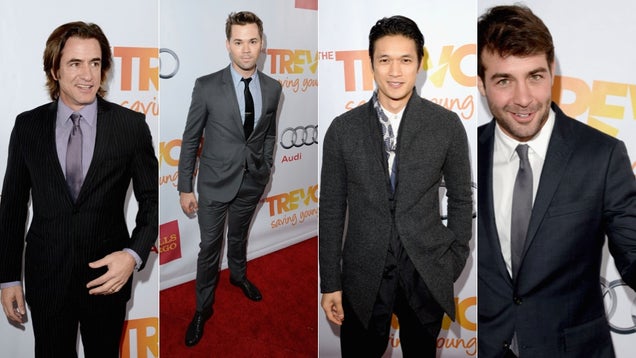 S
Long hair and lilac on Dermot Mulroney. Shades of gray for Andrew Rannells, Harry Shum, Jr. and Josh Wolk.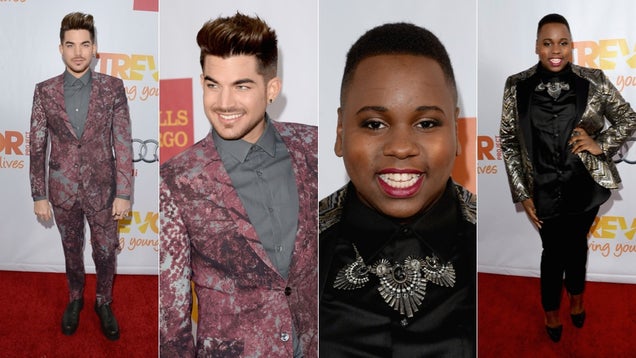 S
Bold patterns: Adam Lambert, Alex Newell. Bright lip! Bright lips >nude lips.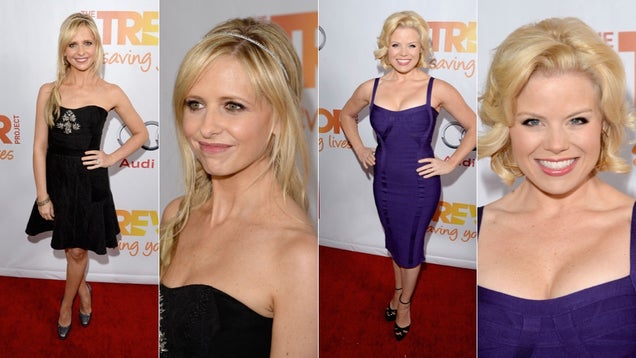 S
And now the ladies. We can start with some good stuff. Sarah Michelle Gellar's LBD is cute and Megan Hilty's LPBD (little purple bandage dress) is foxy.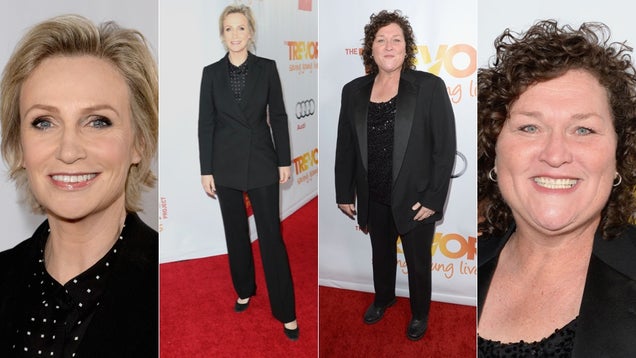 S
Jane Lynch and Dot Marie Jones are swellegant in tuxedoes with a twist.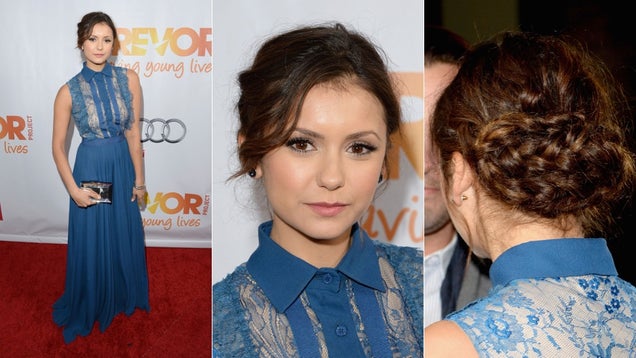 S
Vampire Diaries star Nina Dobrev in Little House on The Prairie goes Hollywood might be one of the best looks of the night. After the event she wore it to In- N-Out Burger.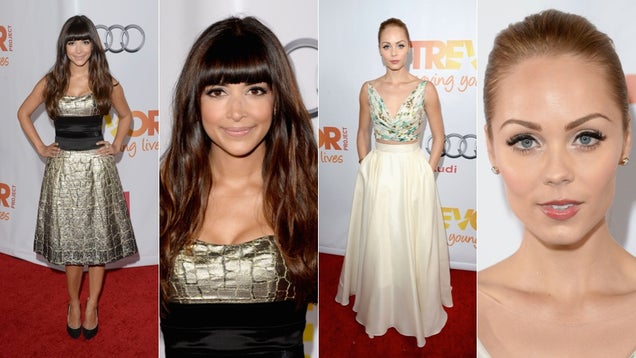 S
The dress on New Girl's Hannah Simone is shiny but slightly stiff. Sometimes two piece dresses are awkward, but Smallville's Laura Vandervoort pulls off the soft, romantic draping.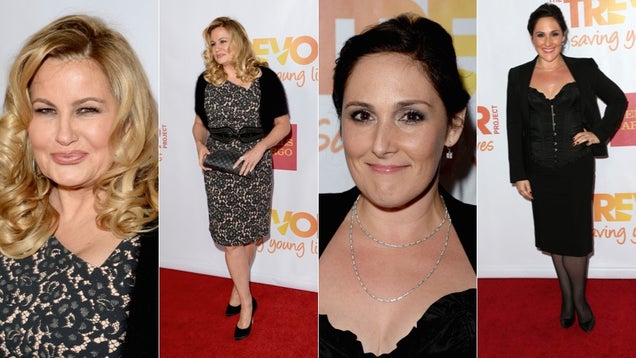 S
Jennifer Coolidge and Ricki Lake: Yes.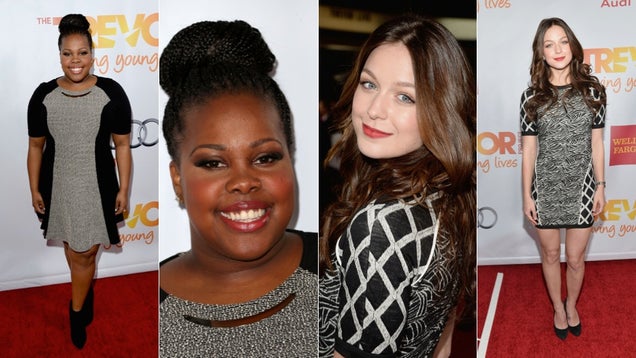 S
Nothing too exciting for Glee stars Amber Riley and Melissa Benoist, but their makeup is fab. Bright lips!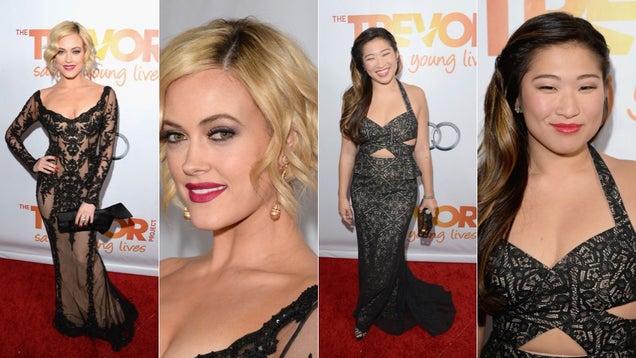 S
Here's where things start to do downhill faster than an elephant on a skateboard: The old-school bombshell vibe is great on Peta Murgatroyd of Dancing With the Stars but the beige layer is all weird and bunchy below the knee and around the hem, like her skin is melting off. Jenna Ushkowitz of Glee has some spectacular hair and lips, but the lining is popping out of the midsection of that vaguely unflattering dress. The neckline is great, the cut-outs are not. It's okay though: Bright lips!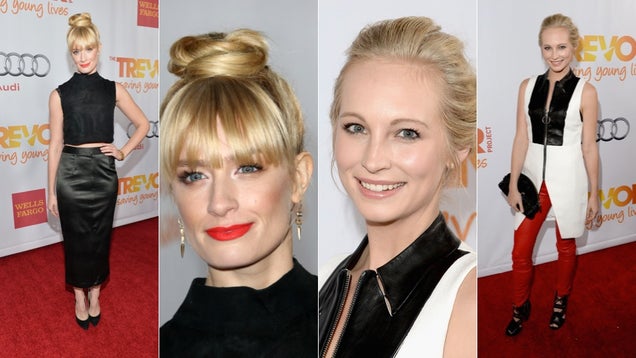 S
Beth Behrs of 2 Broke Girls in a crop top and shiny satin skirt: Eesh. BUT bright lips! The get up on Vampire Diaries' Candice Accola needs some more streamlined shoes.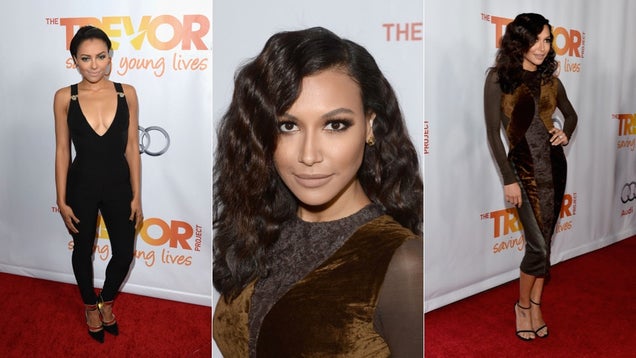 S
Apparently Katerina Graham didn't read our post about how jumpsuits make it impossible to pee. Meanwhile, Naya Rivera's excrement-colored velvet fights with itself.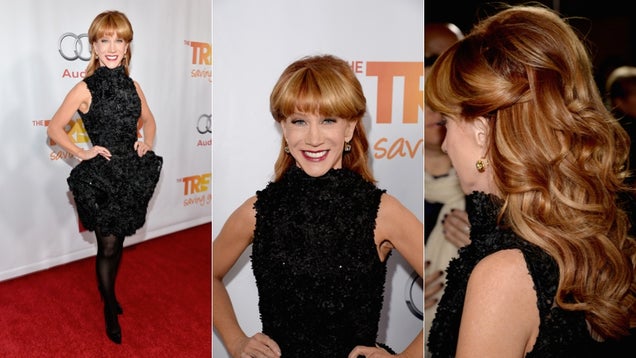 S
Kathy Griffin's hair is beautiful, but veers into wedding day/beauty queen/prom territory… Does it go with that edgy high-fashion exaggerated hip dress? Makes your waist look tiny, though, I guess.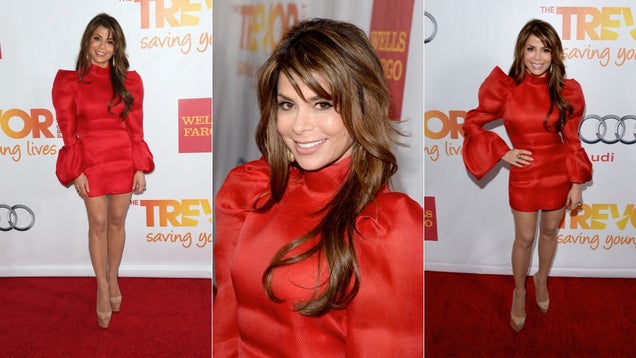 S
Ummmmm. Paula Abdul's got stiff fabric, a turtleneck, puffy shoulders and leg o' mutton sleeves that are also bell sleeves. She looks cute, somehow, but I'm quivering with the temptation to reach through the screen and rip those sleeves off.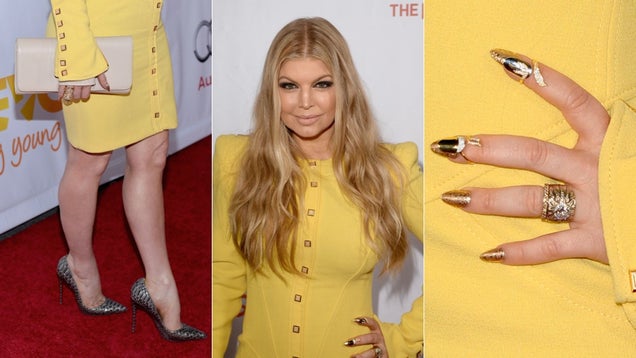 S
Last, but not least: Fergie in blinding yellow Emanuel Ungaro. Golden hair, gold buttons, gold rings, gold nails, snake heels. Hideous, eye-searing, painful. And yet! I've been watching old episodes of Dynasty and the squared-off shoulder pads are soothing in their nostalgia. So perhaps this is so bad it's good.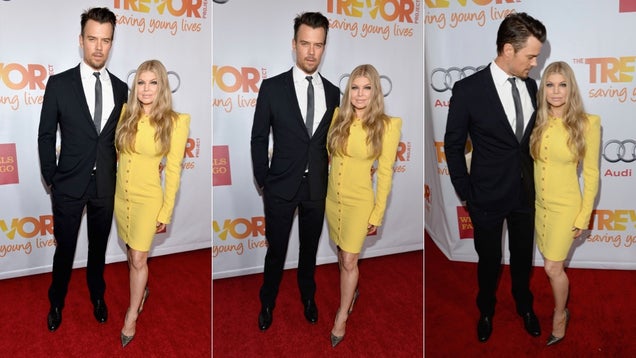 S
She and Josh are adorable!
Images via Getty.