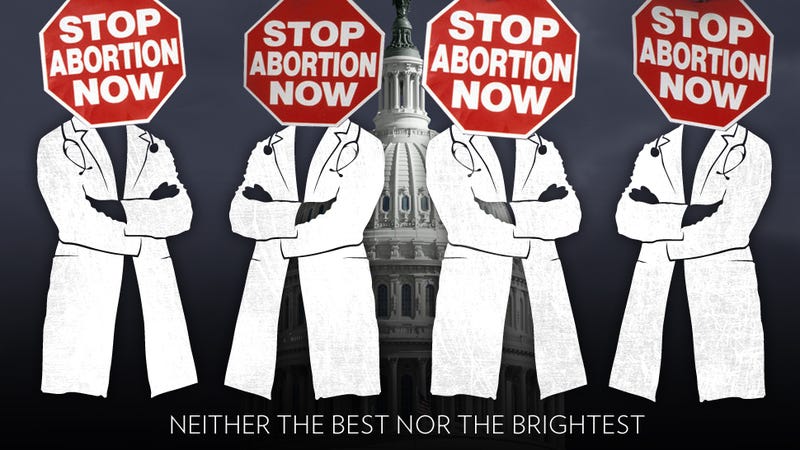 A frightening number of conservative politicians who gleefully support anti-abortion legislation and make horrifically incorrect statements about women's bodies are also OB-GYNS. Get to know your friendly lady-hating, M.D.-holding representatives so you'll be prepared if one of them tries to get your vote or stick a speculum up your crotch.
Dr. Michael Burgess, Dr. Tom Coburn, Dr. Phil Gingrey and Dr. Phil Roe all currently hold political office. They also collectively possess around a century of OB-GYN medical experience. What did female reproductive organs ever do to these men to make them so angry? But really: why do so many male OB-GYNs run for office and spend a significant amount of time pushing anti-women legislation?
The phenomenon "demonstrates the ability of political aspirations to trump scientific evidence and training," said Dr. Willie Parker, an Washington, D.C.-based OB-GYN who also works at the lone remaining abortion care clinic in Jackson, Mississippi. "These men know as well as anyone else what the evidence basis shows for most of the decisions they're making, but when it comes to politics, evidence doesn't seem to matter." By turning a blind eye, the politicians "are more dangerous because they have scientific and moral authority with the public as trained scientists," Parker said.
Some other doctors we spoke with noted that all four politicians are old dudes who probably (and purposefully) haven't kept up with the times. Dr. Suzanne Poppema recalled learning that women's vaginas and cervixes didn't have any nerve endings when she got her MD at Harvard in 1974. "It doesn't seem like much has changed since then, judging by these politicians," she said. "It's embarrassing."
Poppema, a retired abortion provider, associate professor of family medicine and the former chair of the board of the National Abortion Federation, said men who go into the OB-GYN field have always had a reputation for being "neither the best nor the brightest" folks. Why are they lured by the female reproductive system? "Maybe so they can have power over women," she mused.
And no better place to gain that power than the House and Senate! Here are the men legislating your uterus even though they should know better.
---
Michael Burgess, M.D., Thinks Your Fetus Is Masturbating
According to his official bio, the Texas Republican congressman spent 25 years practicing medicine as an OB-GYN in North Texas before he was first elected to Congress in 2002. He was unfortunately re-elected in 2004, 2006, 2008, and most recently in 2010. His political record proves that those 25 years he spent around women made him very protective...of "unborn children." Here are his thoughts on abortion from his website:
"I believe that human life is precious, and that government should protect innocent human life, not assist in its destruction. I am a member of the Values Action Team and the Pro-life Caucus, and I will support legislation to protect the rights of unborn children. Having dedicated more than 25 years of my life to a pro-life obstetrics practice, I believe that the United States Constitution is very clear when it guarantees a right to life."
Burgess argued this week that we should ban abortion after 20 weeks because male fetuses are masturbating in the womb by 15 weeks and therefore feel both "pleasure" and pain. This is a doctor speaking: