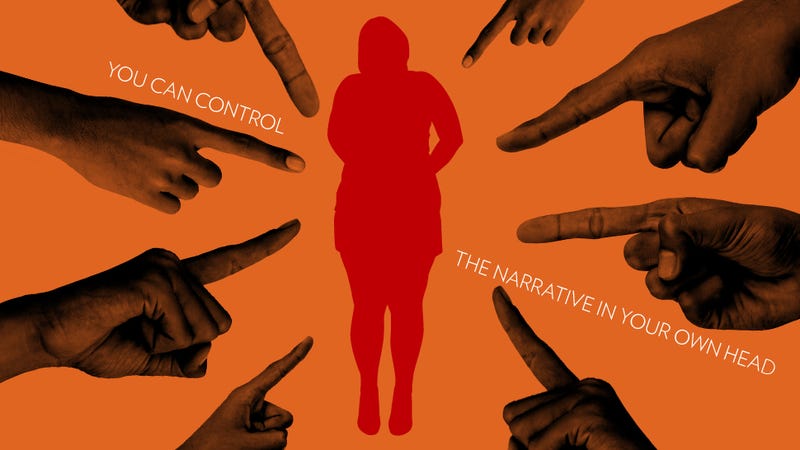 Another day, another opportunity to think about how much space you, as a woman, take up. That's how it feels when you can't throw a fat-burning supplement without hitting a visual about the losing of the weight or the gaining of the weight, and who gained what, how they look, how they lost it, and how you can, too. You can't control these images, but you can control the narrative in your own head. So the next time you get yet another message about weight that implies or outright demands that you consider your own, try thinking these things instead:
This is some bullshit right here.
When it comes to media pushing perfect people, if you're not skeptical, you're doing it wrong. The only right way to do it is with deep, trigger-happy skepticism. It's advertising — which means it's supposed to make you want something. That alone makes it squirrelly as fuck. If you don't train your brain to see that first and foremost, and to move cautiously forward if at all, then you may as well just hand over your wallet, dump it out, throw yourself onto the floor and ask someone to pelt you with rotten vegetables. So instead of feeling bad or even mesmerized by the flawless images, messages, and prescriptions for thinning yourself away, see it all as a super sad, cynical cash grab. Because that's what the fuck it is.
Do men have to put up with this?
Lean on Caitlin Moran's rule of thumb for whether something is worth getting all worked up about: Are the men worrying about this as well? When it comes to weight concerns, men are not advised to shrink themselves away. However, it's worth nothing what they are bombarded with: images of pumping up, boning up, manning up, dude-bro-ing it up. They inflate, we minimize. Viewed that way, it's even more cartoonish, and everything is dumb, and it's super dumb to do anything but laugh at it. Laugh at the little spectacle of capitalism trying to take your money.
Is this making me think about my weight or my health?
Simple question. Hard to put in practice. If, like anyone, you would like to be healthier (ACTUALLY healthy, as in stronger, fitter, better fed, able to do more physical things) and the message is helping you work toward that or inspiring you to that end with information or good facts, fine. Being healthy feels good. It makes you like your body! But that isn't about a number. If you're just wondering how much shrinkier you have to shrink to be considered more attractive based on the models you see doing Pilates on the beach, nope.
Why do I care?
Seriously, why DO you care? Are you paid to care? By that I mean, are you in a sexist, lookist industry where it behooves you to maintain a certain weight and be excited when Allure broadcasts that you only weigh 115 pounds? If so, are you able to separate that from your own personal feelings of self-worth? Do you still feel like a worthwhile person when you are not a perfect size -.5 or whatever that is?