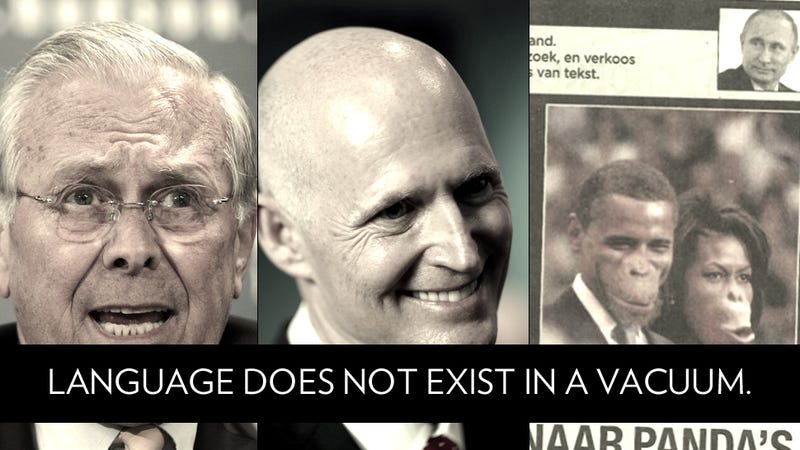 Here, just write this down and keep it in your wallet or something: If you ever find yourself fervently insisting that you, sir, are not a racist, NO INDEED, it probably means that you said something racist and you should apologize. Right now. Come on, we've been over this. So why are there three separate news stories in my feed today about indignant white dummies doubling down on racist bullshit?
The first comes to us from sunny(?) Belgium, where progressive newspaper De Morgen printed two "satirical" racist memes about Barack and Michelle Obama—one casting the president as a drug dealer and the other caricaturing the first couple as apes. The piece was satirical, the paper argued, because it was framed as a submission from Vladimir Putin: "the premise of their 'admittedly tasteless joke' was that the Russian president had been asked to submit an article about Mr. Obama but sent instead two racist caricatures." So, you see, it wasn't the paper itself making racist jokes about Obama, it was the imaginary Putin character that they created.
Writer Chika Unigwe has been criticizing the paper fiercely.
Now, I'd posit that it's possible to skewer Putin without disseminating patently damaging imagery that's been used to dehumanize and oppress black people (particularly black Americans) for centuries. I mean, I know it's tough—what could you possibly find to criticize about Vladimir Fucking Putin without throwing black people under the bus?