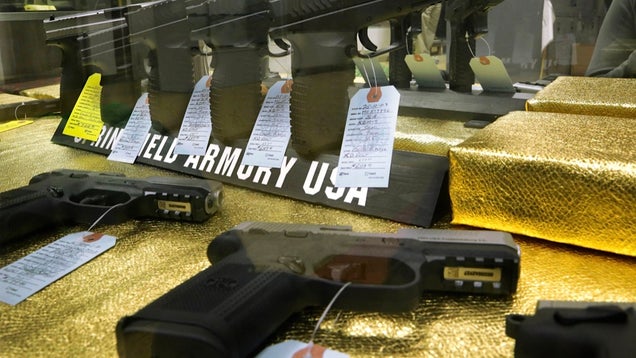 S
You guys, guns — and we really can't stress this enough — are incredibly dangerous. They're made specifically for blasting giant holes in living things, and they do it with a frequency that should alarm just about anyone who's ever watched Predator and thought, "Holy shit — Jesse Ventura just tore up part of a rainforest for the sake of a movie special effect." Last Friday, a Pennsylvania couple learned just how dangerous guns can be when, after a bout of casual drinking and a trip to the basement for inebriated target practice, a woman accidentally shot and killed her husband while he was showing her how to use a semiautomatic pistol
That story should strike you as fairly horrifying (for the most cynical and cinematic among you, it probably sounds awfully suspicious too). NBC Philly originally reported that the gun went off while the couple's 2- and 5-year-old sons were sleeping upstairs, a detail that adds an extra layer of bitterness to the entire incident.
According to Parkside Police Chief John Egan, Michael and Michele Wanko had been enjoying vodka and lemonade at around 9:00 pm on a Friday night when they decided that really the best nightcap they could have was a little casual gunplay. In the basement. Things took a turn from there:
"He took several of the weapons out, handguns and was demonstrating to her how the weapon worked as far as taking the magazine out, making sure it was safe, and how to pull the slide back," said Parkside Police Chief John Egan.

As Michael reached into a safe to grab a gun, police say Michele picked up another gun and pulled the slide back, just as her husband had instructed her.

"When she let go of the slide, the weapon went off," said Chief Egan.
Michael was struck in the chest. Emergency responders arrived at around 4:00 am and took Michael to Crozer-Chester Medical Center. Michele Wanko was subsequently charged with involuntary manslaughter, aggravated assault, and "possessing an instrument of crime." In other words, things have looked better for the Wanko family.
[NBC]
Image via AP, Seth Perlman