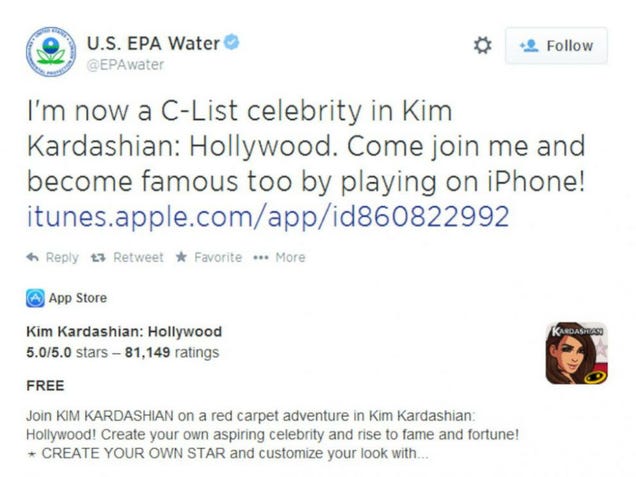 Are you completely obsessed with Kim Kardashian's Hollywood mobile game to the point that you have shunned your career, close loved ones and the advice of medical professionals? It turns out, you're in good company!
The Environmental Protection Agency's Office of Water is an agency that focuses on making sure our drinking water is safe. Also, they kind of suck at Kim Kardashian's Hollywood. On Monday night, someone seemingly accidentally sent out a tweet from the official EPA Water Twitter account. "I'm now a C-List celebrity in Kim Kardashian: Hollywood," the tweet read. "Come join me and become famous too by playing on iPhone!"
C-List? Pffft, whatever. You're obviously not serious about being a celebrity, @EPAWater. If you want to truly succeed at making your mentor Kim K. proud, you have to start worrying a lot less about boring water and focusing a lot more on getting the right makeover.
The EPA deleted the tweet a few hours later and sent a cute apology.
Whoops…our bad. Sorry about tweet. Upside - more attention for the Office of Water (http://t.co/GhuYcpwqwx), thanks @KimKardashian

— U.S. EPA Water (@EPAwater) July 22, 2014
But the now-deleted tweet caused a flurry of excitement all over the web because obviously this is the first our government has ever done anything remotely this fabulous.
I mean, who among us can honestly say they AREN'T playing the Kim Kardashian iphone game? cc @EPAwater

— Ashe Schow (@AsheSchow) July 22, 2014
Making the C-list on the Kim Kardashian game is the most efficient thing the EPA ever did https://t.co/ruZ66zH7RQ pic.twitter.com/K8p3OKb6e3

— Katie Notopoulos (@katienotopoulos) July 22, 2014
Alright. @EPAwater has done it - they've convinced me to start playing "Kim Kardashian: Hollywood".

— Rohan Harris (@expectproblems) July 22, 2014
You go EPA RT @EPAwater: I'm now a C-List celebrity in Kim Kardashian: Hollywood. Come join me and become famous too by playing on iPhone!

— Kate Nocera (@KateNocera) July 22, 2014
Congrats @EPAwater on your Kardashian game success. If you can solve Kim K's complex problems, you can do great things with our environment.

— Alex Kantrowitz (@Kantrowitz) July 22, 2014
"RT @FoxNews: @EPAwater staffer is using hard earned tax payer money to play Kim Kardashian game. Obama to blame??? #Benghazi"

— Z (@zara915) July 22, 2014
THANKS, OBAMA!
Hopefully whoever sent the tweet won't end up losing their job over this, because if that person is anything like most of us, they are likely heavily in debt from attempting to make their Kim K clone a true superstar.
Screengrab via EPA Water Twitter.