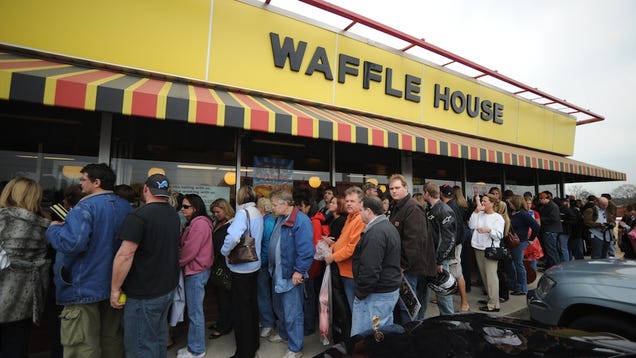 Sorry, Ann Coulter: Enthusiasm for the World Cup has spread so thoroughly across America that even the most Red State of breakfast institutions — the damn Waffle House — is currently calling for a boycott of Belgian waffles, in support of Team U.S.A.
Somebody please make a note that June 30 is the day that soccer went mainstream in America. Adjust your culture-war punchlines and Fox News chryons accordingly.
America plays Belgium at 4 p.m. this afternoon. So the Waffle House stepped up, according to UPI. Never mind that "Belgian" waffles don't exist in Belgium, and Waffle House is better for hash browns and patty melts, anyway:
We don't believe in Belgium waffles

— Waffle House (@WaffleHouse) June 30, 2014
We ready #USA #WEBELIEVETHATWEWILLWIN pic.twitter.com/Sfdg0zXyNJ

— Waffle House (@WaffleHouse) July 1, 2014
We dominate them RT @GBHunting: . @WaffleHouse what's your opinion on Belgian waffles?

— Waffle House (@WaffleHouse) June 26, 2014
"We support a boycott on Belgian Waffles," a spokesperson told TMZ. "We support America. We don't support Belgian Waffles." Hey, whatever distracts from headlines like this!

If you're close to any longtime American soccer boosters, you might want to check in and see how they're dealing with getting their deepest desire... only to face a bunch of dumb jokes about Freedom Waffles.