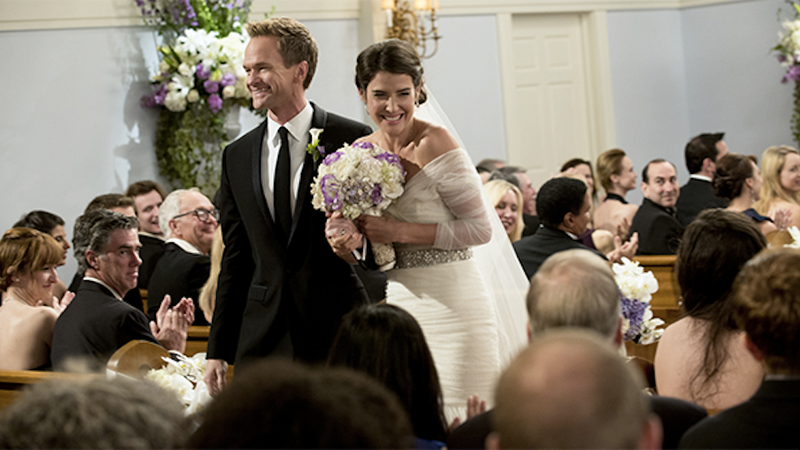 After what has amounted to a 9-year-long TED (Mosby) Talk, How I Met Your Mother will conclude next week with an hour long episode with a fuckload of fan hopes riding on it. But will devotees be satisfied with the ending? Nope. Because many fans don't want the show to end, period.
As Buzzfeed's Emily Orley points out in a manic series of questions HIMYM must answer for fans, the show's still left a lot of strings untied, and, chances are that the show won't have time to answer them all. It's just not mathematically possible. An hour long network show still has to leave space for the requisite ad time, and that leaves less than 50 minutes to answer more than 50 questions and do nothing else. No time for dramatic pauses, no time for hijinks. No time for fun. Not gonna happen, kids!
[Here be spoilers (drawing of an octopus telling a sea monster what happens to Omar in The Wire):]
Because this entire season has taken place over the weekend of Barney and Robin's wedding (with some flash forwards and flashbacks), many fans assumed that the final episode would involve the couple's wedding ceremony. Since that happened (successfully, but with hangups) last night, that leaves next week's finale's events in a big question mark shape. WHY DOES TED LEAVE HOW DO HE AND THE MOTHER MEET WHAT HAPPENS TO ROBIN AND BARNEY WHY ISN'T TED IN CHICAGO WHY IS TED TELLING HIS KIDS THAT STORY? IS THE MOTHER DEAD? IS TED DEAD? WHO IS DEAD GODDAMN IT?!?