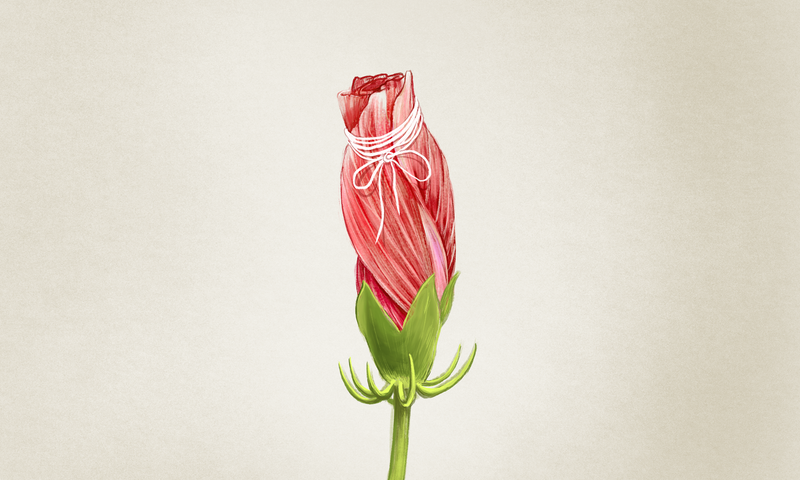 One's preference between tampons and pads is one of the many catty, teen girl gauges which separates the Cool from the Inexperienced. Cool girls can go swimming during their periods and not worry about anything falling out; they can wear white shorts without stressing about stains. Growing up, I obviously wanted to be that carefree girl, so there I was, 13 and bleeding profusely in the bathroom at my friend Julia's house. She stood outside the door, becoming increasingly impatient as she coached me on: "Becca, look at the diagram! Do you feel the hole? Put your leg on the toilet and feel the hole!"
"It won't go in!" I bawled, poking randomly at my crotch with the blood-soaked tampon––the cheap kind without an applicator. After about an hour of this emotional back and forth, I gave up and vowed to never try tampons again, until 11th grade, when I tried again with a plastic applicator. It went right in.
I never thought much about this event until my wedding night. My husband, Luke, and I were both virgins (we'll get to this later) and insanely excited to finally have sex. We had driven to a nice hotel from the wedding venue; I had put on sexy underwear for a sexy night—and then, agony. I knew breaking your hymen was supposed to be painful, but was there supposed to be blood everywhere? Was I supposed to cry? He tried to go in several times, but it was so painful that we finally gave up.
Wasn't your first time supposed to be sexy, like in Titanic? Over the course of our engagement, I had even read an Oprah Magazine-recommended book called The Guide to Getting it On to prepare for this hopefully orgasmic moment, but the guide had not instructed women what to do if your vagina was all but closed for business. I had been let down—by Leo DiCaprio, by Oprah.
Over the following week, every time we tried (emphasis on tried) having sex, the same thing happened. We eventually achieved penetration, but it left me bloody and throbbing afterwards. I talked with my other sexually active friends, and they assured me that it hurt at first, but as you stretched out down there, it would get better. Except it didn't. After a week or so, I stopped bleeding, but it still felt like my vagina was being ripped in half with each thrust. Luke was very understanding and didn't pressure me in any way, but I also wanted him to feel good. At the same time, however, I lost my libido almost entirely from so many continuously bad sexual experiences. My ability to satisfy and be satisfied hit rock bottom, and our sex life became almost non-existent.
Around this time, my friends and I had a bridal shower for one of the girls in our group. The rosé was flowing, and the conversation naturally turned to their sex lives. I had to excuse myself to the bathroom to do some good, old-fashioned silent-bawling. Isn't sex supposed to be one of the foundations of marriage? And what does it say about me that I can't even enjoy it? Would our marriage crumble because of my inability to receive a dick?
I researched my symptoms at-length on WebMD and Reddit and thought maybe I had a prolonged yeast infection, which apparently could cause pain during intercourse. Then I read a bunch of internet articles and promptly diagnosed myself with vaginismus, which is when your body involuntarily clenches its pelvic muscles so penetration is either impossible or incredibly painful. I attempted self-treatment by buying my first-ever vibrator to help stretch out and relax my muscles, but it didn't do a whole lot. We tried positioning a pillow under me during sex so the angle wasn't so drastic. We tested different lube types and brands, which helped some but not enough to solve the problem. I also tried relaxing during penetration, but it was difficult when it felt like your pelvis was being used as a battering ram. I even bought kegel balls to help strengthen my muscles, but they hurt too much to insert and remove.