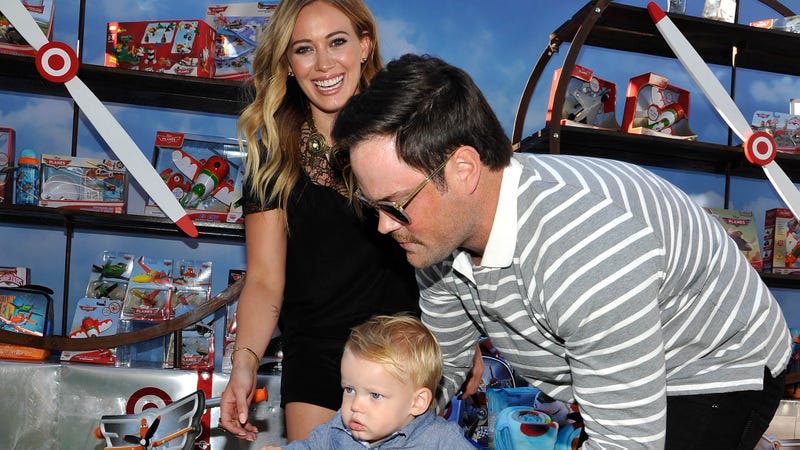 Hilary Duff and her husband of three years, NHL star Mike Comrie, announced today that they are amicably splitting up. Duff thanks you for your support and says that she and her ex didn't split for any particular reason except that they just didn't really want to hug and kiss each other that much anymore. They remain BFFs.
"Mike and I are sitting here,we are so appreciative for all of your kindness& well wishes. Not an easy day but we're getting thru it together," Duff tweeted.

Duff's rep sent the following statement to E! News in regards to the couple's split: "Hilary Duff and husband Mike Comrie have mutually decided to an amicable separation. They remain best friends and will continue to be in each other's lives. They are dedicated to loving and parenting their amazing son, and ask for privacy at this time."

A source close to the couple added that their separation is extremely friendly and didn't stem from any particular incident. They simply drifted apart over time, despite trying couple's therapy to fix their romance. They remain the best of friends.
Duff and Comrie have a son, Luca, who turns two in March. [E!]
---
Oh snerp! A pirated copy of The Secret Life of Walter Mitty has been linked to Ellen DeGeneres.
DeGeneres is hosting the 86th annual Academy Awards, which will take place March 2 and will be telecast by ABC. The Fox rep said the copy was definitely not an Oscar screener, as the studio forensically watermarks those copies differently.

Asked for comment, the executive producers of "The Ellen DeGeneres Show" said they were not certain whether the copy in question was "leaked from the show or not," but said that "we are doing everything we can to find out and to make sure it never happens again."

"Our show is sent advanced screeners of movies, sitcoms, reality shows, CDs, etc. before guests appear on our show," the show's producers said. "We do everything we can to protect the content and in 11 seasons nothing has ever leaked online from our show."
If found guilty of pirating media, DeGeneres faces ONE MILLION YEARS IN PRISON. #spitballinghere #notalawyer [Variety]
---
Kim Kardashian is seh mahd that you guys said she Photoshopped those workout pics that she obviously Photoshopped. SHE JUST WORKS REALLY HARD, OKAY!?!? AT SQUATS! AND BREHVERY! SHE IS SEH BREHV AND KIND TO SQUAT SEH MACH FOR YOU GUYS'S'S'S THINSPIRADO AND HER BUTT IS THE BAHST WITHOUT COMPUTAHRS SO YOU CAN JUST SHAT AHHHHPPPPPP!!!!!!!