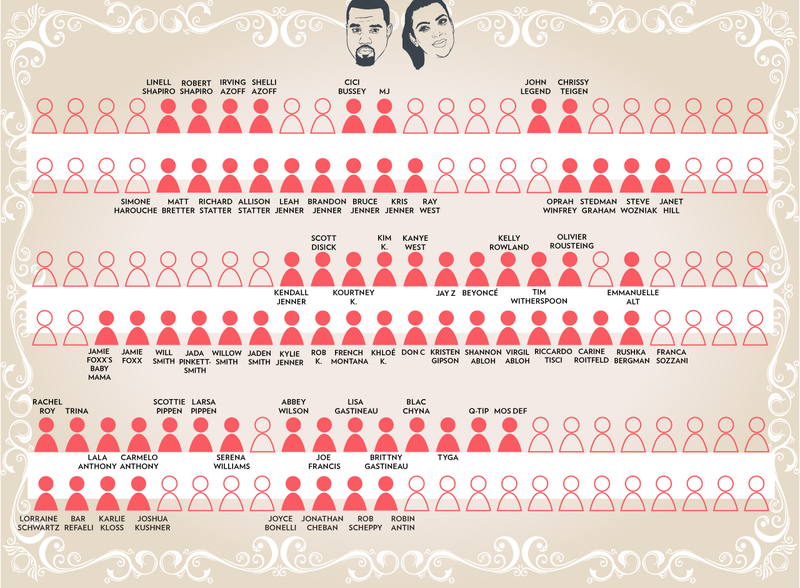 As various guests arrive in Paris for what's shaping up to be the wedding of the century, it's becoming pretty clear that there are bound to be some very awkward encounters at Kim and Kanye's reception. Between the bitter exes, opposing litigants in multimillion-dollar civil trials and professional rivals in attendance, Kimye's seating chart was a bitch to arrange.
Doing a seating chart for any wedding is a hellish, miserable time-consuming, unrewarding experience. But it's so much worse to arrange a 200-person dinner where there's more beef between the guests than on the plates.
We went with three banquet tables, because they're fancy and not so communal, keeping "problem" guests out of sight—and out of the restroom route—of people who'd rather not bump into them. We've identified some of those "problem" guests below.
Rachel Roy
Rachel Roy's history with the Knowles-Carter family has already sullied one formal event this month, so she probably should be placed far away from the couple. As far away as possible.
You see, Roy was an intern at Rocawear, the clothing label founded by Jay Z and his former business partner and friend Damon Dash in 1999, where she met both men. Later that year she gave birth to Dash's daughter Ava, but the couple broke up when Dash began a relationship with Aaliyah in 2000, to whom he was engaged when her life was tragically cut short in a 2001 plane crash.
Jay Z dated Aaliyah briefly in 1999, just before he met Beyoncé. Apparently it was typical for he and Dash to date the same women, which has added fuel to the rumor that Jay and Roy were also an item at one point in time. Roy and Dash eventually got back together, married in 2005 (the same year she launched her eponymous fashion line) and had another daughter in 2008 before divorcing in 2009.
In 2012, Roy was good friends with Beyoncé's sister Solange, but that relationship ended abruptly and quietly that year. All three women had words at the 2014 Met Gala after-party, an exchange that reportedly sparked the now infamous elevator fight. The day after the fight, Beyoncé posted a few photos of herself wearing an Aaliyah sweatshirt (which many fans thought was a jab at Roy) before posting a prayer about troubled relationships. After her argument with the Knowles sisters became public knowledge, Roy tweeted a Jay Z song title to promote her clothing line, which many interpreted as shade.