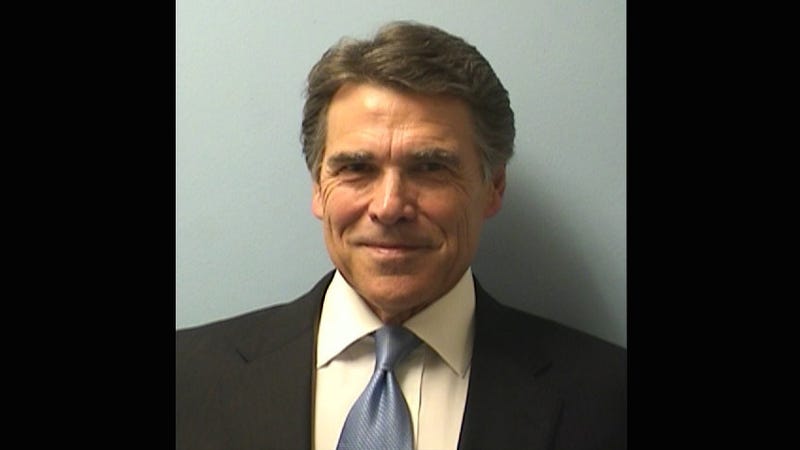 Aaaaaahahahahahahaha. Hahahahahaahahaaha. Haa. Hahaha. Hahahaahahahaah. Haaaaaaaaaaaaaaahahahahahahahahhaaa. Hahahah. AHAHAHAHAHA. HAHAHA. Hahahah. Hahaaahahahhahaahhaa.
Gov. Rick Perry, R-Texas, turned himself in Tuesday afternoon to be booked and have his mug shot taken at the Travis County Justice Center. The governor wasindicted last Friday on two felony counts of abuse of power, which he called "baseless political charges."

"I'm here today because I believe in the rule of law. And I'm here today because I did the right thing," he said as he entered the courthouse.

"I'm going to enter this courthouse with my head held high knowing the actions that I took were not only lawful and legal, but right," Perry added, promising promised that he would veto funding for the Travis County-based Public Integrity Unit again if was given the chance.
Aaaaaaahahahahahahaaha. Haha. Haaah. Haaahahahasldkjfhlasdfhlsd. [CBS]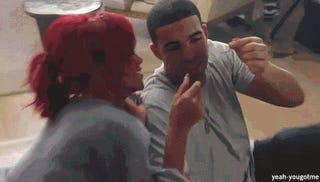 Rihanna and Drake were in the same room for a little bit, then didn't leave together. Which means they're DEFINITELY BANGING, apparently.
The former couple hit up Griffin nightclub in NYC Monday night ... and according to photogs they were there for nearly 2 hours and left at around 3 AM — 21 minutes apart.

Eyewitnesses inside the club tell TMZ ... Drake and Rihanna had tables next to each other and were deep in conversation, flirtatious and whispering in each other's ears.
THIS IS LITERALLY THE LEAST INTERESTING COMBINATION OF WORDS I'VE EVER HEARD, AND I WENT TO THE CHARLIE SHEEN COCAINE BLOVIATION JAMBOREE LIVE. [TMZ]
Kevin Smith and Johnny Depp are going to co-star in an action-adventure movie called Yoga Hosers. [THR]
Here is some information about Paul Rudd's Ant Man. [USAToday]
Peter Capaldi says working on Doctor Who is "fabulous." [JustJared]
French Montana clarified that he is not dating Khloe Kardashian for her many Kardashibucks, also talked about the time he got shot in the head. [Us]
Paul McCartney and Jamie Foxx got together to do this elfish jig. [People]
Selena Gomez ate lunch while wearing something called "hot boots." My grandma wears those for her circulation. [JustJared]
Speaking of boots, lol @ Superman. [JustJared]
Kim Kardashian took Mason Disick on a walk and it was pretty fucking cute. [E!]
Kevin Hart ran into his ex at a strip club. [TMZ]
Image via Travis County Sheriff.