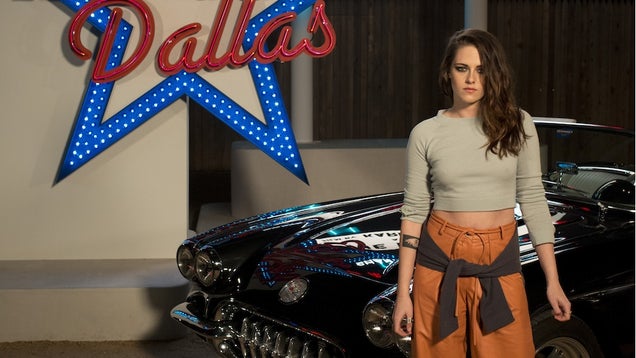 S
Expect to see Kristen Stewart's perma-scowl plastered over even more magazines next year: Refinery 29 reports that the starlet formerly known as Bella Swan will be the face of Chanel's Paris-Dallas 2013 Métiers d'Art Collection when it rolls out in May 2014. (Time works differently in the fashion world, folks.)
She appeared last night in Dallas at a fashion show/camped-up hoedown to launch the collection, wearing orange leather pants by Chanel. Fashion!
As for why Dallas, the Metiers d'Art is a luxe annual showcase for the brand, which honors different locales each time. Vogue says Dallas and the American West won out this year because of the outsized role Texas played in the company's post-war relaunch. No one seemed particularly excited about Chanel's 1954 comeback collection—except America. Dallas-based Neiman Marcus in particular helped keep the company afloat, and in 1957 Coco Chanel was warmly welcomed on a visit to the city.
Unfortunately, it seems when styling the fashion show Lagerfeld and Co. were unable to restrain themselves from, yup, face paint and faux Native American headdresses.
This really ought to class up the (supposed) feud between KStew and Dior emissary Jennifer Lawrence.
Image via Getty Images