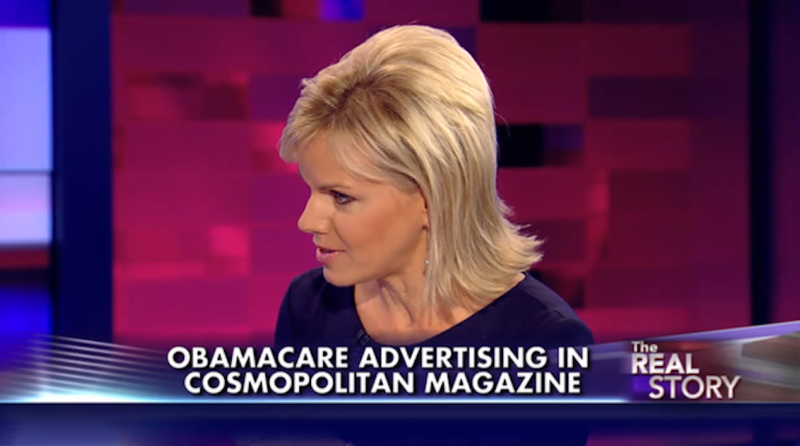 Just three days into her new show The Real Story on Fox News where she's trying to "hold everyone's feet to the fire," Gretchen Carlson pulled out the big guns by hosting a "power panel of women" that included former Real Housewife of New York Jill Zarin and new Miss America Nina Davuluri. The women decided to tackle the important issue of what it means that the Obama administration is advertising the Affordable Care Act in Cosmopolitan magazine. Tell us Gretchen: what does it mean?
First off, Carlson never actually defines her terms: is she discussing editorial or sponsored content? Is she concerned with an actual ad in the pages of the magazine or Cosmo's recent feature entitled "Top 8 Ways Young Women Benefit From Obamacare"? Or they discussing this piece called "5 Important Questions About the Affordable Care Act"? If Carlson had given her panelists or viewers any context at all, it would probably have been clear that she was referring to the White House's decision to reach out women's magazines and pitch them on writing stories about the ACA, as reported by the LA Times earlier this week, which, just FYI, is a thing that happens every day at every media organization everywhere, including Fox News.
Though Carlson did not explain this to her viewers or even her guests, that didn't stop her from making it clear that "in order for Obamacare to succeed, it needs to get the right demographic to enroll: people who are young and healthy" and telling young women "it's your money" that will make this work. "There's ways of messaging and then there's ways of really messaging and one thing you have to give this administration credit for is that they're good at messaging," says Carlson. "But is it correct to do it in this way without telling all the details?" Good q's Gretchen! Unfortunately, we have literally no idea what content you are talking about!