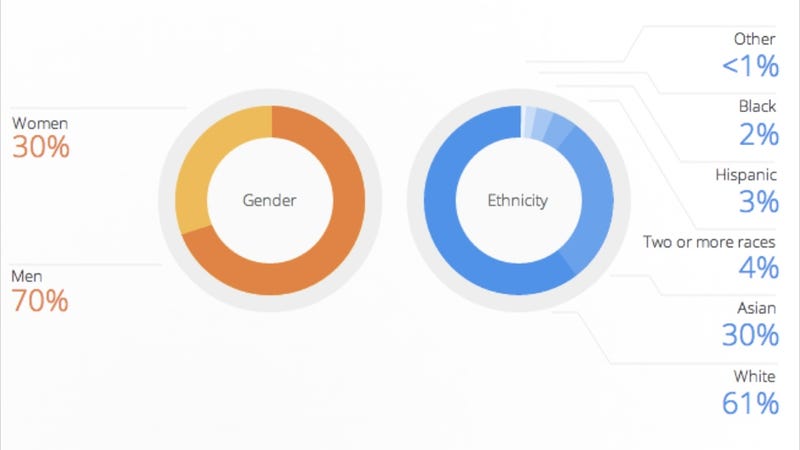 After years of pressure, Google has released the breakdown of exactly who works for them. To Google, these numbers show that the company is being transparent about the strides they're making to address a real issue. To everyone else, they're pretty much better late than never.
"We've always been reluctant to publish numbers about the diversity of our workforce at Google," Laszlo Bock, Senior Vice President of People Operations (aka hiring, for people who don't work at a company that has People Operations) wrote in a blogpost Wednesday. "We now realize we were wrong, and that it's time to be candid about the issues. Put simply, Google is not where we want to be when it comes to diversity, and it's hard to address these kinds of challenges if you're not prepared to discuss them openly, and with the facts."
The facts don't look good for the company: Google (which has over 26,000 employees) is globally 70 percent men and 30 percent women. In the US, it's 61 percent white and 30 percent Asian, with tiny percentages of black, Hispanic and mixed race employees. Leadership is not much better: 79 percent of people holding management roles in the company are men and 72 percent are white.
The breakdown between tech and non-tech jobs is, unsurprisingly, where the real divide at Google lies. 83 percent of their tech jobs are held by men and 17 percent by women. But on the non-tech side, the gender split is almost exactly 50/50.
Bock told Gwen Ifill at PBS's Newshour that a major block to Google's hiring practices is a "pipeline" problem. Bock basically reiterated a commonly stated complaint that the company struggles with hiring diversely because they don't have the candidates available. He also said Google released these numbers because "we kind of felt we had to" (perhaps because people have been bothering them about it for ages):