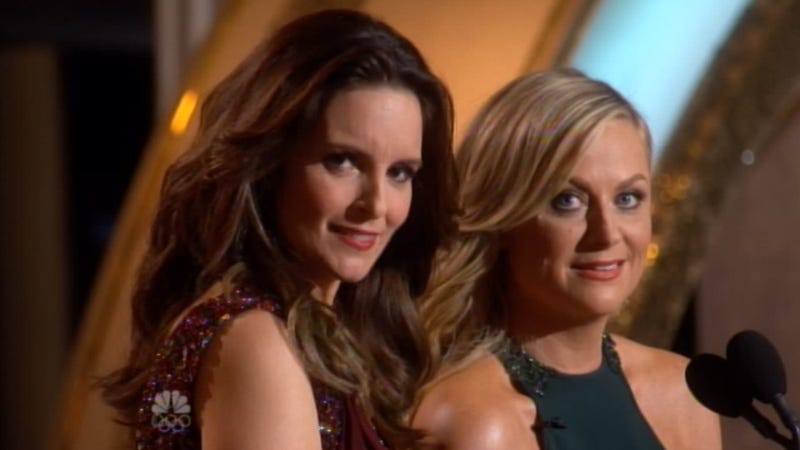 One of the biggest parties in Hollywood is about to begin. Are you ready?
From 6pm til 7pm we're going to watch red carpet coverage on E!; at 7pm we'll swap to NBC and at 8pm the big show begins.
6:01 First Ryan Seacrest interview: Zooey Deschanel. She's got a flower in her hair and daisies on her nails.
6:05 pm Hayden Panettiere and Kelly Osbourne are both doing slick hair tonight. Kelly has already had some dress drama.
6:11 Apparently there is a Vine booth on the red carpet. A booth that just makes Vines. We're living in the future, people.
UM…
Giuliana has some MASSIVE diamond earrings.
From a story about the sewage spill:
We can confirm that there was a malfunction with a sprinkler near the red carpet. The situation was quickly resolved. Despite the incident the red carpet will open at its regularly scheduled time. As some of the biggest names in entertainment are scheduled to attend the Golden Globe Awards tonight, we wanted to give the carpet one last wash before it opened.
As Ryan Seacrest points out, wet carpet + couture gowns = HOT MESS. (I'm paraphrasing.)
6:21 Sarah Hyland is doing milkmaid braids. She says she and Taylor Swift will be hitting the after parties. You're not invited.
6:27 Yes. Lupita. Thank you.
6:32 Lena Dunham says she's been "starving for days" but that she just ate a patty of hamburger meat. She also says she can't make an S with her body the way she's supposed to.
6:33 If your TV just exploded it's because Lupita Nyong'o is a burning hot firecracker. Stay calm.
6:39 Elizabeth Moss just flipped off the mani-cam.
6:44 Amy and Tina! Apparently the first six minutes of the show are going to be something special. Tina claims that she can't walk in her dress so she's going to roll down the stairs like Leo DiCaprio in Wolf of Wall Street. Amy says that's because they're both on Quaaludes.
6:50 Leo has arrived!
6:56 I am really into Amy Adams' hair.

ALERT ALERT ALERT Pregnant Kerry Washington
7:10 Bradley Cooper is very tan. He looks rested and gorgeous. Where have you been hanging out, Bradley Cooper? In the Caribbean? Why didn't you take me with you?
7:12 Meanwhile. over on NBC, Zoey Deschanel told Carson Daly she had a cookie for breakfast.
7:17 Guys. Jared Leto's hair. The flowing man bun.
7:25 Olivia Wilde — who is pregnant — on getting dressed: "I've never had boobs before."
7:27 Drew Barrymore just mouthed the words "I love your hair by the way."
7:28 Julia Roberts is wearing black and white… She's chosen that palette before.
7:29 Taylor Swift's Carolina Herrera dress: Not feeling whelmed by it.
7:31 Jennifer Lawrence to Taylor Swift: "I was going to push you down the stairs…"
Here's a gif of JLaw creeping up on TSwift. Delightful.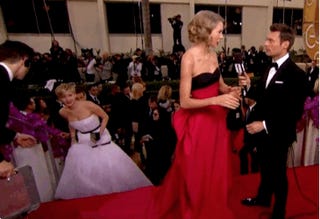 Zoe Saldana's ring:
In case you missed it: Jennifer Lawrence's bracelet fell off!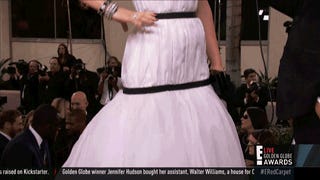 Sofia Vergara: "My dress is so big it's like a tent… I am smuggling Colombians underneath."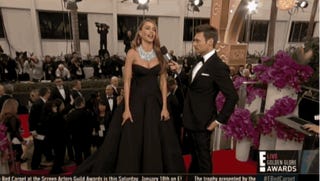 Ok the show is starting!
8:03 Meryl Streep makes the best faces. The best.
Julia Louis-Dreyfuss makes a fantastic haughty bitch.
8:11 Our first winner! Jennifer Lawrence now has an award for saying "don't put metal in the science oven."
So… Lupita didn't win. Not surprised, really, but it's pretty shameful.
8:26 Elisabeth Moss wins for Top Of The Lake, Jessica Lange plots her demise.
8:36 Jonah Hill and Margot Robbie got the wrong teleprompter lines and were very cute about it.

But then Paula Patton was attacked by a giant sea slug. And no one saved her.
Aaron Paul gives Breaking Bad fans just what they need:
ANOTHER man bun? Man updo? Told you: The future of manliness is feminine. (It's Alex Ebert, winning for Best Original Score for All Is Lost.)