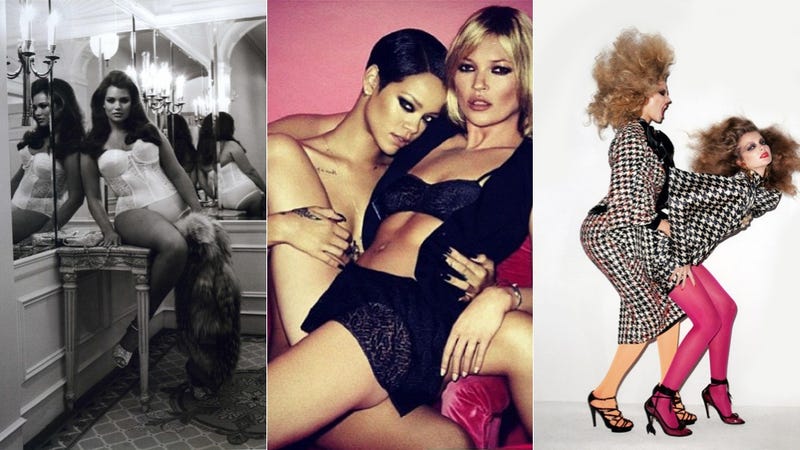 Fashion magazines are filled with pictures of extremely hot women. That is literally their business model. And yet — even though they're ostensibly marketed to women, by women — the idea that those pictures might be sexually appealing to women is something our culture is surprisingly resistant to.
Case in point: at Fashionista, Tyler McCall examines the way that the term "girl crush" has become the fashion world equivalent of the locker room favorite "no homo." As fashion writer Nicolette Mason points out, the suddenly ubiquitous term manages a similar anxiety: it allows a woman to "show appreciation for somebody and the bottom line being that you don't want to be mistaken as actually being interested in that person."
Notably, the logic of the "girl crush" is hardly a new thing — as Reina Lewis and Katrina Rolley argue in Ad(dressing) the Dyke: Lesbian Looks and Lesbians Looking, fashion has long instructed women in "consuming other women's bodies, in assessing and responding to the desirability of other women." However, "this process has often been understood as one of passively identifying with the woman who is the subject of the active male gaze/sexuality." Although fashion so often showcases and celebrates the eroticized female form, it sets up an assumed male gaze as a barrier against lesbian subtext — placing the sexualized women who appear in fashion imagery into a safely heterosexual/performative/fantasy mold. Below is one particularly literal example from Purple magazine issue 12, shot by the repugnant Terry Richardson. In one photo, he fake-cries, joke-sad that he's left out of the Sapphic fun; in another, he's back behind the camera and the models perform homoeroticism for him; in a third (NSFW), the three naked women grind against each other, lasciviously gazing into the camera, while he — fully clothed — gives a thumbs up:
Lewis and Rolley also note the tendency to set particularly erotic all-women editorials in a brothel or boudoir setting: as they wonder, "where does this leave the presumed heterosexual female viewer who, within this narrative, can surely only be positioned as either client or colleague?" If the viewer is meant to identify with the women in the spread (as prevailing logic would insist), there's a strong chance that she might also identify with "the possibility of lesbian experience in a world without men." However, models in such shoots don't typically look at or really interact with one another. For example, take Vogue Italia's "curvy" issue — in the featured editorial (NSFW), three female models languish about in various, highly eroticized states of undress, but whenever they're together the only real connection they have is with the camera.
The internalized male gaze is especially apparent in lingerie spreads and ads: fashion writer Arabelle Sicardi notes that "a lot of the advertising that goes into lingerie and basic undergarments always relates back to the dude and his boner, which is really boring." The Lingerie Lesbian has also written extensively on her frustration's with the fashion industry's tendency to be "provocative" using same-sex imagery: