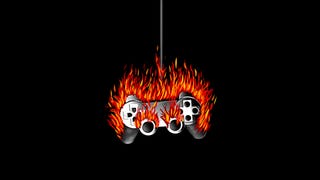 The #Gamergate community is a hate group. Let me explain why.
My name is Jennifer Allaway. I'm a social researcher whose primary body of work consists of a study I did in 2013 on the prevalence of sexism in the game industry, and how it impacts game content. Since then I've been working on a new study on the importance of diversity in game content to game players, and whether or not the game industry is able to predict this desire.
Game developers can be hard to reach for data collection, so a few different organizations have been passing around links to help me collect data for this study. By September 25th, I basically had all the data I needed.
And then I got this email.
I was nervous that the #Gamergate community had found my work; this email came the day after a few people had been tweeting #Gamergate at me. I went into 8chan—the movement's current and primary forum for coordinating their efforts—and found a discussion on a "secret developer survey," referring to my questions. It was getting passed around, accumulating criticisms and promises to respond. Within it I found the following comment, which confirmed my suspicions about what "vote brigading" meant.
In under four hours, the developer survey jumped from around 700 responses, which had been collected over the course of a month, to over 1100 responses. The responses were not nearly as subtle as the anonymous poster above urged. They ranged in their degree of racism and misogyny, but they all all ridiculed the project with dishonest mockery. It appeared that less than 5 percent of the new responses had actually come from developers.
There were also responses like this:
After months of watching this happen to friends, colleagues, and role models, the lie I'd told myself every night—that I would be exempt—finally fell apart. I set about locking down accounts, emailing professors, contacting campus safety, and calling family. It was an exhausting process, but I considered it necessary. The attack could get out of hand. I mentioned offhand to my sister, about two hours in, that "it was getting to be my turn anyways," to nonchalantly minimize my hurt. That was the moment I broke down.
I realized just how much I'd internalized the presumed process: if you're even asking about equality or diversity in games, being shouted down in a traumatizing manner is now a mandatory step that you have to sit back and endure.
But I don't hate #Gamergate for what they've done to me. I'm a researcher; my goal is to analyze and to understand. And after two weeks of backtracking through the way they've carried out their operations, this is the conclusion I've reached:
#Gamergate, as we know it now, is a hate group.
I do not say this to make the people of #Gamergate seem any more important, or effective, or powerful, or to give any sort of new credence to their ideas. Rather, this is just a structural designation: as immediately dismissible as their tactics and stances might be (at least to anyone who has not become victim to them), I believe it's important to note that group was formed like a hate group and functions like a hate group in every way.