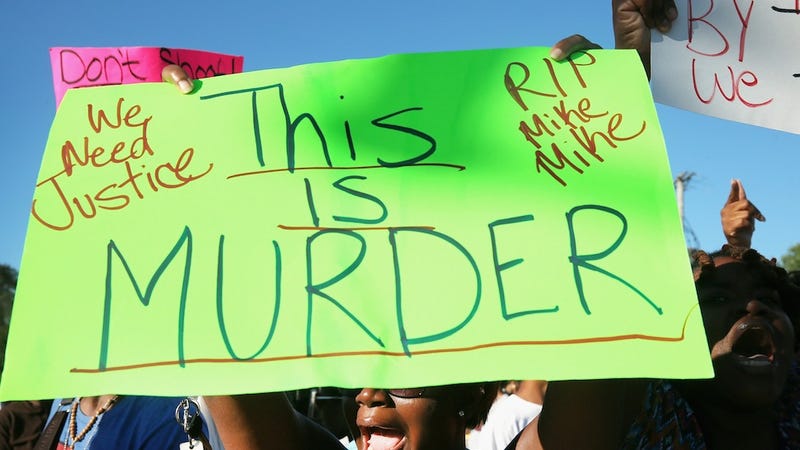 After nearly one week of trampling the constitution and showing the world what militarized racism looks like, Ferguson Police finally released the name of Michael Brown's shooter this morning. His name is Darren Wilson.
Earlier on Friday, CNN described the shooter as a six year veteran with no history of disciplinary action and a St. Louis resident, which Ferguson Police Chief Thomas Jackson echoed in his address today.
Jackson began his statement by referencing a robbery that occurred at a convenience store on Saturday, August 9, the same day Brown was shot. According to Jackson, Wilson was at the scene of a sick call with an ambulance, he received the call about a "strong arm robbery" at a store and then "encountered" Brown. Several other police staff were called to the scene and Wilson was "treated for injuries." Jackson also noted that the ambulance handling the sick call "did respond to assess Michael Brown," which conflicts with video that does not show an ambulance present as Brown's body laid on the Ferguson street.
Jackson did not detail Wilson's encounter with Brown any further.
On Thursday, the hacktivist group Anonymous released the name of who they claimed was Brown's killer but Ferguson police quickly denied the person worked for them. Twitter then shut down the Anonymous Twitter feed. Still, when a police officer commits shoots someone dead, leaves them in the street and then the corresponding police department closes ranks, refusing to release the most basic information, the Internet will start to dig around as we learned with the Boston bombings.