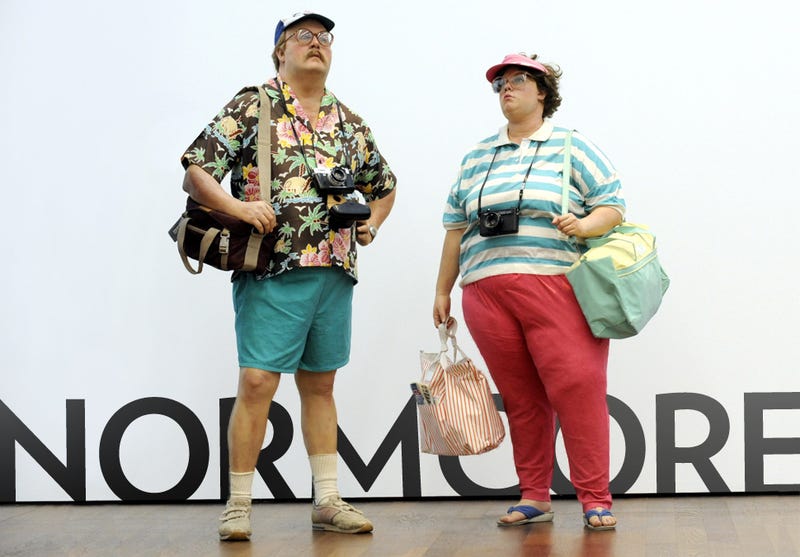 Here is a thing for you to learn today: The latest craze to hit the beautiful elites of Manhattan isn't plucked from the runways of Fashion Week, it's ripped from the sale section of the Lands End catalog. The trend—dubbed "normcore" because it involves dressing up like a "normal" (and/or a guy named Norm)—consists of bland, blank, or cornily name-branded '90s "mall clothes." Half-zip mock-turtlenecks. Chunky athletic socks with Tevas. The kind of ill-proportioned hoodies you buy at the drug store for $4.99. Uncle chic.
Here's Fiona Duncan, exposing "normcore" in New York Magazine:
Sometime last summer I realized that, from behind, I could no longer tell if my fellow Soho pedestrians were art kids or middle-aged, middle-American tourists. Clad in stonewash jeans, fleece, and comfortable sneakers, both types looked like they might've just stepped off an R-train after shopping in Times Square.
HORRORS!
By late 2013, it wasn't uncommon to spot the Downtown chicks you'd expect to have closets full of Acne and Isabel Marant wearing nondescript half-zip pullovers and anonymous denim. Magazines, too, had picked up the look. T noted the "enduring appeal of the Patagonia fleece" as displayed on Patrik Ervell and Marc Jacobs's runways. Edie Campbell slid into Birkenstocks (or the Céline version thereof) in Vogue Paris. Adidas trackies layered under Louis Vuitton cashmere in Self Service. A bucket hat and Nike slippers framed an Alexander McQueen coveralls in Twin. Smaller, younger magazines like London's Hot and Cool and New York's Sex and Garmento, were interested in even more genuinely average ensembles, skipping high-low blends for the purity of head-to-toe normcore.
Okey dokey.
Now, the practitioners of "normcore" have oodles of high-minded theory about the art behind their Adidas shower shoes. (More on that in a minute!) But I have to say, hot young people wearing ugly clothes is as old as the hills, and is quite obviously a form of BRAGGIN'. It says, "Look how hot I am. I am so hot that even these pleated jeans cannot mask my hotness. I am hot even in this maxidress covered in cherries. I'm hot in my sleeveless flannel David Silver hoodie, and I'm hot in this mother-of-the-bride 2-piece tunic and blazer set from 1992. I am hot even in these shoes or these fucking abominations and I am wearing these JNCOs with a vest made out of a tapestry on purpose and I still look amazing. All shall love me and DESPAIR!"
COME ON, MODELS. YOU KNOW YOU DO THAT.
And it's totally fine that you do that! But come on. You totally do that.
I mean, I understand that fashion trends pull, invisibly, on our desires—something you thought was hideous a few seasons ago (I remember crying my goddamn pants over the gladiator sandals in International Male) suddenly finds its way into the "YES" part of your brain ("Put that strappy flappy shit on my foot posthaste!" - Lindy, summer of 2012). So I'm sure the trend toward plain, boxy sweatshirts and Brian Krakow cosplay is at least partially sincere—that these just feel like the right clothes to wear right now.
But there's something inherently distasteful and tone-deaf in rhapsodizing about how wearing ordinary, cheap clothes—the kind of clothes worn by people who are often financially excluded from wearing anything else—is some grand, noble statement about "about absolving oneself from fashion, 'lest it mark you as a mindless sheep.'" I find it hard to imagine that these Manhattan art-scene "normcore" kids weren't scoffing at corny Teva-clad tourists the day before yesterday (hell, they're still doing it in the article). Oh, the clothes of the simple people—they're so refreshingly uncontrived. As long as we're wearing them. Guuuuuhhhh. That is some borderline satirical Derelicte shit right there. (Also, on behalf of frumpy Americans everywhere, I have to say: MY CULTURE IS NOT A COSTUME.)
Fashion is powered, at least partially, by exclusivity, and fashion is cruel to the people who lack the funds, time, energy, and carefully incubated tastes to participate in it. On the flipside, fashion also grows out of the ingenuity and brilliance of those excluded communities—ingenuity that is then mined and appropriated and marked up exponentially by the establishment. And then black people can't even shop at Barney's.