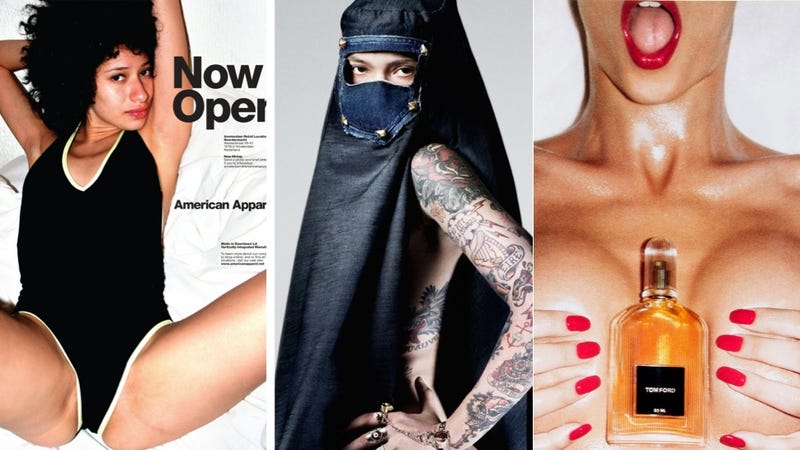 Unfortunately, it seems that outrage provoked by fashion advertisements is a finite resource that's all but vanished, leaving behind nothing but a Pinterest board filled with overexposed photographs of handbags and the dried-up husk of an Abercrombie catalog from 1998. How the world suffers now.
Thus laments Lisa Lockwood in an op-ed for Women's Wear Daily, entitled "Fashion Advertising: Controversy — Where Has It Gone?" Answer: it has gone away. But why? Although Lockwood and her interview subjects offer up several potential culprits throughout the rambling piece — including, inexplicably, 9/11 — she lays most of the blame on "corporate emphasis on having the right social campaign, Instagram, Twitter feed, videos, Web sites" as well as "global, cross-cultural sensitivities." The edge is gone. The Man dulled it with tweets and stuff. Damn.
Or maybe fashion advertisers are just out of ideas and keep recycling the same old uninspired trash? Maybe it's that? Just an alternative theory!
Seeming to prove the latter theory, Lockwood, et. al., mention Dov Charney a few times throughout the article. Here's his first textual appearance:
The recent ouster of Dov Charney, chief executive officer of American Apparel, over concerns about his personal and professional conduct, continues to make headlines. And his sexually charged advertising images, often depictions of young women in suggestive, sometimes vulgar poses, may end up being the least of his troubles. While one might debate whether Charney is a marketing visionary connecting to his customer's sexuality or a peddler of soft-core porn, his brand of advertising stands out in that it's controversial, intentionally or otherwise. In this particular case, that isn't helping Charney's cause to regain his standing in the company he founded.
If you have followed the Dov Charney case, even with the minute amount of interest, then you will know that Dov Charney's sexually-charged advertising images had nothing to do with his ouster; in fact, the company was happily using them right up til the end (and continues to use them now that he's been re-hired as a "strategic consultant"). The reason he was fired was that he allegedly made one of his employees act as his sex slave.