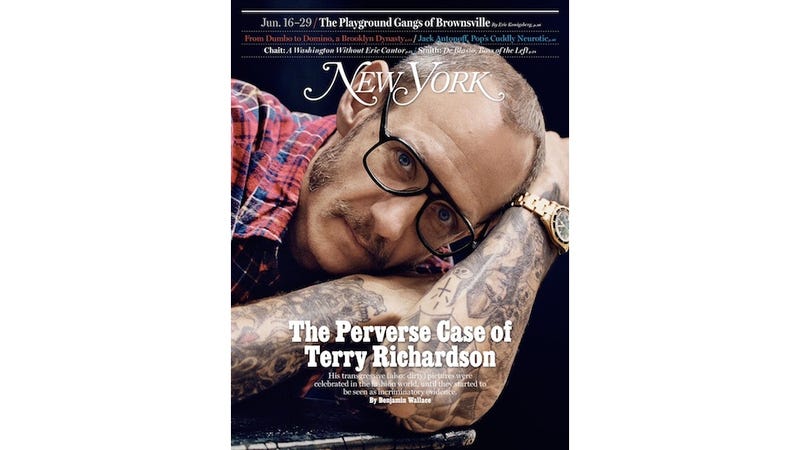 "Is Terry Richardson an Artist or a Predator?" wonders New York Magazine. Phrasing the proposition in that way — as an either-or binary — is not only insultingly reductive, it's also wildly misleading: as though it's possible that the end product justifies the sexual coercion that created it, or that a respected photographer isn't capable of preying on the women who pose for him.
Benjamin Wallace's extensive Richardson profile, billed as a more nuanced look at a "vilified" man, opens with Richardson lamenting the fact that "people can just do whatever they want, say whatever they want" on the Internet. In the third paragraph, Wallace mentions that an English model tweeted a screenshot of a Facebook message from Richardson telling her that he will exchange sex for a Vogue shoot, then dismisses it as "clearly an impersonation." It's not until the sixth paragraph — after enumerating all of Richardson's professional successes and accomplishments — that Wallace explicitly mentions Richardson's history of allegedly coercing unwilling models into sexual acts with him:
Richardson is also famous for another reason: He has cultivated a reputation of being a professional debauchee, a proud pervert who has, outside his commercial work, produced a series of extremely explicit images—often including himself naked and erect—that many find pornographic and misogynistic, and which can make viewers distinctly uncomfortable. In recent years, a number of the models in those images have indicated that they, too, weren't altogether comfortable, filing lawsuits and, increasingly, speaking up in essays and interviews.
"Weren't altogether comfortable." Huh. Okay. Models have described "zooming out of the situation," "feeling nervous and paralyzed," and not wanting "to act scared or angry because I was in this guy's apartment with no one else around aside from his equally screwed-up assistant." Charlotte Waters, a model whom he allegedly assaulted on camera, says she had a "full-blown panic attack" after the shoot; "It's actually crazy to realize, at this point, how much that experience affected the path that my life took from then forward," she later said in an interview. "Weren't altogether comfortable," indeed.