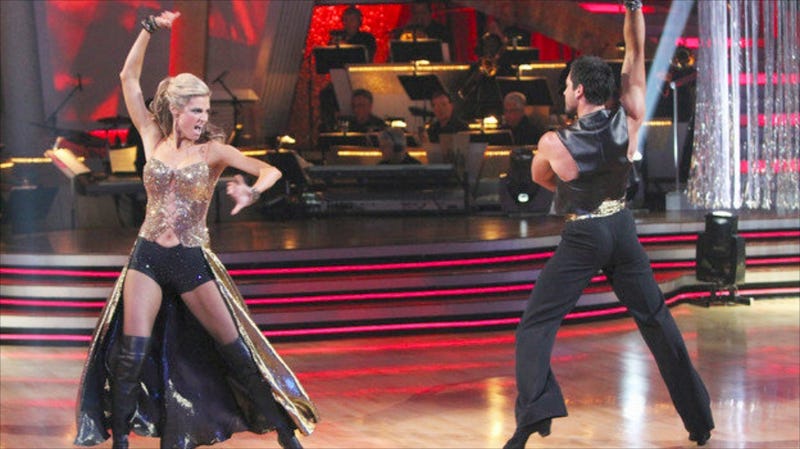 While it was pretty clear that Brooke Burke was unceremoniously fired from her job hosting Dancing with the Stars, a new rumor indicates DWTS producers might have gotten rid of her as part of a dubious plan to target a specific crop of new viewers.
An Us Weekly "insider" says that Burke had no idea she was being fired from the show until right before they announced it. This was abundantly clear from her tweets, we didn't need an "insider" for this intel. But what is new are the details about why Andrews, a sports reporter, was so much more appealing to DWTS than Burke, a mommy blogger:
"Everyone loved [Brooke], but the execs wanted a whole new show," the source revealed. Adding that Andrews' "young male following" was appealing to the network. "They're desperate for those viewers," the source added.
We know that DWTS hired Andrews and fired their band to get a new crop of younger viewers, but the idea that she's going to miraculously convince young straight men to watch a show about celebrities participating in a lackluster dance competition is...so good it might work? She is friends with Chrissy Teigen and men love hot chicks so...brilliant!
Very excited! I have HUGE shoes to fill RT @GMA: #DWTS Announcement: Joining @Tom_Bergeron as a co-host this season will be @ErinAndrews!

— Erin Andrews (@ErinAndrews) February 24, 2014
@ErinAndrews I am the worst dancer in the world. I would only dance on television if it somehow ended world hunger.

— christine teigen (@chrissyteigen) February 24, 2014
@ErinAndrews I don't want to go the standard skirt route. Let's do jorts.

— christine teigen (@chrissyteigen) February 24, 2014
@chrissyteigen getting that request into wardrobe now..standby

— Erin Andrews (@ErinAndrews) February 24, 2014
With the addition of Andrews, DWTS has been given the boost of energy it needed and will now able go on for another 20 seasons. Eventually, it'll conclude with an impressive star-studded cast that includes North West, The Artist Formerly Known as Lil' Romeo, whichever of Gwen Stefani's kids needs a comeback after a trip to rehab and Snooki, who, in a surprise twist, will dance with her newborn grandchild!
Image via ABC