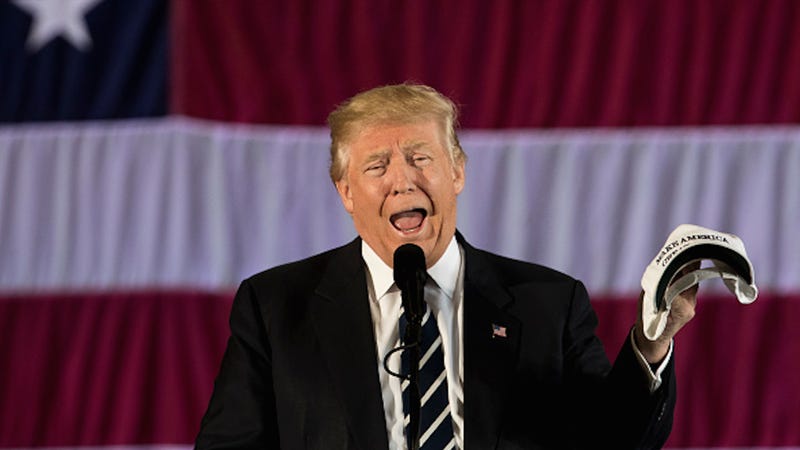 Donald Trump, a stubbed, recently-severed zombie toe soon to be sworn in as President of the United States, remains steadfast in his interpretation of climate change as "hey, maybe not, I dunno."
As CNN reports, Trump appeared on "Fox News Sunday," where he continued to treat this very real global calamity like T.S. Eliot's The Wasteland.
"I'm still open-minded," he told Chris Wallace. "Nobody really knows. Look, I'm somebody who gets it, and nobody really knows. It's not something that's so hard and fast."
But see, somebodies do know, Donald. NASA knows. The United States Environmental Protection Agency also knows. The European Environment Agency? They know too!
And yet, Trump is contemplating whether to withdraw the United States from its commitment to implement more environmentally-friendly policies. The U.S. made this agreement together with more than 175 other countries at last year's Paris summit.
"Now, Paris, I'm studying. I do say this. I don't want that agreement to put us at a competitive disadvantage with other countries," he said. "And as you know, there are different times and different time limits on that agreement. I don't want to give China, or other countries signing agreements an advantage over us."
Perhaps our PEOTUS still suspects climate change to be nothing more than a hoax orchestrated by the Chinese — this was, after all, his stance on the campaign trail. Yet it is true that he recently met with two avid environmentalists, former Vice President Al Gore and Leonardo DiCaprio (hey, sure). And yes, allegedly daughter-in-chief Ivanka Trump cares very deeply about climate change.