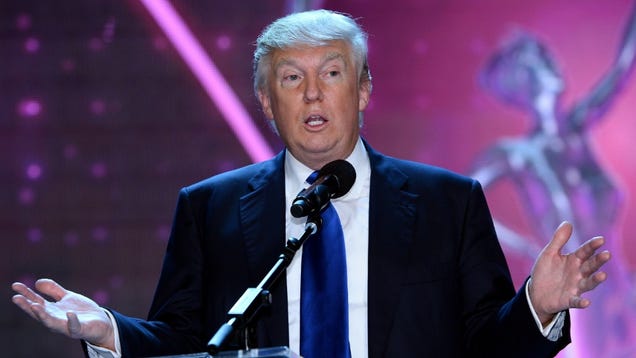 In today's Tweet Beat, Donald Trump must've had a hard time reading Fox News on his tiny little iPhone screen, Nick Cannon likes to be corny (he's married to Mariah for a reason), and RuPaul is on point, as per usual.
I can't believe Apple isn't moving faster to create a larger iPhone screen. Bring back Steve Jobs!

— Donald J. Trump (@realDonaldTrump) July 24, 2013
When are y'all gonna realize that when you call me corny I take it as a compliment! Lol

— Nick Cannon (@NickCannon) July 24, 2013
My lips are overdrawn to compensate for my disdain for mankind

— RuPaul (@RuPaul) July 24, 2013
Today's Eyebrow: Classy determined, yet cheap and affordable

— RuPaul (@RuPaul) July 24, 2013
Trust, it's more realer than I am RT @giannnnnnnna: So happy when I saw @RuPaul's wax figure at Madame Tussaud's pic.twitter.com/oe8USUcS19

— RuPaul (@RuPaul) July 24, 2013
Kind of a WASP-y name if you ask me.

— B.J. Novak (@bjnovak) July 24, 2013
A strong gust of wifi blew in across the plains. I steadied my horse & reached for my Droid.

— Ezra Koenig (@arzE) July 24, 2013
All my jeans are dad jeans, cuz I'm a fuckin' dad.

— rob delaney (@robdelaney) July 24, 2013
"Mraz-182" is the worst thing I've ever heard in my life

— Tavi Gevinson (@tavitulle) July 24, 2013
?

— ke$ha (@keshasuxx) July 24, 2013
People that follow me on Twitter get it... Live YOUR life, Work hard, Mind your own biz and Fuck em. Em = Haters.

— ICE T (@FINALLEVEL) July 24, 2013
This little muppet named "Georgie" has joined us in the writers' room. #Portlandia pic.twitter.com/g2uC7E0KsA

— Carrie Brownstein (@Carrie_Rachel) July 24, 2013
His name is George. #OhMyyy

— George Takei (@GeorgeTakei) July 24, 2013
@Rosie thank you for the love!

— Leah Remini (@LeahRemini) July 24, 2013
I'd like to congratulate Huma Abedin on her first day of never losing an argument in her marriage again, ever.

— Patton Oswalt (@pattonoswalt) July 24, 2013
I'm thinking Weiner never watched the Wire. If he did then he woulda known to use a burner.

— Ana Gasteyer (@AnaGasteyer) July 24, 2013
@DonaldGlover seeing you for five seconds was simply elegant and magical

— mae whitman (@maebirdwing) July 24, 2013
Tre Bien Tre Tre Bien

— Joel Madden (@JoelMadden) July 24, 2013
*Kid with Bleach blonde hair throws frizzbee* "You Gunna Eat That?" "Dammit Bleach Blonde Bobby, You always eat my report card" - Dracula

— OK WE MAKE SEX NOW ? (@JODYHiGHROLLER) July 24, 2013
A lot of my work commitments have requested I take selfies & I cant do it I feel like such a twat! any advice on how to take a good 1?

— Kelly Osbourne (@KellyOsbourne) July 24, 2013
This one is for all of you CAT lovers http://t.co/ya2AuQvLYR pic.twitter.com/EaoTDSFN9S

— Gary Busey (@THEGaryBusey) July 24, 2013
I'd pay $10,000 to watch Nancy Grace appear on 'Drunk History' and tell the story of how the dildo was invented.

— Jenny Johnson (@JennyJohnsonHi5) July 24, 2013
Just write any numbers in the sudoku boxes. It doesn't matter. We're all gonna die.

— Julius Sharpe (@juliussharpe) July 24, 2013
Image via Getty.