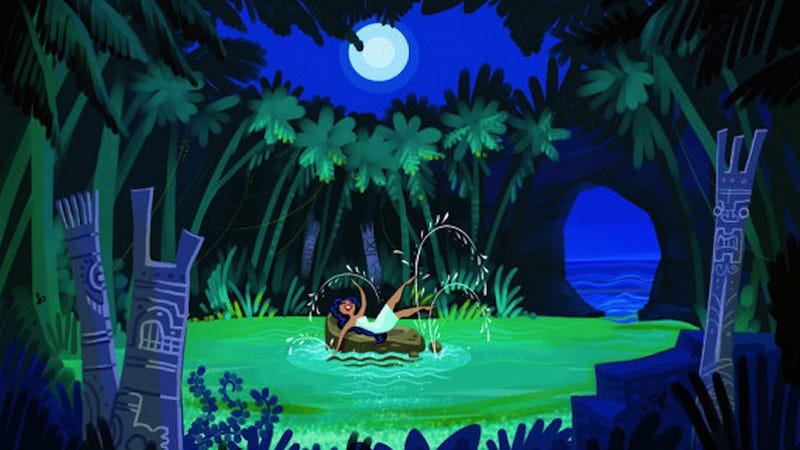 Disney has a new princess in the works and her name is Moana Waialiki. She will be a young Polynesian sea-voyager and navigator who heads out on a journey to save her family, will probably overcome something dangerous and ultimately be awesome. It's our first Polynesian princess — this is very exciting.
John Musker and Ron Clements, the directors behind The Princess and the Frog, Aladdin and The Little Mermaid, will head Moana but little else is public about the film because it doesn't debut until 2018. I know, sad face. But that hasn't stopped Moana fans. Yes, she already has them and it isn't just me.
Only one piece of Moana concept art has been seen online so far, but it was quickly pulled by Disney on the grounds that it wasn't an official release. Still, that was all fans needed to inspire their own Moana fanworks. Tumblr is already alive with people drawing their own interpretations of the Polynesian princess, from cute, ukulele-playing girly-girl to tough, muscular sailor.
Full disclosure, I just watched Disney's latest animated hit Frozen last night because I am late, but it seems like the company is trying to come into this century — despite that Brave controversy when animators slenderized Merida to add her to the Disney princess pantheon. Ew. In Frozen, the princess *spoiler alert* isn't saved by a prince but rather the love of her sister. Rawk. And as much as I love a feminist princess — remember Jasmine indignantly telling her father "I am not a prize to be won"? Yasss! — ethnic representation is just as important as the cartoon character's demand for equality.