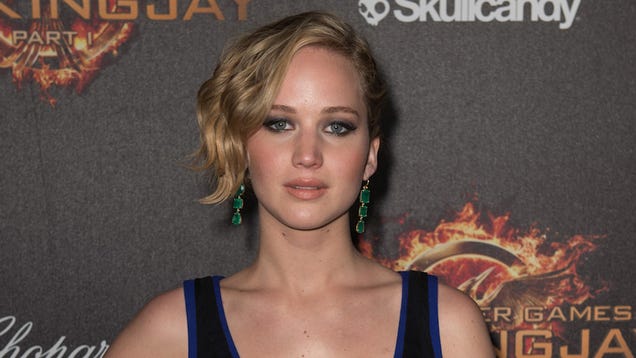 It looks as though a hacker has obtained nude photos of various female celebrities, posting them to (of all places) 4chan. You have got to be fucking kidding me.
Images of celebrities like Jennifer Lawrence, Teresa Palmer, started popping up on 4chan /b/ boards and have spread like wildfire on Imgur*. None of the celebrities have commented, and of course, there is no confirmation that the pictures are legit. But let's be real, they probably are. Because no one and nothing is safe, especially sensitive, private, nude photos of some of the most famous women on Earth.
Apparently the hacker responsible claims to have 60 nude selfies of the actress. According to Inquisitr, if these photos are real then the person who hacked into Lawrence's computer is in huge trouble with authorities. Nothing says Labor Day like damage control. Sigh.
*I originally included a link to an Imgur album of photos. I took it out because nah.
UPDATE:
Victoria Justice has denied the authenticity of the alleged photos of her:
These so called nudes of me are FAKE people. Let me nip this in the bud right now. *pun intended*

— Victoria Justice (@VictoriaJustice) August 31, 2014
Jennifer Lawrence's reps released a statement to TMZ:
"This is a flagrant violation of privacy. The authorities have been contacted and will prosecute anyone who posts the stolen photos of Jennifer Lawrence."
Mary Elizabeth Winstead, another victim in the mass hack has addressed the attack on Twitter:
Knowing those photos were deleted long ago, I can only imagine the creepy effort that went into this. Feeling for everyone who got hacked.

— Mary E. Winstead (@M_E_Winstead) August 31, 2014
To those of you looking at photos I took with my husband years ago in the privacy of our home, hope you feel great about yourselves.

— Mary E. Winstead (@M_E_Winstead) August 31, 2014
As has McKayla Maroney:
the fake photos of me are crazy!! was trying to rise above it all, and not give "the creator" the time of day.. BUT.. pic.twitter.com/hceQcOxYkJ

— McKayla Maroney (@McKaylaMaroney) September 1, 2014
Kate Upton's attorney also addressed the situation:
"This is obviously an outrageous violation of our client, Kate Upton's, privacy," he said. "We intend to pursue anyone disseminating or duplicating these illegally obtained images to the fullest extent possible."
Ariana Grande's reps told BuzzFeed that the alleged photos of her are "completely fake."
Becca Tobin took a more lighthearted approach to her response:
Merry XXXmas!

— Becca Tobin (@becbecbobec) September 1, 2014
Image via Getty.