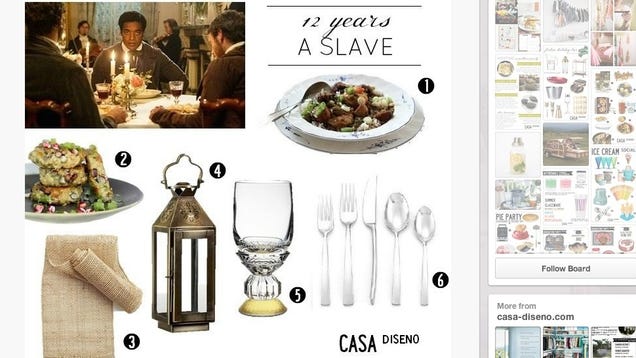 Fun party ideas for the Golden Globes include gimlets in honor of Downton Abbey and a platter of quaaludes à la Wolf of Wall Street. One thing you should definitely not do, however, is even consider touches meant to evoke 12 Years a Slave.
And yet, the Wire reports (picking up on a tweet from @kenyatta), that's exactly what one small shelter site has done. Casa Diseño, an "online resource that demystifies the home," uploaded a vision board to its Pinterest, pinned to a board for entertainment ideas alongside similar ones for American Hustle and Wolf of Wall Street, which were tagged #partyideas. It's since been deleted.
The owner of the site tried to explain it on Twitter:
You guys know what 12 Years A Slave is about, right, @casadiseno? http://t.co/m8aRHgO3XU Jesus fucking Christ (via @kenyatta)

— Margaret Lyons (@margeincharge) January 8, 2014
@margeincharge The point of the article was to highlight acclaimed films that have received a ton of nominations.

— Tanvier Peart (@tanvierpeart) January 8, 2014
But there are probably better ways to honor this particular film than eating a salad off 19th century china on a table decorated with burlap. Like, literally anything would be better.