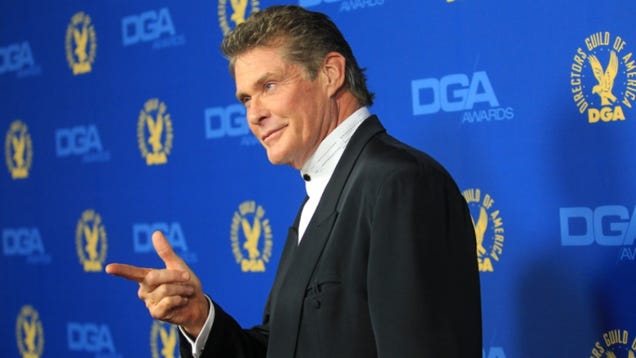 In today's Tweet Beat, David Hasselhoff makes two "Hasselhoff" puns, one of which is more successful than the other, Diplo is just a regular guy doing regular stuff, and Sarah Silverman is in aural hell.
Good Mornjng good afternoon and good Evening depending on where you are! Check in and lemme know how your day is going Hofftastic, Hofful ?

— David Hasselhoff (@DavidHasselhoff) May 9, 2013
About to drive my vespa into a fountain in milan

— dıpןo (@diplo) May 9, 2013
Everybody in Hollywood is excited about my plans to adapt the SCUM Manifesto for network this summer. #ABC #CBS #FOX #ABC

— Julie Klausner (@julieklausner) May 9, 2013
I am searching for a new PA, these are the following criteriaMassage Possible fondling when neededCookingCleaning The ability to fly

— Cara Delevingne (@Caradelevingne) May 9, 2013
Gonna go on a walk

— Justin Bieber (@justinbieber) May 9, 2013
Do subway steps count as cardio? Cause they should.

— Miss Michelle Buteau (@MichelleButeau) May 9, 2013
Never lie to the person you love. It's not worth it and they don't deserve it.

— Soulja Boy (@souljaboy) May 9, 2013
Err, I wouldn't brag about it! twitter.com/MelanieCmusic/…

— Melanie C (@MelanieCmusic) May 9, 2013
I'm riding western up in Santa Fe today in prep for 'Jane Got a Gun' I am mainly acting in films with Gun in the title. Any suggestions?

— Ewan McGregor (@mcgregor_ewan) May 9, 2013
Tiny plane. Excessive amount of gum chompers. This may be the end of me.

— Sarah Silverman (@SarahKSilverman) May 9, 2013
Ha! Love the title! RT @huffpostlive: Melissa Joan Hart needs your help huff.to/10bNUV2

— Melissa Joan Hart (@MelissaJoanHart) May 9, 2013
REMBER TO LOVE THE EARTH! IM SO HAPPY YOUR ALIVE TODAY! - Lil B

— Lil B From The Pack (@LILBTHEBASEDGOD) May 9, 2013
Taking selfies is really difficult for us undexterous people

— Ryan Seacrest (@RyanSeacrest) May 9, 2013
'cool' is an emotional straight jacket.

— Aubrey O'Day (@AubreyODay) May 9, 2013
Miley Cyrus was named number 1 on Maxim's Hot 100. 2nd place was a volleyball with the words "hot girl" scrawled on it.

— Kumail Nanjiani (@kumailn) May 9, 2013
They make band aids that look like strips of bacon but they still don't make black ones?

— Whitney Cummings (@WhitneyCummings) May 9, 2013
Salads. Because society has deemed it weird to just eat delicious croutons and dressing.

— christine teigen (@chrissyteigen) May 9, 2013
I feel like a parsley sprig on top of a plate of food isn't as impressive as it used to be. #jaded

— Paul Feig (@paulfeig) May 9, 2013
Forgot to close a parenthesis in an email and now I'm going to feel off for the rest of the day.

— Ken Jennings (@KenJennings) May 9, 2013
Image via Getty.