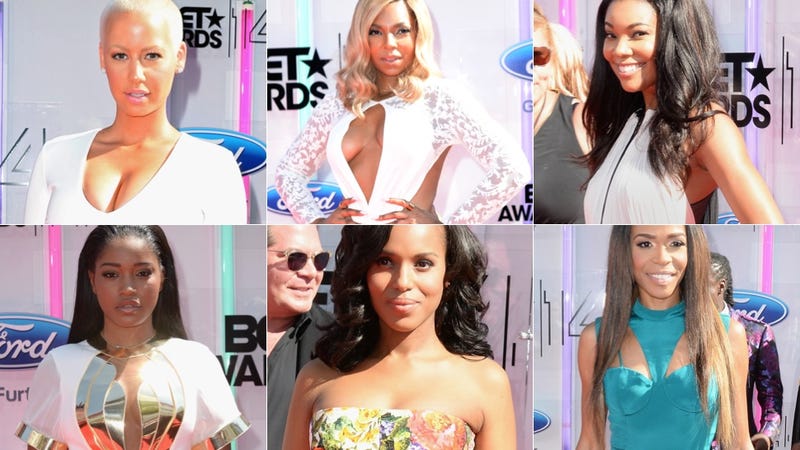 Last night, the BET Awards took place in the Nokia Theater in Los Angeles; many wonderful, talented humans were awarded for outstanding achievements in the entertainment industry.
And, thus, celebrities flocked to L.A. Many of them were doing creative cleavage things. There was also a staggering amount of sheer, shimmer and slinky. Let's take a look:
The lovely Kerry Washington continued her Reign of Radiance in a strapless floral Dolce & Gabbana dress. (There was, I think, some conspiracy in which Kerry Washington and several other celebrities were barely photographed on the red carpet, but like 14 million photos of Paris Hilton were taken. As a palliative cure to this Kerry Washington dearth, I've included a better-lit photo of her in the actual awards show.)
Gabrielle Union is beautiful, but I'm not really into what she's wearing. The dress looks like what would happen if the ancient Greeks invented normcore (toga with mesh details), and the boots really don't work for me.
Here's Ashanti with the most inventive cleavage concept of the night, in a formfitting white gown with several cutouts.
Michelle Williams played it safe, a bit, in a cutout teal Olcay Gulsen dress. It looks lovely on her, but I feel like the shape is something I've seen before.
Amber Rose went very minimalistic — both sartorially and makeup-wise — in a floor length white gown.
Keke Palmer wore a craaaaaazy dress by Alon Livne, who also designed the wild pantsuit that Kylie Jenner wore earlier this month. (AND PELVIC CLEAVAGE IS HERE TO STAY!!!!) Honestly, it looks really uncomfortable.