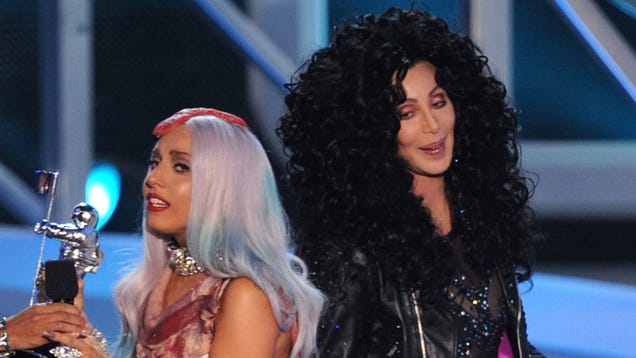 Lady Gaga has been so busy lately: dreaming up new and zany ways to sexualize Muslim women, yelling about bloggers, ruining performance art for everyone, and so on. A secret thing that the industrious Mother of Monsters did in her subterranean den (or wherever she dwells) was record a song with Cher — which she then nixed, probably because it is awful-sounding.
Here's the (prematurely leaked) track, which is titled "The Greatest Thing":
[UPDATE: the track has been removed from SoundCloud; it's still up here, though.]
"It sounds like a DDR version of an Old Navy commercial" was my first impression, so that's what I shall stand by. And I'm not the only person who feels displeased — Cher is quite unhappy about the leak and responded in a very typically Cher manner:
Just heard TGT ! FUCK ! IT'S NOT EVEN THE RIGHT FUCKING VERSION!!! WHY DO PPL THINK THIS KINDA LEAKING SHIT IS OK ! I'm so Fg DISSAPOINTED

— Cher (@cher) August 13, 2013
FK

— Cher (@cher) August 13, 2013
Disappointed( Ive Sat on fkng song 4 over a yr )NOW SOME ASSHOLE LEAKS WRONG VERSION ! GaGa's SINGLE IS GREAT, & THAT'S ALL THAT MATTERS

— Cher (@cher) August 13, 2013
This whole debacle leaves me with one lingering question: why did Marina Abramovic invite Lady Gaga to wear a funny mask and dance in the creek when it is so clear that Cher is better suited for performance art?
Image via Getty.