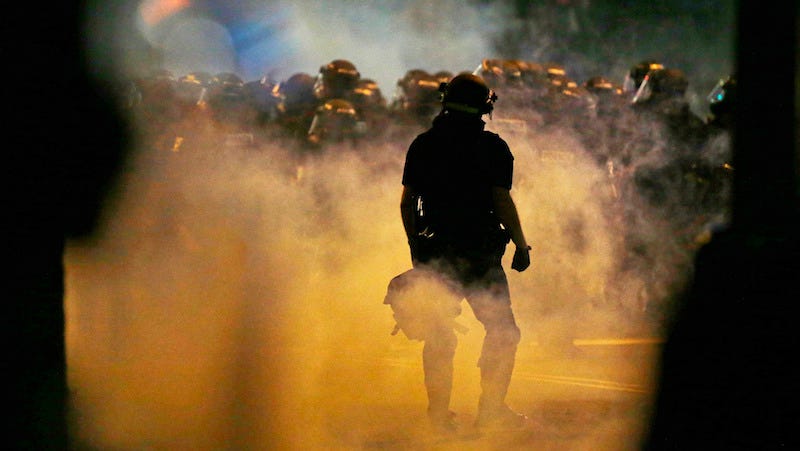 On Thursday—the morning after violent protests over the police shooting of Keith Lamont Scott ended in bullets, tear gas and fire—Charlotte's police chief stated that body-camera footage does not "definitively" prove the event took place the way police said it did.
Scott was shot and killed Tuesday after police encountered him in the parking lot of an apartment complex, where they were trying to serve a warrant on a man for an unrelated matter.
What happened during the encounter is still unclear, because officials in Charlotte are doing their damnedest to keep video of the incident under wraps.
Police say Scott, who was sitting in his car, exited the vehicle holding a gun in his hand. According to their version of events, officers repeatedly asked him to drop the weapon, and when he did not, Officer Brentley Vinson, who is black, fired a shot, killing him.
Scott's family, on the other hand, says he was actually holding a book, which he was reading while waiting for his son to come home from school. Police say they did not find a book at the scene.
Also not found, apparently, was dashboard or body-camera footage to support the police narrative, though the AP reports at least three officers were wearing cameras.
Charlotte Police Chief Kerr Putney admitted as much during a press conference Thursday, saying that "the video does not definitively show 43-year-old Keith Lamont Scott pointing a gun at anyone," the AP reports.
The city also seems to be gearing up for a battle against the release of the video. Putney said he is "working" to show the video to Scott's family, but declined to comment on when that might happen or whether the video would be released to the public.
In an interview last night, North Carolina governor Pat McCrory also danced around the issue, claiming, inexplicably, that it would be in some way a violation of the officers' constitutional rights to release the video to the public.