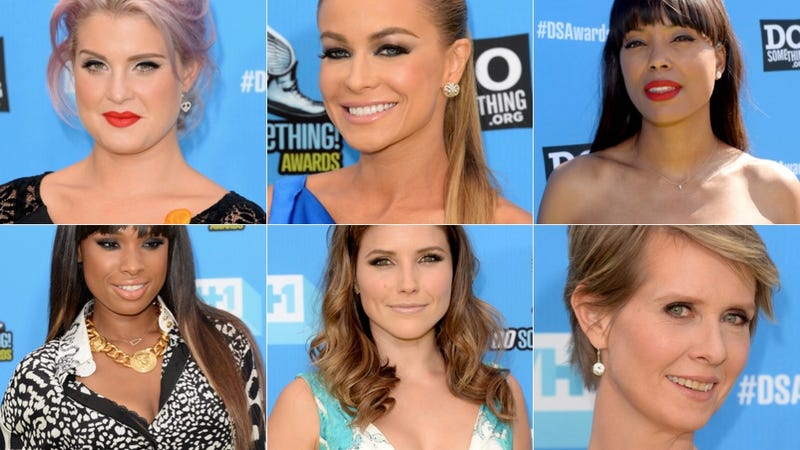 Award shows in Hollywood are generally pretty formal, but when you're talking about a youth-oriented not-for-profit organization partnering with a TV network, you're going to see a more relaxed dress code. That's what happened last night in Hollywood at the DoSomething.org and VH1's 2013 Do Something Awards. Celebrities kinda sorta tried to dress up, but not really.
Some gentlemen who actually put on dress shirts: LL Cool J, Harry Shum Jr., Justin Mikita and Jesse Tyler Ferguson.
J. Cole and Ne-Yo were slightly more relaxed. And in the role of Thurston Howell III: Darren Criss.
Guys, I only started watching the ABC Family show Twisted because I was going to write about how the premise — a handsome (non-white) young man navigating high school after being accused of murder — reminded me of Boston bombing suspect Jahar Tsarnaev. But then I kept on watching, and became weirdly emotionally invested in the story, and it's partly this guy's fault: This is the easy-on-the-eyes actor in the lead role, Avan Jogia. Judge not lest ye be judged, people.
One of the worst looks of the night: Roselyn Sanchez. The length and fit of this sequin dress are all wrong — too long, too loose! — and the shoes are an abominable choice. Wretched.
Kelly Osbourne played it kind of safe and boring, but that's fine. Still love the lavender hair.
Aisha Tyler looked lovely in white, Cynthia Nixon was cool in navy.
Summery pink for Pretty Little Liars' Janel Parrish, summery florals on Noah Cyrus. (Am I the only one who remembers when she was nine, on the red carpet in a swimsuit drinking a Red Bull?)