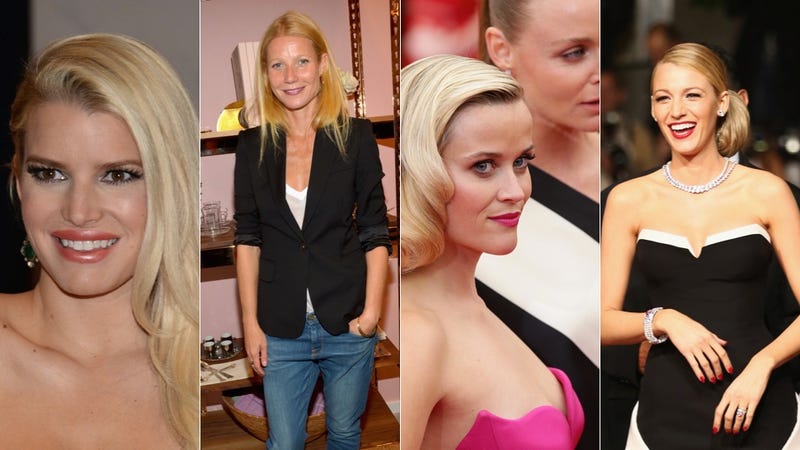 You know what's more lucrative than being an actress in Hollywood? Being an actress with a lifestyle company. And it's not just because such ventures are good for said actress's wallet, but because it gives her something to do when her acting career has floundered.
This pattern is not only real, but it also shows how regressive Hollywood is, with Oscar-winning or otherwise successful female entertainers marketing themselves as mothers and domestic goddesses in order to keep public interest on them. After all, as those staged family photo ops show, the only thing more interesting about a woman in Hollywood than her primary career is how she conducts her upscale-yet-relatable home/family life. Monetizing that—whether or not at the expense of one's dignity—is just the natural end point.
Not convinced? Then just ask these five actresses how they've used the Celebrity Lifestyle Company to keep themselves in the spotlight after their last super major starring role.
Gwyneth Paltrow
Celebrity Lifestyle Company: GOOP of course, which she founded in 2008.
Last major starring role: Shakespeare in Love, for which she won an Academy Award in 1998.
People have been making fun of Gwyneth and her out-of-touch statements about macrobiotic diets and working motherhood for years, but at least in the 90s, they'd begrudgingly admit that she's a good actress as well. After Shakespeare in Love however, her have gotten smaller or easier to make fun of, starting with an ensemble part in the The Royal Tenenbaums, and cameos in Iron Man and Glee. It's telling that when she started approaching 40, the infamous age when roles for actresses are scarce, that she embraced her notoriety by building a business empire centered around overpriced monogrammed napkins. Nowadays, she gets more press, whether positive or negative, for that than for starring in a sex addiction movie with Mark Ruffalo.
Jessica Alba
Celebrity Lifestyle Company: The Honest Company, in 2012
Last major starring role: Fantastic Four: Rise of the Silver Surfer(2007)
As she passes the age of 30, Jessica Alba has started to age out of her own niche as sexy ingénue who can kick ass, or sexy ingénue who needs rescue. She's also failed to build a reputation a Serious Actress, though she tried in a role where she gets beaten to within an inch of her life in The Killer Inside Me (violence against women = prestige). Good thing Alba has organic baby products to fall back on, based on her own struggle to find bottles or diapers for her daughters that were toxin-free. Like Gwyneth, she can pass the time marketing an appealing picture of motherhood based on her own life, until called upon to do a bikini cover shoot for Sin City 2.
Blake Lively
Celebrity Lifestyle Company: Lively announced her intention to launch a "life-curating" company in 2013.