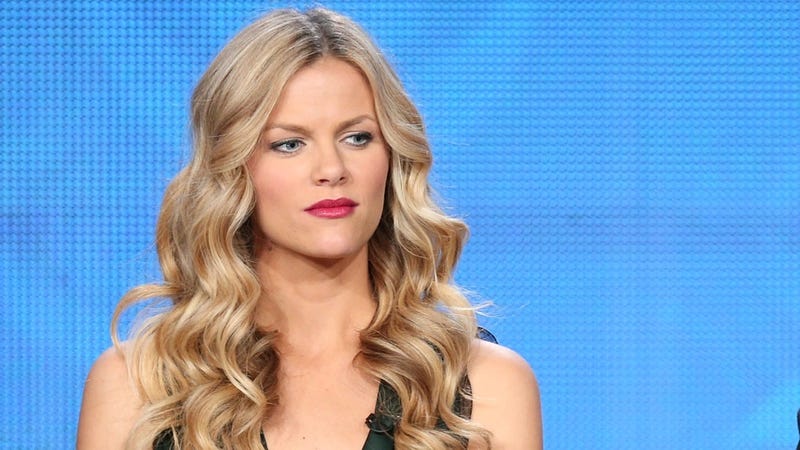 To be absolutely honest, the mouth-sounds "Brooklyn Decker" seem like they should be the name of a Brooklyn-inspired sandwich with, like, four pounds of corned beef and eight slices of rye. They are instead the name of actress and former model Brooklyn Decker, a human woman with very shiny hair and an impressive series of "tips" to help all the football-ignorant laaaaaayyyyydeeeezzzz of 'Merica get through the spectacle of concussive consumerism called the "Super Bowl." Step 1: Prepare yourself for trite "advice" that only underscores the huge interest gap that is supposed to exist between the genders when it comes to pro sports.
Local news affiliates are already leeching off of the gendered clichés that litter "Brooklyn Decker's Girl Guide to the Super Bowl" like funnel cake bits on a New Jersey boardwalk. The "guide," brought to you courtesy of Harper's Bazaar, is really just a list of ways women-folk can pretend to be interested in the Super Bowl, even if they're not really interested. Sneaky!
So, how does one accomplish feigning interest in an athletic contest that is little more than a giant commercial for Old Spice and pickup trucks made out of beer? The very first thing that one must do is, according to Decker, "Pick a team"—even if at random:
If you're a total novice, the first most important thing to do is PICK A TEAM! That way, you have someone to root for, you feel invested, and you have a few people to high five throughout the day. I was rooting for the Carolina Panthers but unfortunately they lost to San Francisco, so during the Super Bowl I'll be showing my allegiance to the Broncos, for no other reason than I root for Peyton Manning to win a ring under a different franchise.
Since it is now unseemly to watch football in order to satisfy your atavistic bloodlust, you must actively support a team just to get through the game, which won't so much be a "game" as it will be a series of Peyton Manning gifs separated by three-minute ads for yogurt, beer, and cars. Peyton Manning Presents: Advertising. For any real football fan, the "pick a team" imperative is WILDLY offensive, but just picking a random team isn't going to help a non-fan suddenly appreciate the joys of football. Football has no joys — it is an evil, brutal sport that everyone just loves because it's tailored perfectly to television and has very cinematic NFL Films highlight reel music (it's also completely awesome).