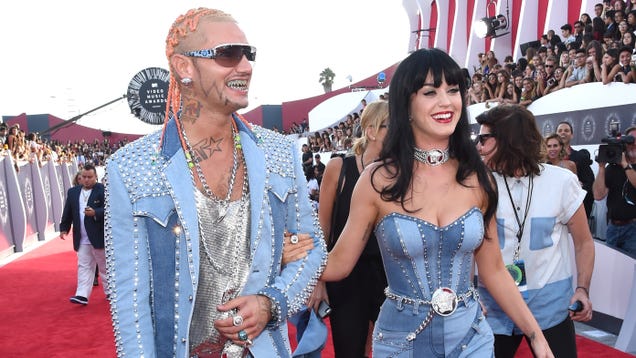 In today's Tweet Beat, Britney Spears loved Katy Perry's tribute to her infamous denim evening wear look, Jenny Slate has an editorial suggestion for Shape and Idris Elba is still sexy.
I like nice people

— LeAnn Rimes Cibrian (@leannrimes) August 25, 2014
@lenadunham Oh how I wish I'd learned this tip years ago. X sj

— Sarah Jessica Parker (@SJP) August 25, 2014
Ran into these boys @iamdiddy & @iamwill at the #VMA's, #Emmys2014 next... pic.twitter.com/21JcBC2gIw

— Idris Elba (@idriselba) August 25, 2014
Just got stood up by my therapist. So that's all my insecurities confirmed. How's your Monday?

— samantha ronson (@samantharonson) August 25, 2014
Mondays: seize the day or cease the day?

— Jessica Biel (@JessicaBiel) August 25, 2014
.@katyperry Just when I thought the denim dress had retired....you bring it back! You looked amazing tonight bb ;)

— Britney Spears (@britneyspears) August 25, 2014
I don't care what you think about Beyonce.

— Mara Wilson (@MaraWritesStuff) August 25, 2014
It would be cool if Self Magazine traded in the "LOSE 5 LBS FAST" headline for "YOU KNOW WHAT? WHO GIVES A FUCKING SHIT?"

— jenny slate (@jennyslate) August 25, 2014
Worst.Condom.Ever pic.twitter.com/FnMVceqsya

— Lizz Winstead (@lizzwinstead) August 25, 2014
Jeez, can't a woman sob hysterically on a treadmill in peace anymore?

— Laura Benanti (@LauraBenanti) August 25, 2014
Image via Getty.