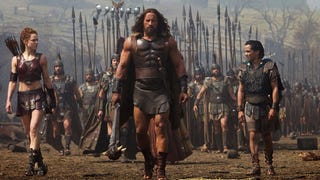 As much as I love him, Hercules is kind of a middling hero. He's not the strongest (that's Atlas), or the most cerebral (Odysseus, imo), or the #1 boner-inducer (Achilles, duh). He's just kind of...a guy. The big thing that makes Hercules great is his labors—the fact that he is just constantly going on quests and punching an awesome monster. The monsters are kind of his deal.
So imagine my delight at watching the Hercules trailer, an apparently faithful, straightforward adaptation in which Dwayne "The Rock" Johnson (MY FAVORITE ACTOR, OBVIOUSLY) covers ALL THE HITS. The hydra? PUNCH. Nemean lion? PUNCH. That dickhead Erymanthian boar? PUUUNCH. One by one, all the monsters of Greece are like, "Hmm...wha...what is that weird sma-la-la-la-la-la-la-la-laooww?" And then OH SHIT. IT'S WHAT DWAYNE "THE ROCK JOHNSON'S KNUCKLE-SANDWICHES ARE COOKING. (They are cooking even more sandwiches.)
See? Did you watch it? This trailer is just 100% monsters sma-la-la-la-la-la-la-laoowing what Dwayne "The Rock" is cooking, and then Dwayne "The Rock" Johnson punching them in slow motion. And that seemed like a great plan to me! There's a lot to work with there, in the labors of Hercules. It's ripe fodder for a big-budget action movie—especially now that special effects have caught up with the mythical imagination—and I was ready. Take me, Hercules. I need a hero.
Instead, I got Brett "He's No McG" Ratner.
SPOILERS AHEAD, ALL OF THEM, BECAUSE THIS MOVIE CAN SNIFF MY HOLE.
Okay. SO. You know all that monster-punching in the trailer? Literally all of it takes place in the first ten fucking seconds of the movie. Some dude is going on and on, braggin' about the tales of Hercules, and he's like "he fought this lion real good one time" [lion clip], and "then he fought this hydra" [hydra clip], and "also this boar thingy" [boar clip], and you're like...but...wait...if he already punched all the monsters, then what is Hercules going to do for the whole rest of this movie, which presumably isn't just 84 seconds long?
Oh, maybe just BE A BORING-ASS OLD-TIMEY GRIFTER WHO MADE UP THE WHOLE HERCULES THING TO GET HIS MERCENARY BIZ OFF THE GROUND WHILE TEACHING A HAM-FISTED LESSON ABOUT THE POWER OF PROPAGANDA AND HOW BELIEVING IN YOURSELF IS THE REAL MAGIC, THAT'S ALL.
>:-(((((((((((((((((((
You know what's even more magical than believing in yourself? FUCKING REAL ACTUAL MAGIC, YOU DILDOS.
"Hercules" (Dwayne "The Rock" Johnson) is your basic sword-guy for hire, wandering around with his merry band of hench-Greeks: the wacky soothsayer (Ian McShane); his whiny nephew who is sort of a Hellenic JustJared (Reece Ritchie); the weird angry dog-man (Aksel Hennie); the guy-who's-just-kind-of-an-extra-guy (Rufus Sewell, trying!); and the girl one (Ingrid Bolsø Berdal).