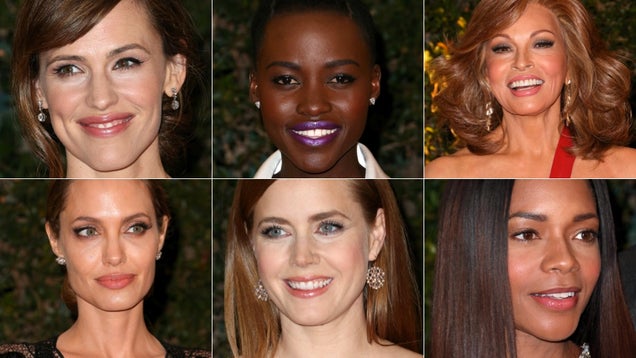 S
Saturday night at the Governors Awards — an honorary Oscars ceremony hosted by the American Academy of Motion Picture Arts and Sciences — the gowns and tuxes were a little understated and very elegant, befitting at event with living legends in attendance.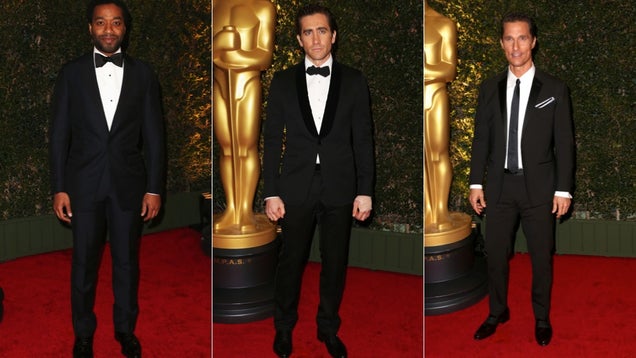 S
Classic tuxedos without any gimmicks: Chiwetel Ejiofor, Jake Gyllenhaal, Matthew McConaughey.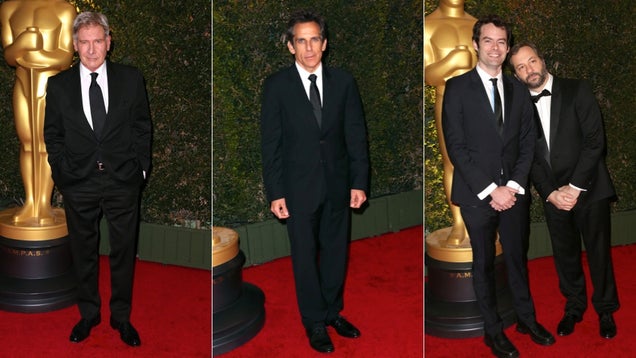 S
More (mostly) serious business: Harrison Ford, Ben Stiller, Bill Hader and Judd Apatow.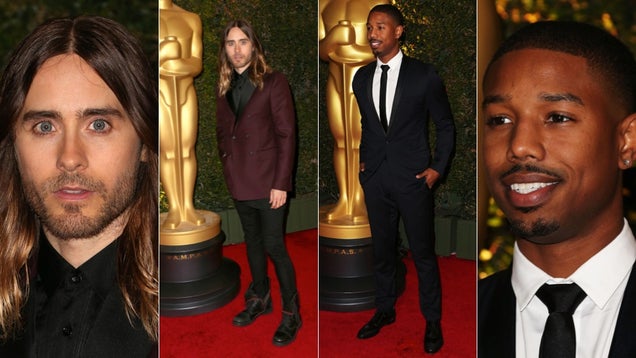 S
Jared Leto's boots seem inappropriate. But Michael B. Jordan is doing everything right.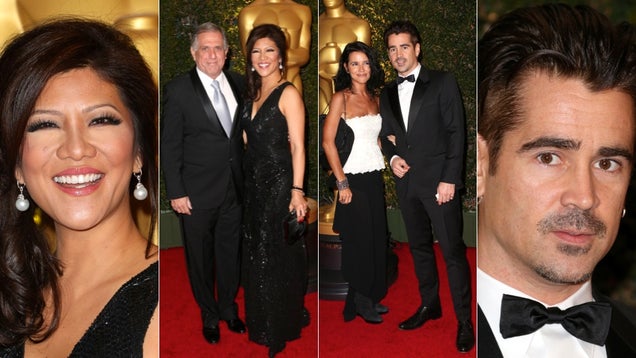 S
Matchy-matchy duos: Shimmery Julie Chen (with husband/CBS CEO Les Moonves); Colin Farrell (with sister Claudine Ferrell).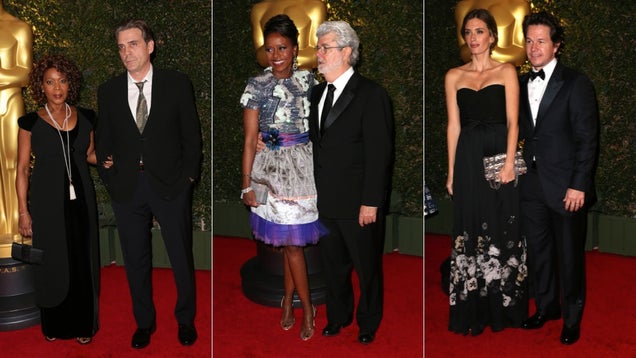 S
More swellegant couples: Alfre Woodard and husband Roderick Spencer are low-key. Faaaaaabulous dress on Mellody Hobson (of Ariel Mutual Funds and Dreamworks Animation), and her husband George Lucas is spiffy. Rhea Durham and Mark Wahlberg look picture perfect.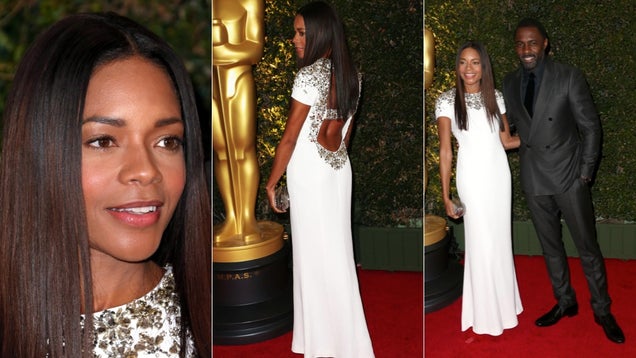 S
Stunning in ivory: Naomie Harris (yes, she is touching your boyfriend Idris Elba. Sorry.)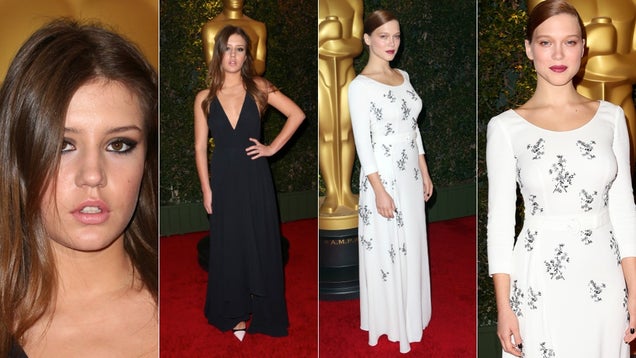 S
Long, dramatic gowns and no jewelry for Blue Is The Warmest Color stars Adèle Exarchopoulos and Lea Seydoux. (Seydoux's dress is by Prada.)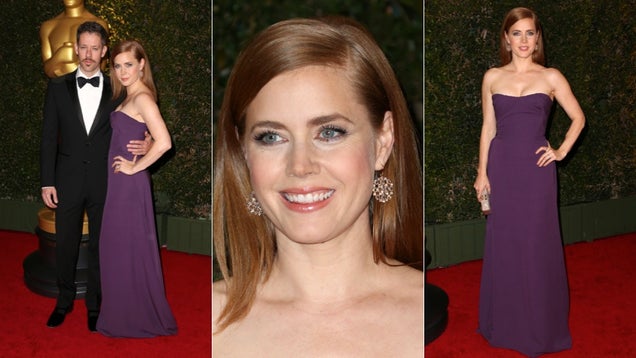 S
Loving the simple lines and deep eggplant color of the gown on Amy Adams (with fiancé Darren Le Gallo.)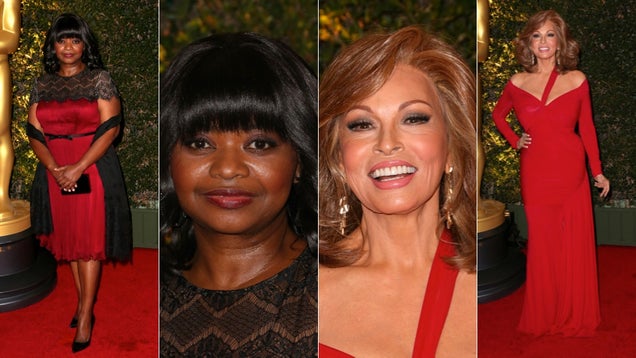 S
Vibrant red is fantastic on both Octavia Spencer and Raquel Welch. (Keep in mind that since Octavia Spencer and Angela Lansbury were both in attendance, there might have been a Murder, She Wrote showcase showdown we don't know about. Also! Raquel is wearing one of her famous wigs. Is it the Goddess or the Knockout?)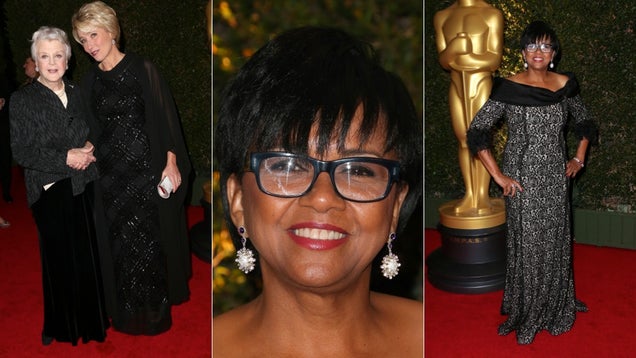 S
Lots of black on this red carpet. Angela Lansbury and Emma Thompson rock inky gowns. Cheryl Boone Isaacs, president of the AMPAS, shows off her shoulders.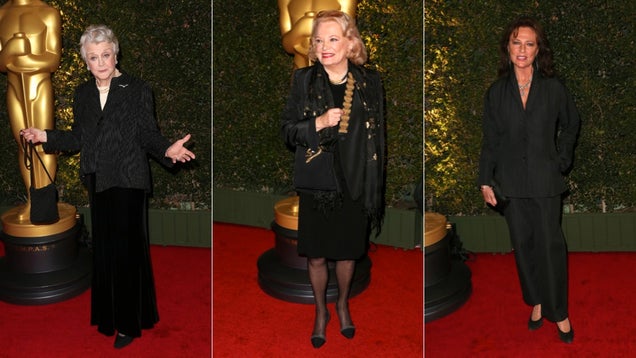 S
More quiet black get-ups: Angela Lansbury wonders what you want from her. Living legend Gena Rowlands glimmers with touches of gold. Jacqueline Bisset opts for comfortable chic.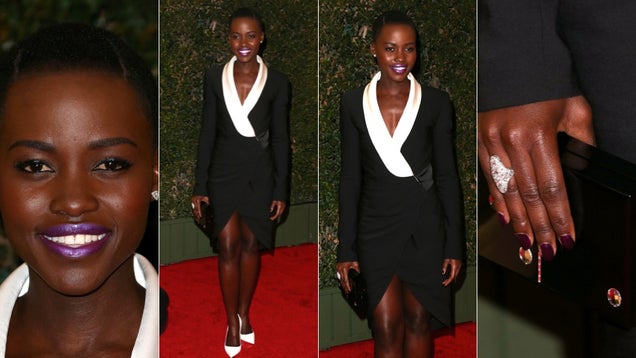 S
Lupita Nyong'o shines in a tuxedo with a twist by Prabal Gurung. And: PURPLE LIPSTICK. In theory purple lipstick is a no but dammit she is pulling it off. It looks phenomenal. Purple. Lipstick.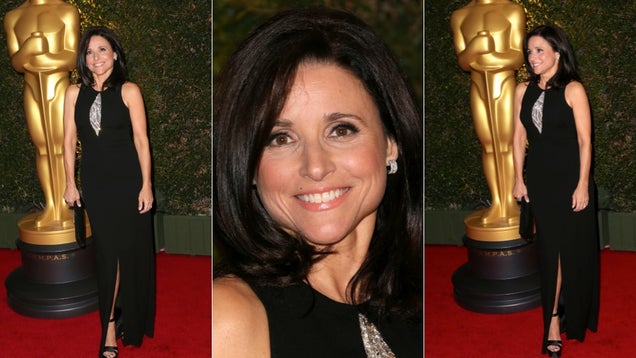 S
Floor-length, sleeveless black is great on Julia Louis-Dreyfuss.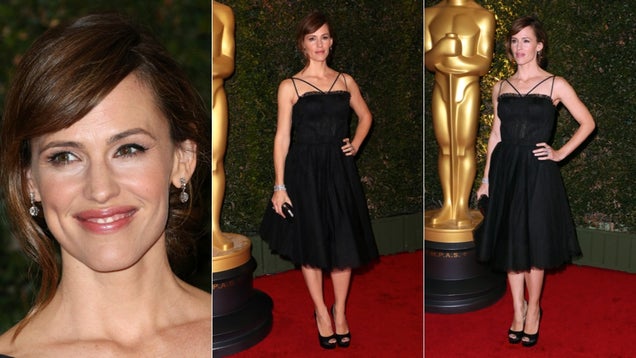 S
Love love love the swingy little Dolce & Gabbana frock on Jennifer Garner. Youthful, but still refined.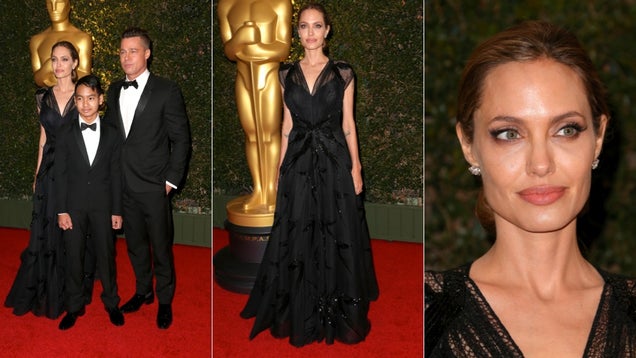 S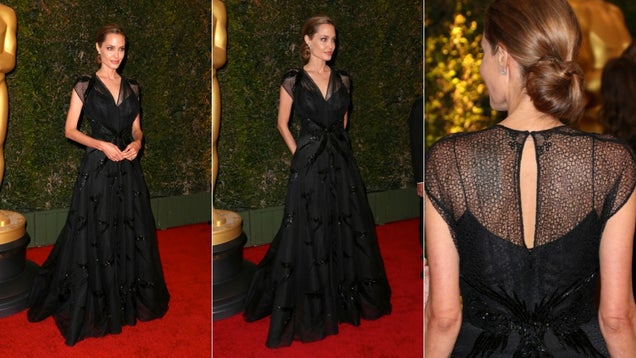 S
Last, but not least: Another look at Saint Angelina, simply spectacular in Atelier Versace. Gorgeous.
Images via Getty.