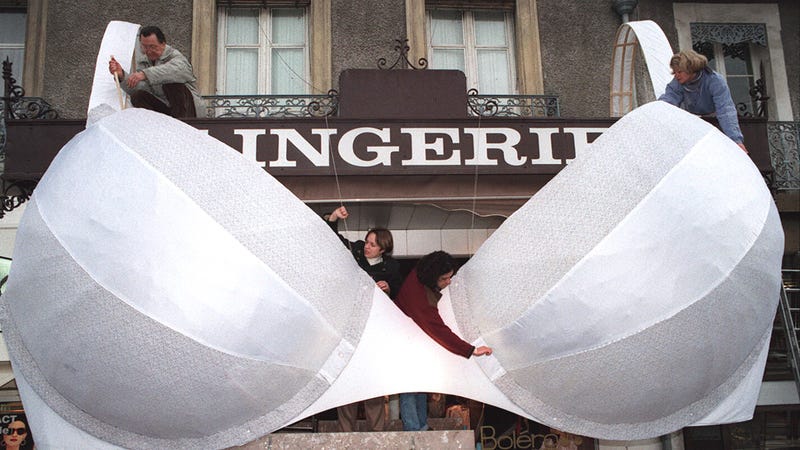 Hoo boy. Strap yourselves in* for what's to come, because I've found myself down on the floor beating my wee fists and kicking my tiny hooves in toddler-style frustration while trying to sort through WHAT IN THE WORLD IS UP WITH THIS CUP SIZE BUSINESS?????
Fair warning: this stuff is so patently ridiculous it will make your pasties spin. But hopefully we'll get comfortable in our Kumbaya circle and cut through the mire in a way that doesn't send you down prone on the floor too. If it does and you find youself on the floor, well? Welcome. Can I offer you a glass of wine? You look like you might need it. Lord knows I do.
*The pun thing … it's a sickness. I'm sorry. [hangs boobs]
Understanding Cup Sizes and Styles
You guys, I have virtually no good news here. Actually? I'm sort of convinced that I'm entirely wrong and that bras actually are from outer space because even with the help of experts I've found myself, as I mentioned, down on the floor moaning and carrying on something terrible. But! I have a mission (to outer space) and I'll be God damned if I'm not going to accept it, so we shall now commence unraveling the mystery of cup sizes.
The Importance of Cup Fit Styles
The first thing we have to talk about when it comes to sizing is that there are two main cup fit styles: Full Figure and Average Figure. This is actually hugely important to know, because the full-style bras will fit much differently from the average-style bras. Those terms, also, are a bit misleading in that they conjure up an association with plus-size versus standard-sized clothing. A Full Figure bra doesn't equal a plus sized bra, and I apologize for the terrible term but it's not mine so the best I can do is acknowledge the problems with it and suggest that we do our best to work with it despite its shortcomings.
So, what does it all mean?! It means this: the difference in the two styles has to do with shape. Which is another reason why those terms are rotten — they make you think of size. Here's a great explanation from a Jezebel regular who is a fitter at a high end department store. I've taken to calling her my Fairy Bramother:
"Most simply put, a Full Figure cut works for a rounded bust, whereas an Average Figure works better on folks whose breasts are more of a teardrop shape, less rounded on top, with the greatest fullness at the bottom.

For example, I am a size 38DD; that may sound to the uninitiated like a "Full" size, but I have that "Average," teardrop shape, so a "Full" 38DD leaves me with excess fabric bagging on the upper part of the breast, but an "Average" cut is just right shape-wise. Another person who is a 38DD may feel like they have no support/coverage in the demi cuts that I love so much, but a "Full" cut fits them perfectly. Most brands will offer options in both cuts in a range of sizes."
Access To Bras
Since we're talking about fit issues, this is a good time to detour into a quick conversation about access. Access to bras is no joke, and so when we talk about trying bras on for fit before we buy them it's also really important to acknowledge that doing so isn't always easy or possible.
Generally, the reasons for this are either because of geographical constraints, i.e. not living anywhere near a decent place to buy bras; having a hard-to-fit size that isn't widely available in stores; and/or budget restrictions.
If you're in a situation where going to a brick and mortar store and actually trying on bras isn't feasible, the internet is your breast best friend, shopping-wise. You'll want to measure yourself for size first, and also spend a little time with your girls and think about their shape, the way they hang, and any issues you've had with bra fit in the past (straps that slip, bands that ride up, cups that pucker, etc.) Considering those things will help you greatly when it comes to choosing styles online that might work best for you. Read the item descriptions! Read the reviews!