Last night's episode of American Horror Story: Coven was totally solid. I mean, it was fucked up and sad like always, but it was also cohesive, funny AND we finally saw the first of Patti Lupone as Miss Robichaux's new, bible thumping next door neighbor. (Unfortunately, there were no songs to be had).
Now before we really get into it, let's clarify something: there's no way to write anything negative about any episode of television that begins with Christine Ebersole dressed like the boss lady of a fabulous 1970s brothel. Seeing her as the most powerful witch of the Nixon era is one of the best things to appear on the small screen in the past 10 years — maybe even ever. As long as we can agree on that, I think you and I will get along great.
So let's get witch ranking!
---
Queenie
It says a lot for American Horror Story that they can take a historical figure with a brutal and disgusting reputation and play her for laughs, but somehow that's exactly what they've accomplished with Madam LaLaurie (though much of the credit goes to Kathy Bates). As punishment for her sadistic history, LaLaurie has been sentenced to act as the personal maid of Queenie and Queenie, for her part, is taking full advantage of the situation.
While LaLaurie is quite vocal on the shame she feels serving a "negress," she has no problem running to Queenie for help when Bastien, the slave she tortured by fusing him with a bull head back in the 1800s, finally comes looking for her.
If you thought a nearly 200-year-old minotaur in pursuit after an immortal serial killer was as weird as it could get, you've probably never watched American Horror Story before. It actually gets waaaaay weirder than that when Queenie lures the minotaur to the back garden and starts masturbating to tempt it to have sex with her — you know, LIKE YOU DO.
"She told me what you did to her daughter," she says, referring to LaLaurie's insistence that Bastien (pre-bull head) raped one of her adult children (when in fact it was the other way around). "You just wanted love. And that makes you a beast? They call me that, too. But that's not who we are. We both deserve love like everybody else."
Bastien, who's already got a lady (Angela Bassett), is all, "Eh, no thanks" and then abducts her for [UNKNOWN FATE]. I, for one, think this will turn out fine.
Why she's the baddest: Queenie has a lot of fun making LaLaurie wait on her hand and foot (+10) and you do have to admire a gal for taking her sexual awakening into her own hands (+15) even if the object of her affections is...questionable. Total points: 25
Why she's not: Lady, just because society doesn't value the way you look and treats you like shit does not mean that you have to have sex with a cloven-foot monster (-15). At least, find a vampire or something — they're supernatural, DTF and have human heads. Also, how did she so quickly decide that she wanted to get freaky with the bull man? These are things need planning and she was not prepared. (-10) Total points: -25
Final Verdict: 0 points. Do not finger blast yourself in front of a minotaur, ESPECIALLY if the minotaur is already in a committed relationship.
P.S. This scene was very funny:
---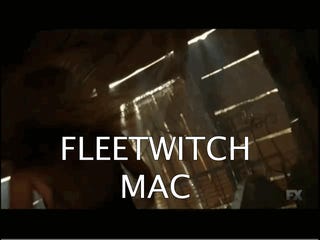 Misty Day
Misty Day likes Stevie Nicks, guys. Did you pick up on that? Were you able to pick up on that subtle, subtle subtly yet? They only mention it every two seconds so I just want to make sure that you understood before we continued. SHE LIKES STEVIE NICKS. Got it? Good.
Why she's the baddest: Misty healed Franken-Kyle up real nice with her magic bayou mud. (+25) She's also totally awesome and nuts. (+25)
Why she's not: Girlfriend is neeeeeeeedy. (-5)
Final Verdict: 45 points. The landslide WILL NOT bring her down.
---
Kyle
Though not a witch, Kyle gets an honorable mention this week because — ugh, this poor kid. If only dying violently in a bus crash, getting stitched back together and then being painfully reanimated by teen witches was the worst thing to happen to him, but it's actually far from it.
Thinking she's doing the right thing, Zoe retrieves the newly reassembled/back-from-the-dead Kyle from Misty's cabin in the woods and reunites him with his grieving mother Alicia. Initially, it's a thrill to see Alicia get her son back, but that happiness quickly turns to dread as we realize that she has actually been sexually abusing Kyle for what is probably his whole life.
Because AHS has never shied away from showing a sexual assault, we see the mother rape her son and it's the perfect(ly horrible) mix of repulsive and heartbreaking.
Unfortunately for her (and fortunately for the rest of us), Alicia's satisfaction is short-lived. Kyle the Frankenteen, reasonably angry about the abuse that his mother has put him through over the years, picks up a trophy and beats her to death with it. Good fucking riddance.
I HOPE THINGS GET BETTER FOR YOU, KYLE. I JUST WANT YOU TO BE HAPPY.
---
Cordelia Foxx
Cordelia is very desperate to have a baby and for some reason, will not consider adoption. Last week, she and her husband — whose job is to drive around on tractors or something? — tried a crazy/sexy/cool spell involving snakes and doooooin' it to get her knocked up, but it didn't take.
What with desperate times calling for desperate measures and all, Cordelia (who would be so much better if she was Cordelia Chase) goes to Marie Laveau to get her hands on some voodoo fertility magic. Laveau, sitting in an incredible (but awfully uncomfortable looking) throne of alligator heads tells her of a spell that involves a great sacrifice to show the gods her "willingness to suffer," though, honestly, from Cordelia's point of view, the spell is not that bad. While Laveau would have to eat a pepper made of fiend-fire or something, all Cordelia has to do is get bled on by a goat — or, as I like to call it, Saturday night.
It's all a bait and switch, though. Cordelia is willing to pay Laveau the big bucks, but Laveau won't help her for all the money in the world. Turns out that last week's antagonistic conversation with Fiona (Cordelia's mother) did not make Laveau a huge fan of the family. Sorry, not sorry.