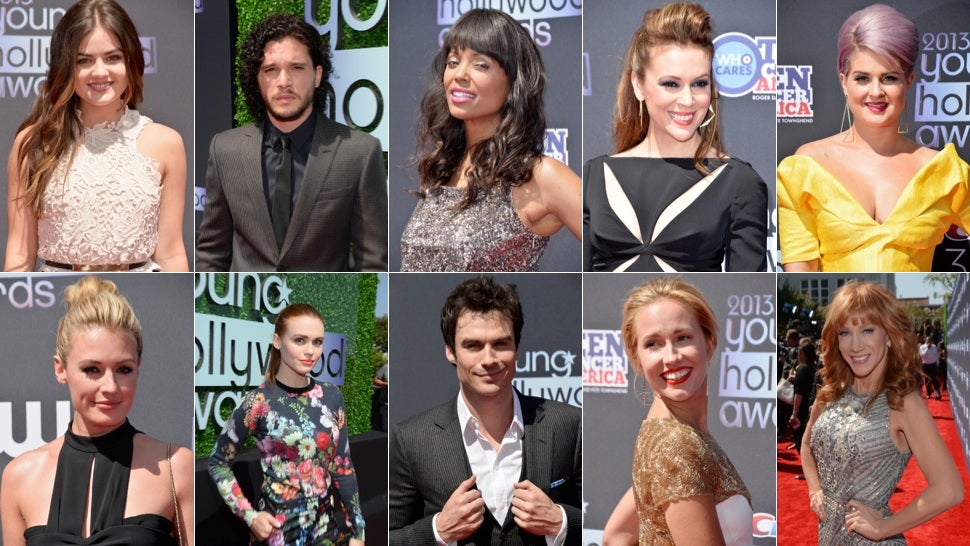 S
Honestly? We don't know what the fuck the Young Hollywood Awards are about. Some of these fine folks are not particularly "young" or "Hollywood." But whatever. Celebrities got dressed up and posed on a blindingly sunny red carpet for our pleasure and amusement. Let's take a look.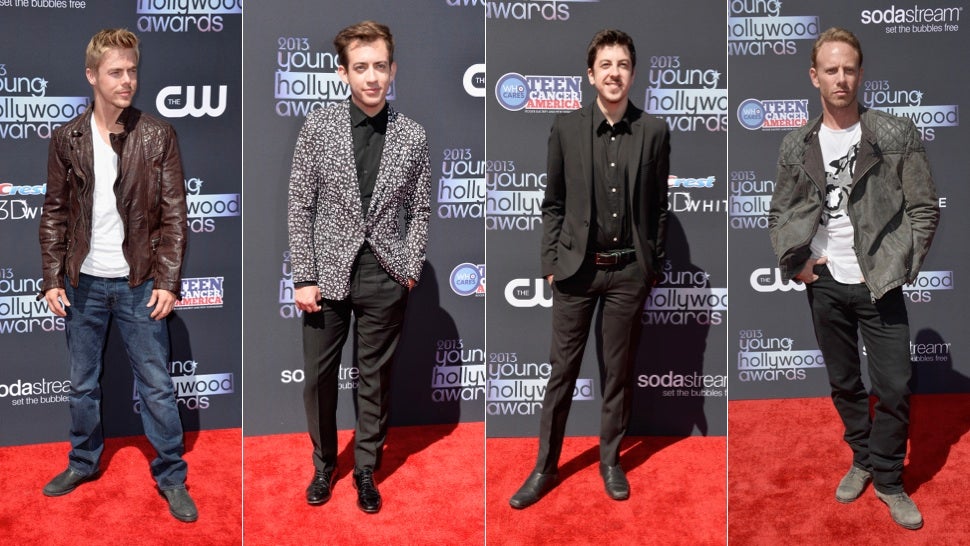 S
It's so sunny that these gentlemen look slightly over dressed. Leather jacket weather, really? Derek Hough, Kevin McHale, Christopher Mintz-Plasse, Ian Ziering. Believe it or not, Ziering won an award for Sharknado. (It should be noted that this "awards" show — presented by Crest 3D White and SodaStream and part of the portfolio of Penske Media Corp., owner of Variety — featured awards like "One To Watch" and "Female Superstar of Tomorrow" and the "SodaStream UnBottle the World Award" went to Lauren Conrad. So.)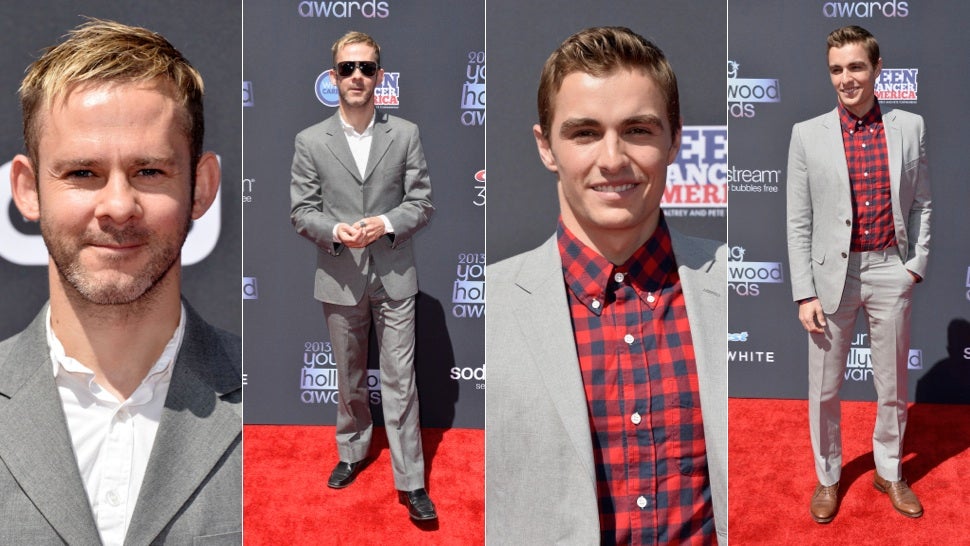 S
Slim grey suits for Dominic Monaghan and Dave Franco.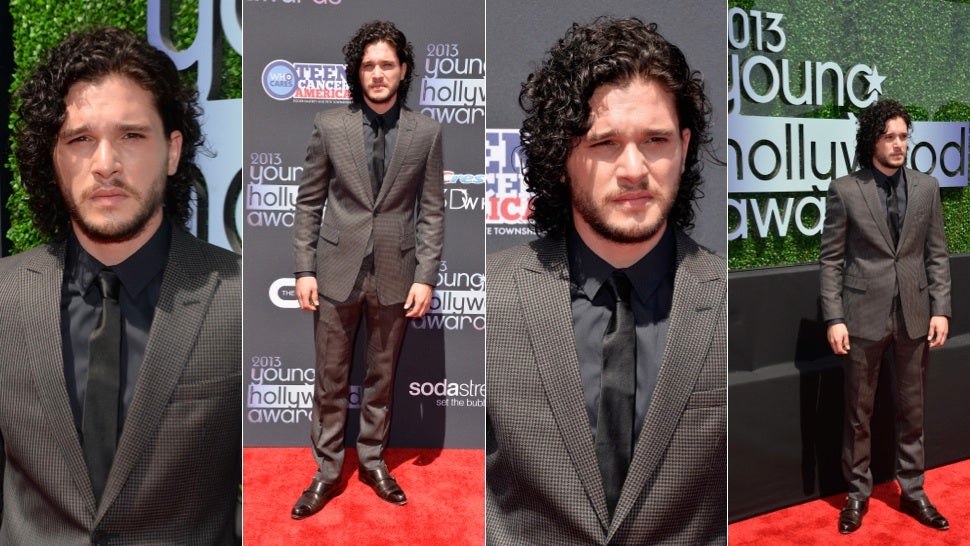 S
Jon Snow can't wait to go back over the wall where it's cloudy and cold.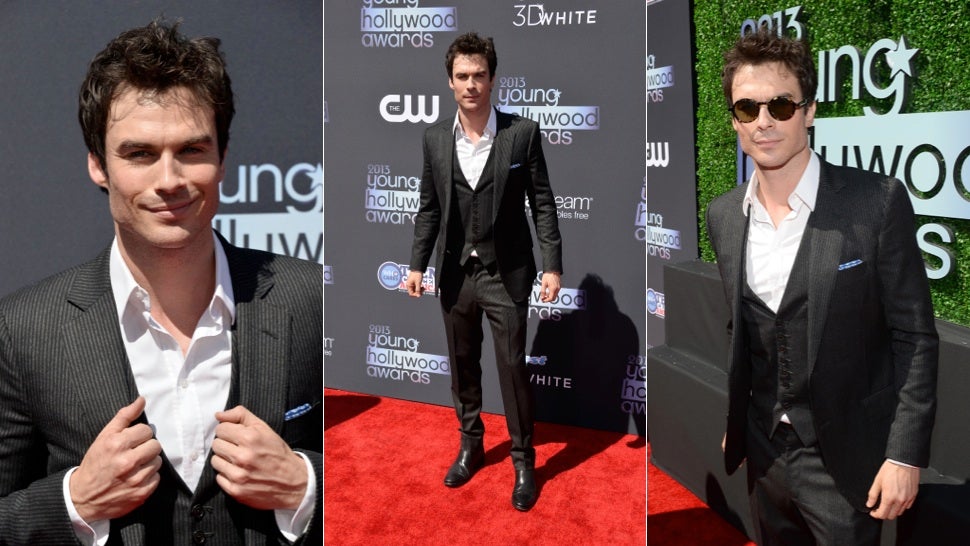 S
Why hello there Ian Somerhalder. Three-piece suit, no tie? Sure. Whatever you want. Can we see some more of that Smolderhalder?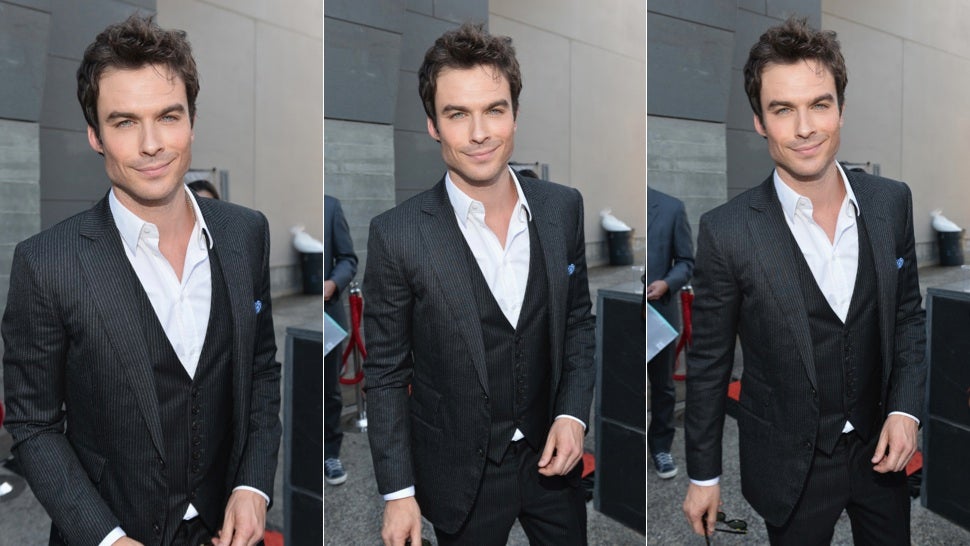 S
Thanks.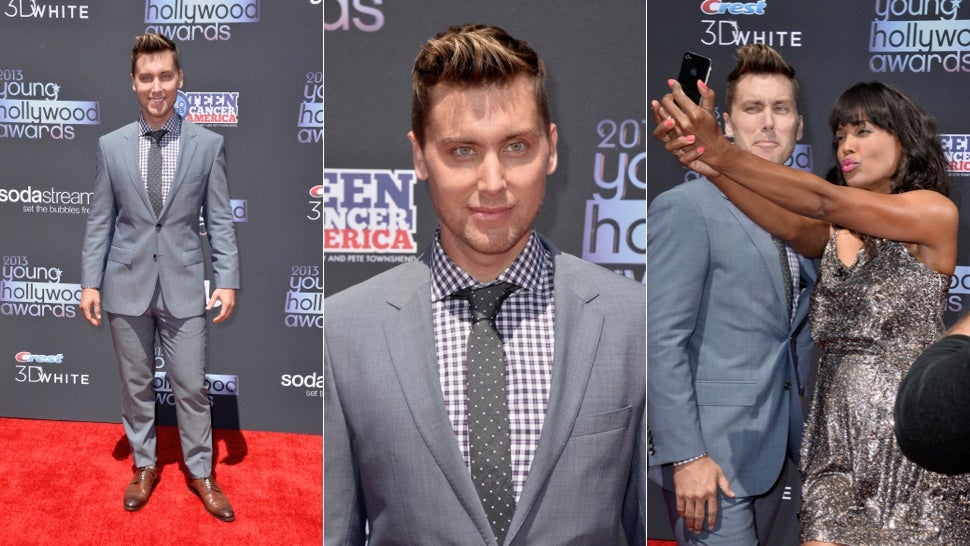 S
Lance Bass mixes patterns and rocks gravity-defying hair. Cute.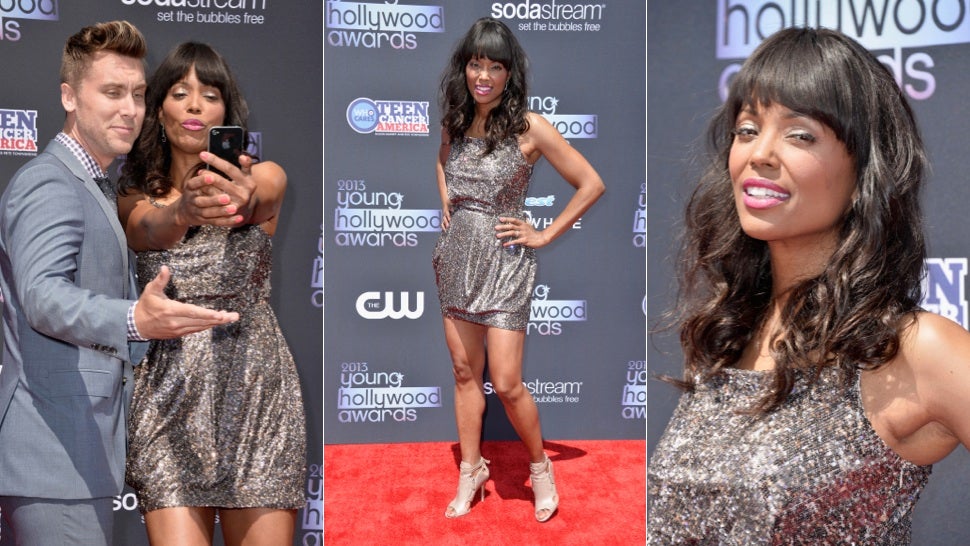 S
As a person whose favorite color is silver, I totally get Aisha Tyler's comitment to Sparkle Motion. However. The banded bottom on this dress and those shoes cutting off her legs? Gah. No good.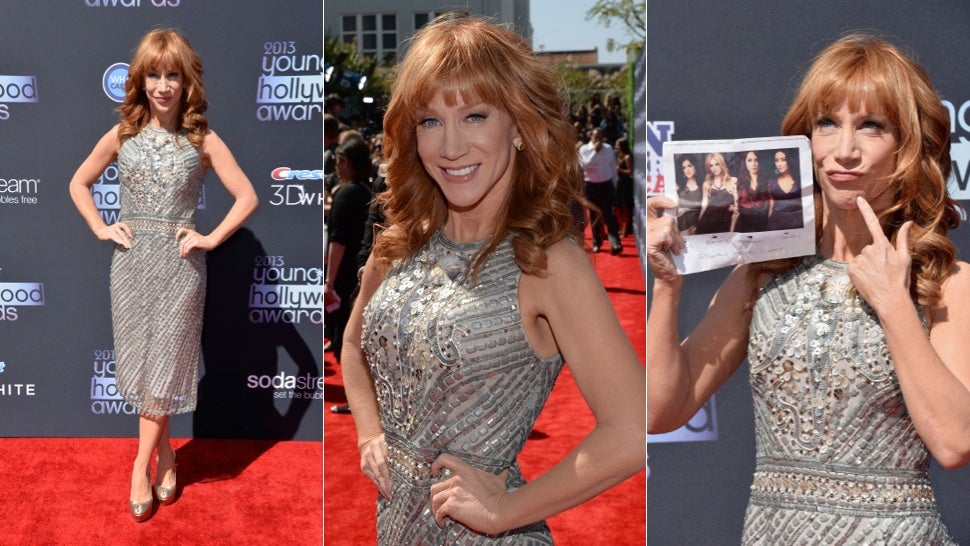 S
Doing a slightly better version of sparkle: Kathy Griffin. This dress probably looks smashing in dimmer lighting.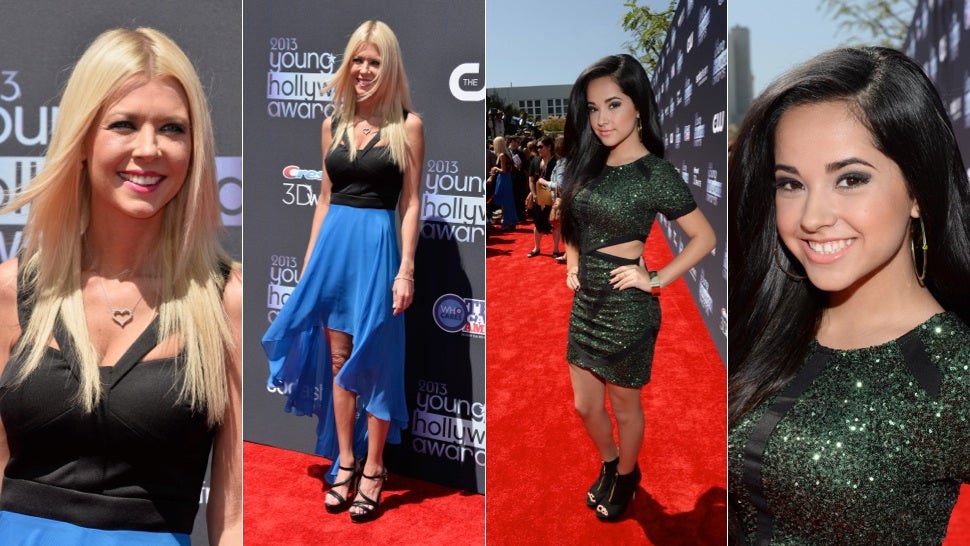 S
Tara Reid looks pretty good, although mullet dresses are still not cool. Apparently Becky G is a rapper, as well as someone who looks good in Emerald City realness.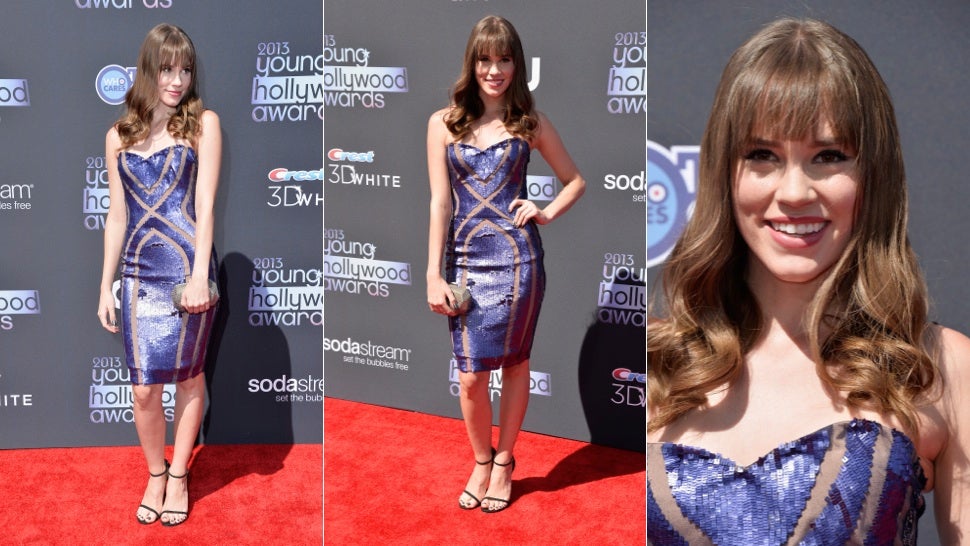 S
More sequins: Revenge's Christa B. Allen.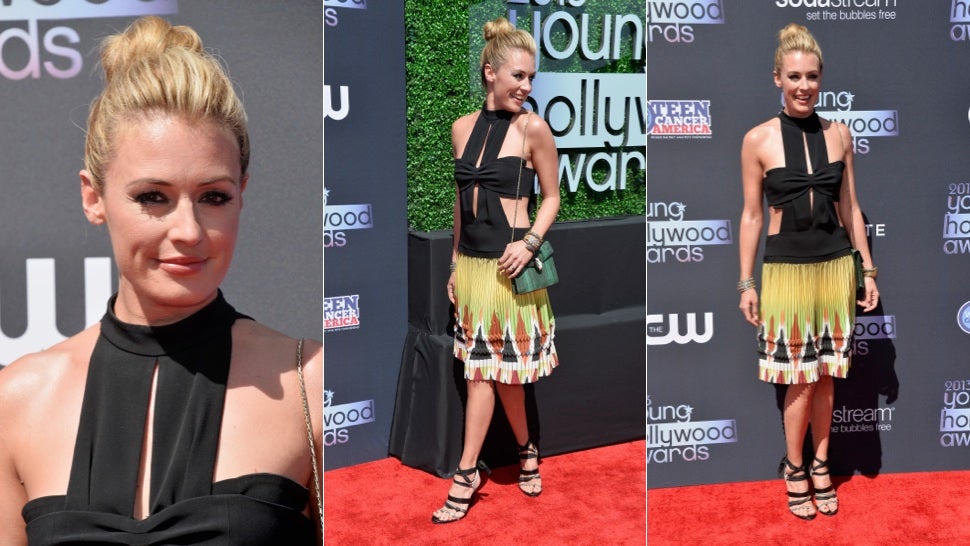 S
Poor Cat Deeley left her dress at home and had to cobble something together real quick using sale bin throw pillows from Urban Outfitters.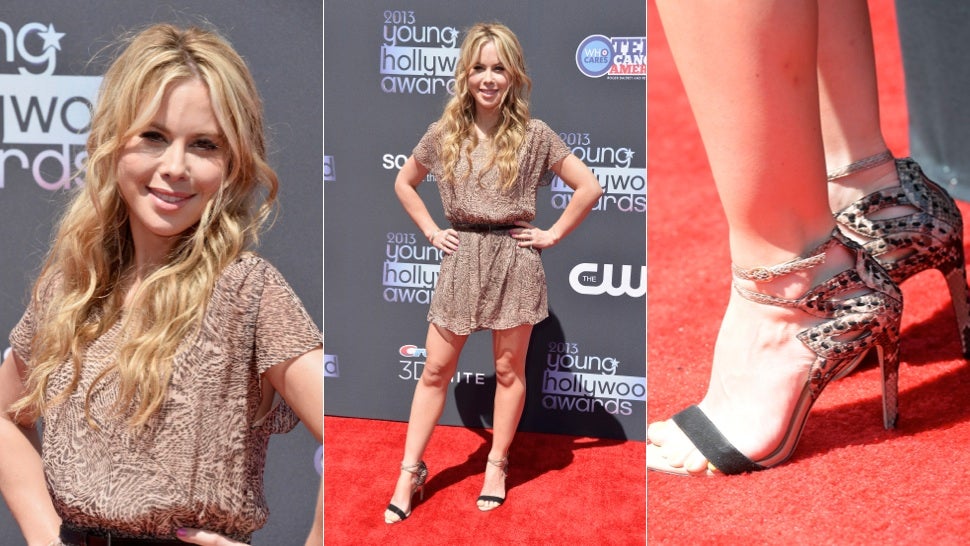 S
Figure skater Tara Lipinski's dress is meh (or possibly just washed out by too much sunlight?), but the shoes are divine.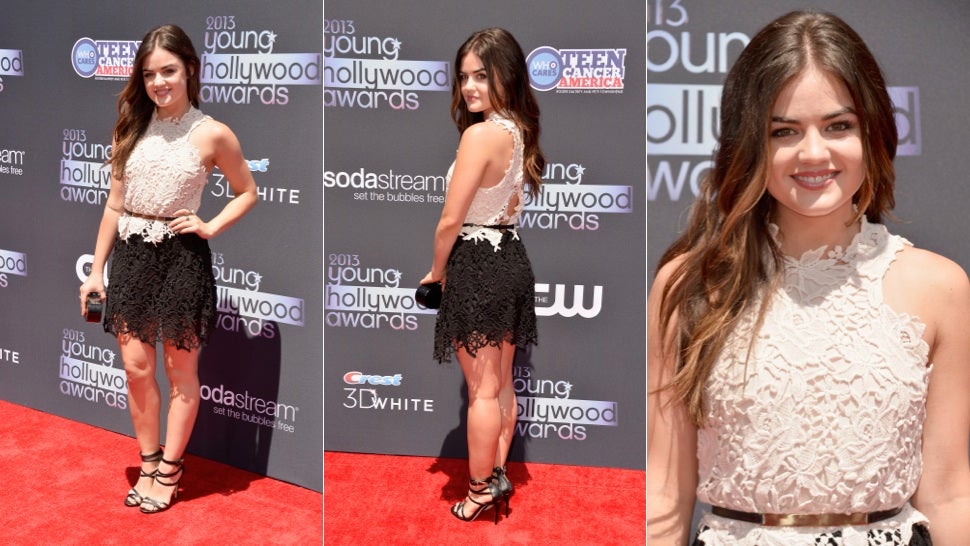 S
Pretty Little Liars star Lucy Hale campaigns to be renamed Lacy Hale, looks adorable while doing so.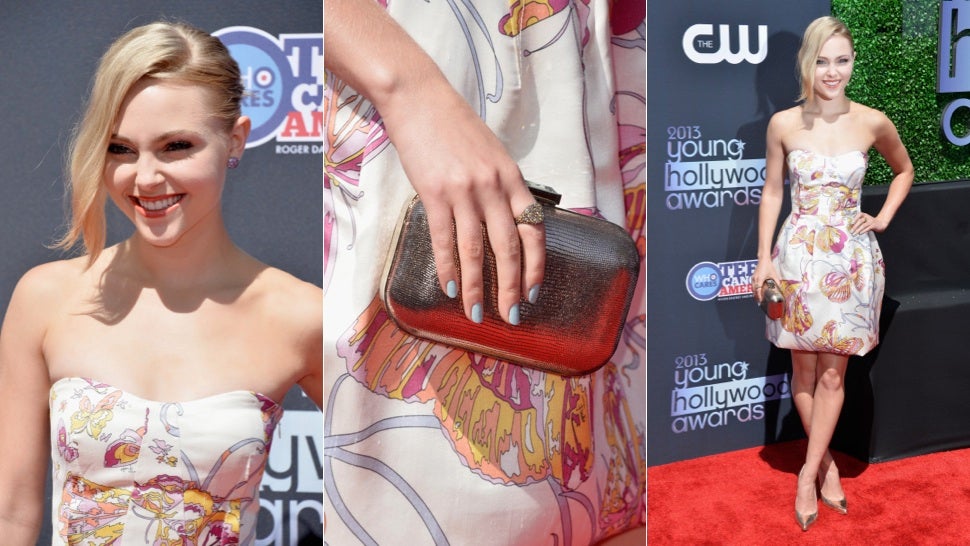 S
Supercute Pucci dress on Carrie Diaries star AnnaSophia Robb.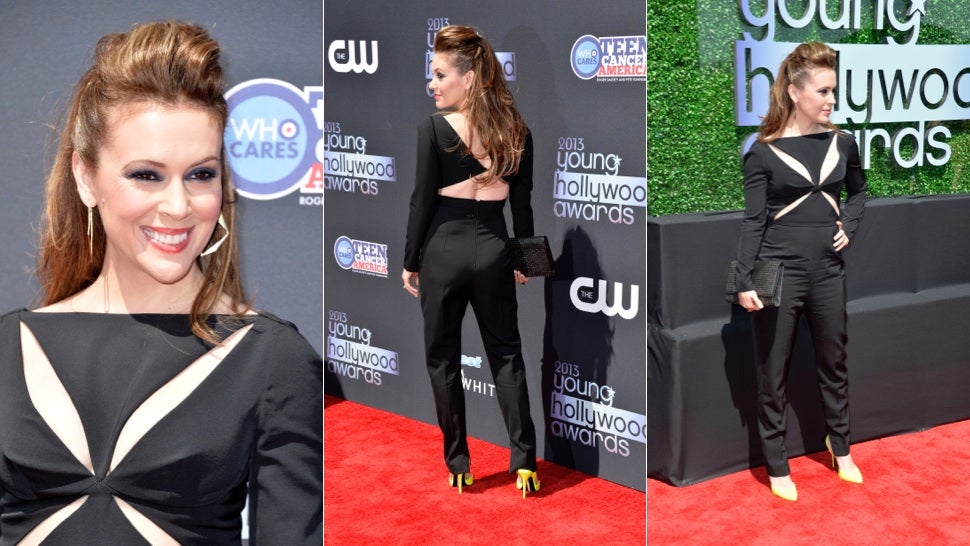 S
Let's play a game called Good Jumpsuit/Bad Jumpsuit. With all kinds of cut-outs and weirdly tapered legs (AND YELLOW PUMPS) today, the Bad Jumpsuit role will be played by Alyssa Milano. (This is a Stella McCartney design, and would probably look better with barely-there black sandals, no earrings and slicked-back hair.)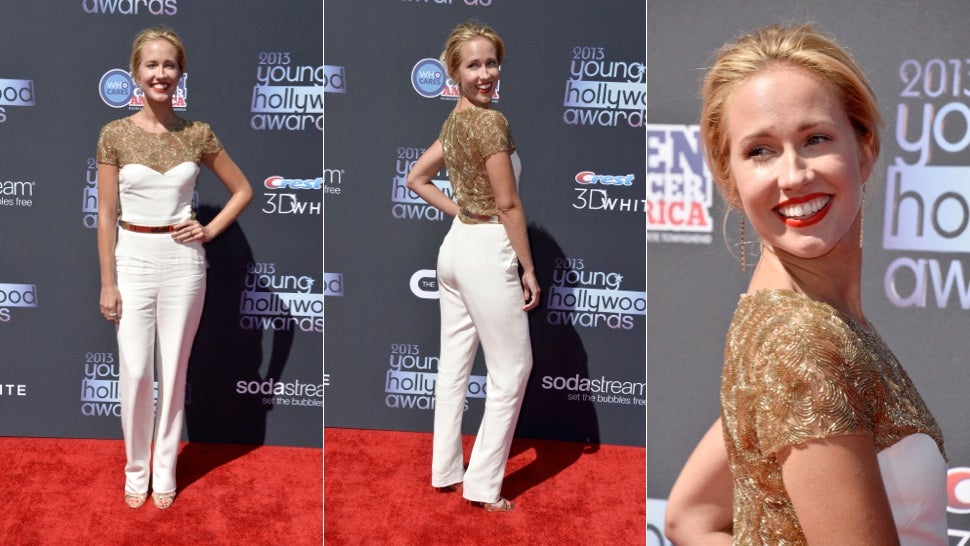 S
And in Good Jumpsuit (by Lorena Sarbu): Anna Camp of True Blood, The Mindy Project and Pitch Perfect. Gold beading, gold belt, crisp white, so fresh.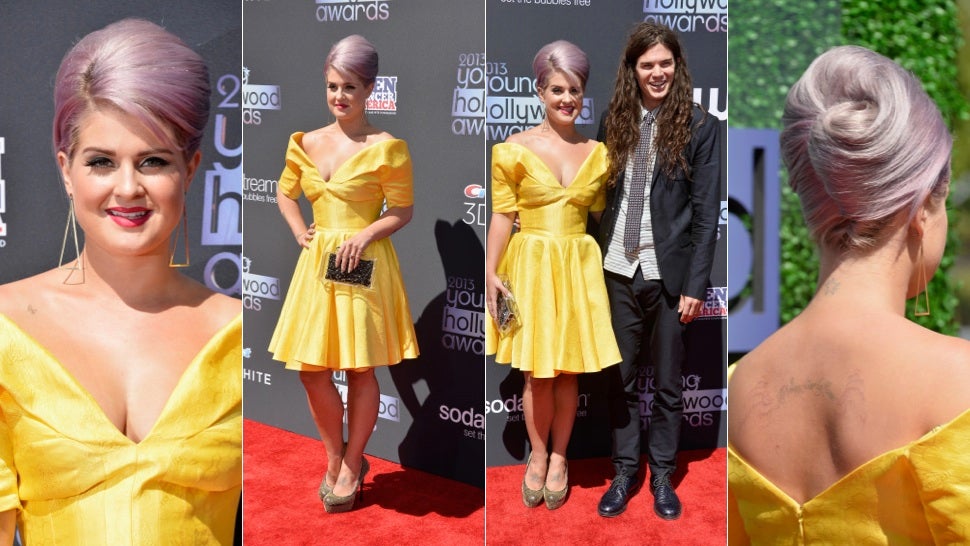 S
Really really digging bold, sunny yellow on Kelly Osbourne. It's sort of an assault on the eyes, and she looks like a bridesmaid at a cornfield wedding, but goshdurnit, the shpe is cute and really flattering. Cupcake frosting swirl hair is a bonus.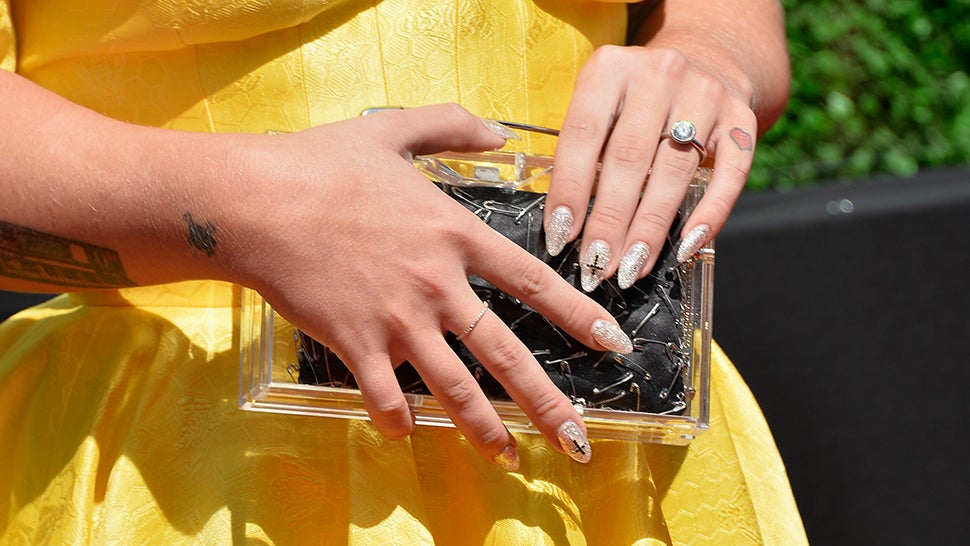 S
Engagement ring, lucite clutch, crucifix glitter nails. Why the fuck not. Do it.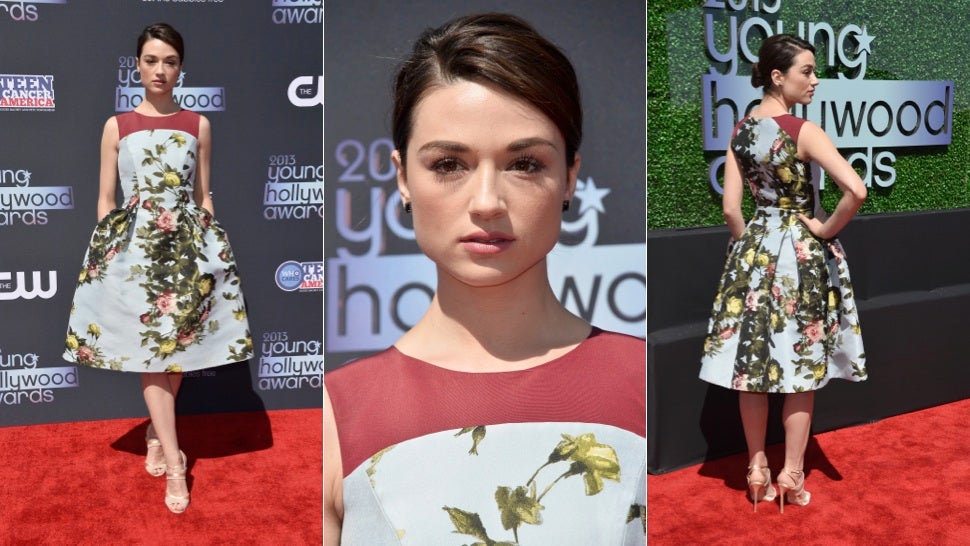 S
We are now entering the floral portion of our program. Teen Wolf's Crystal Reed looks beautiful in a fifties silhouette, although the pleating on the back of that dress would probably make a mere mortal look like a double wide trailer. (The dress is Carolina Herrera and we saw a long version of it on Lucy Liu at the Golden Globes)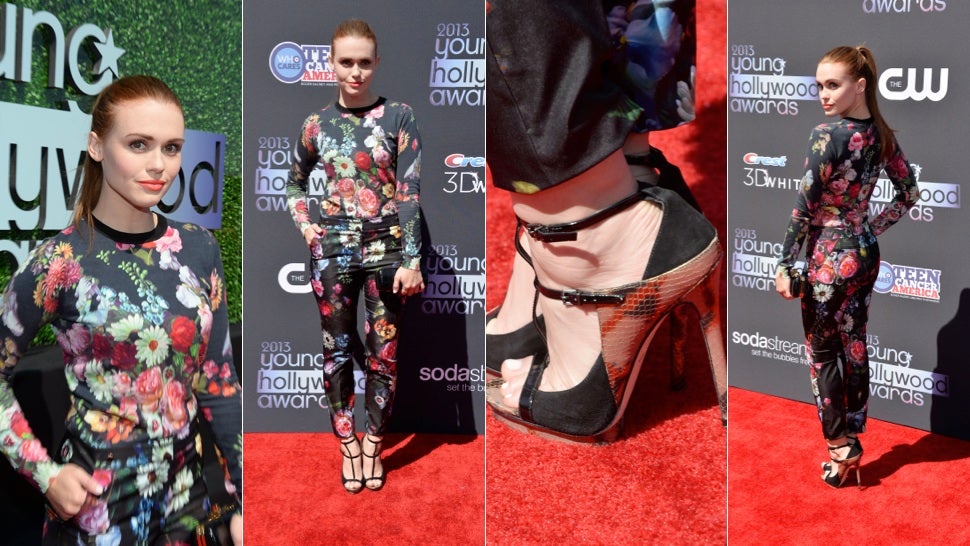 S
This might be controversial but loving Teen Wolf's Holland Roden in head-to-toe flower power by Ted Baker. Chic, sleek, different, cool.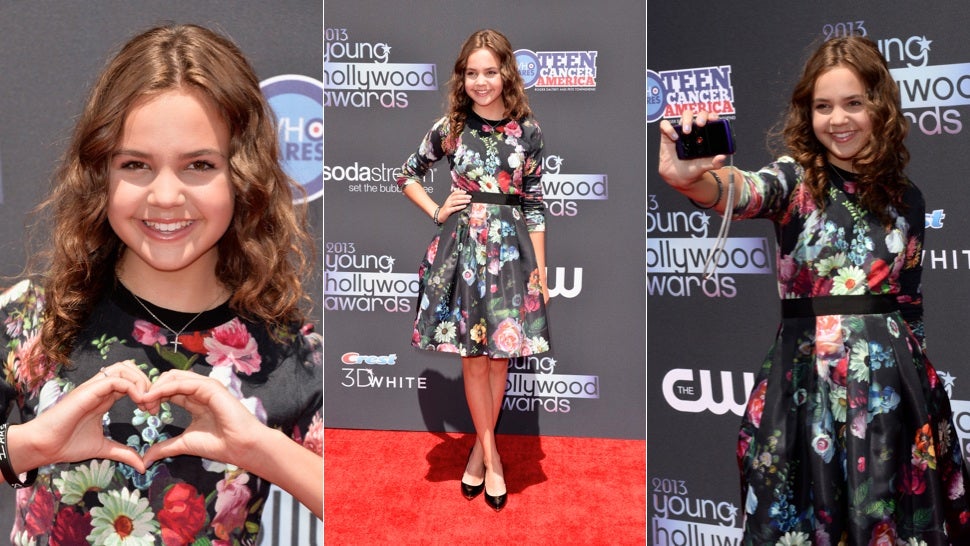 S
So I don't really know who Bailee Madison is; Google informs me she is 13 and has been in dozens of movies and TV shows. And in this cute Ted Baker floral frock, she is my pick for Best Dressed. It's young, it's fun, not too fussy, and could be worn by a woman at age 8 or 80. Want.
Images via Getty.