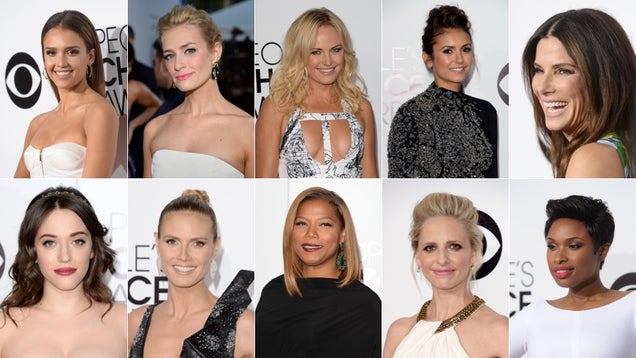 S
Last night at the 40th annual People's Choice Awards in Los Angeles, there were some lovely gowns. There were also quite a few ugly dresses, as well as eyebrow-tugging painful hairdos, formal crop tops and caged cleavage. Egads.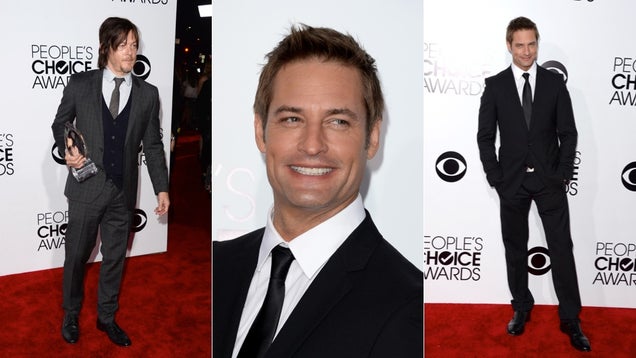 S
Let's start with the gentlemen, who looked gentlemanly. The Walking Dead's Norman Reedus sported a vest; Lost star Josh Holloway wore a safe suit.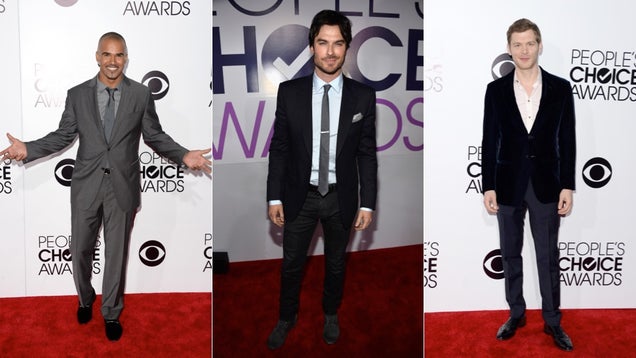 S
Shemar Moore of Young & Restless and Criminal Minds fame wondered if you like him in gray. Vampire Diaries' Ian Somerhalder matched a gray tie to gray shoes and smoldered the whole time. Vampire Diares/Originals actor Joseph Morgan looked fetching in velvet.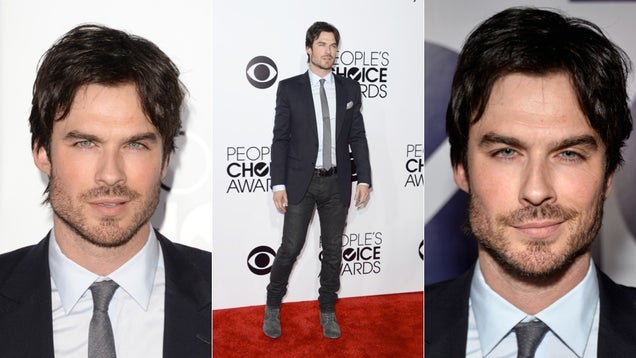 S
SMOLDERHOTTER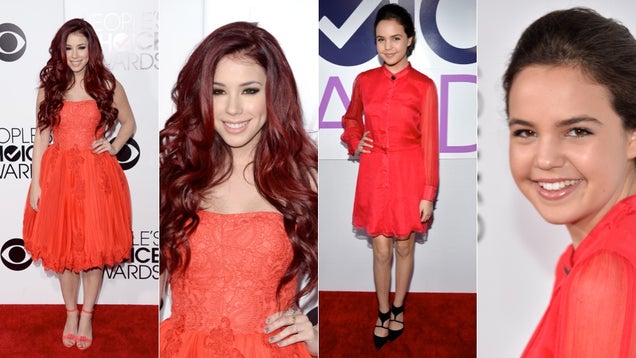 S
On to te ladies! There were a few brights on the red carpet. Love the coral on Jillian Rose Reed of MTV's Awkward, but it clashes a little with her hair. Maybe a bouncy ponytail would have been better? Adorable scarlet dress on Bailee Madison of Bridge to Terabithia and Trophy Wife.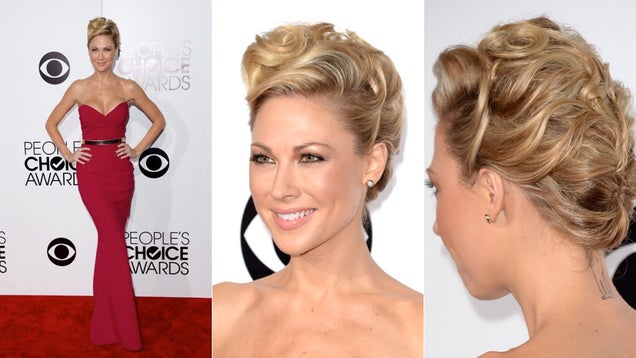 S
I don't know anything about Desi Lydic, an actor on MTV's Awkward. I only know that this look is flawless. Curve-hugging crimson and a pretty, pretty updo. Splendid.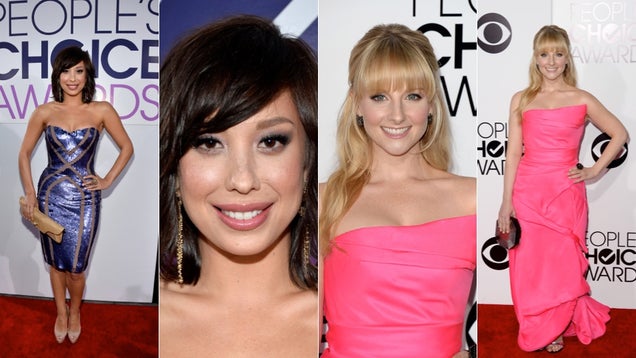 S
Too tight/too bright: Cheryl Burke of Dancing With the Stars and Melissa Rauch of The Big Bang Theory.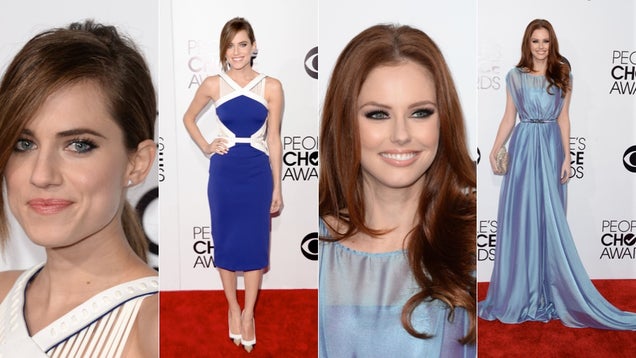 S
Two completely different versions of blue: Girls star Allison Williams chose structured and modern; former Miss USA Alyssa Campanella opted for more fluid and romantic.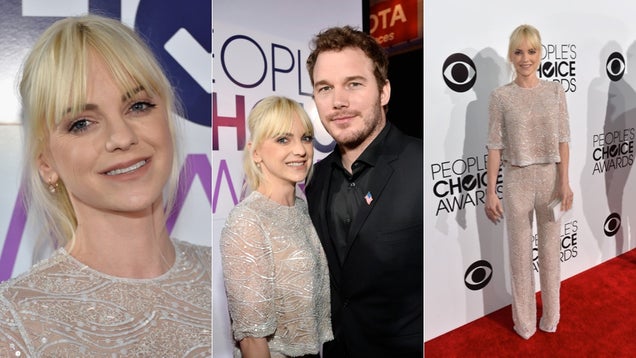 S
After being inundated with tan/beige tones for a few seasons, we're seeing fewer and fewer of that. But Anna Faris (with husband Chris Pratt) wore a sparkly beige/tan nude-ish flesh-tone-esque 2-piece thing that had rather awkward sleeve length and crotch length. I don't hate it but I don't love it. Thinking it would look better in black?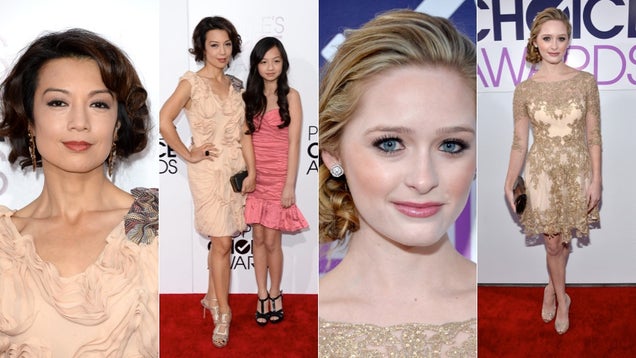 S
More beige: Agents of SHIELD actor Ming-Na Wen (with daughter Michaela Zee); Greer Grammer (actor on Awkward and daughter of Kelsey and Camille).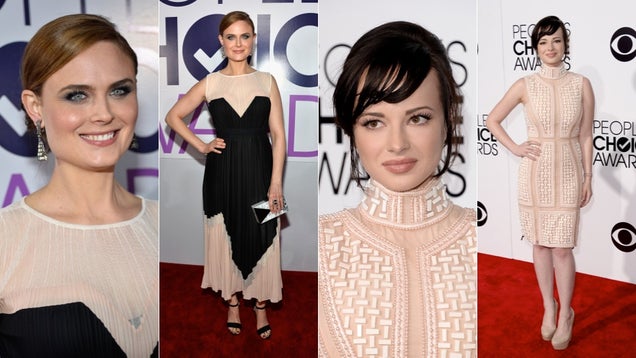 S
Also embracing the sheer/illusion/nude thing: Bones actor Emily Deschanel; One Tree Hill/Awkward actor Ashley Richards.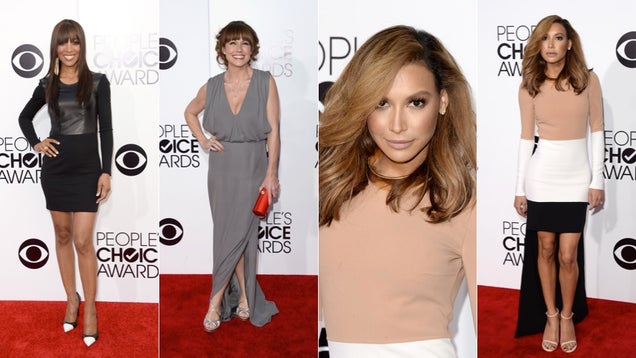 S
A few ensembles that are almost but not quite right: Access Hollywood's Shaun Robinson looks good in sharp black, but the shoes are distracting. I want to pull up the top of the dress on Awkward's Nikki DeLoach just a smidge. As for Glee's Naya Rivera, I just need to take a pair of scissors to the back of that mullet dress and then everything's perfect.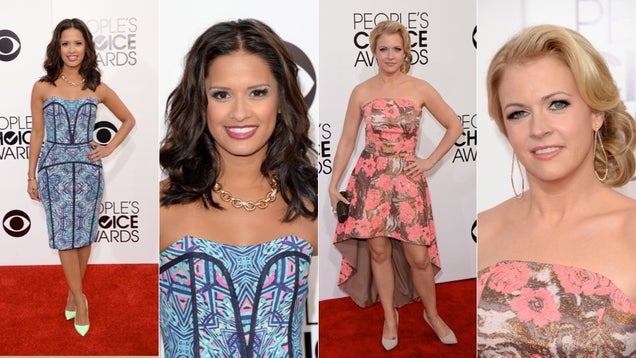 S
There were a lot of busy patterns happening last night. The little body-hugging one on Rocsi of 106 & Park and Entertainment Tonight isn't bad, but poor Melissa Joan Hart needs to burn hers. Not even Clarissa can explain this atrocity.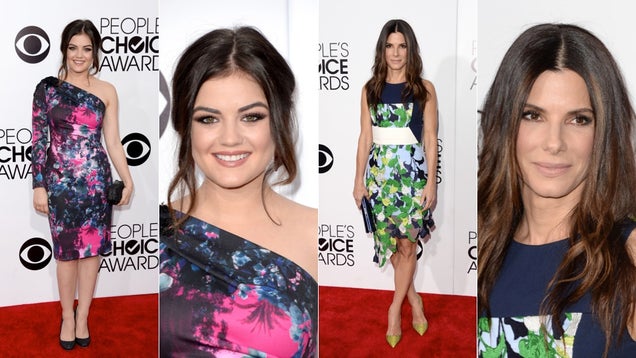 S
Better prints: Pretty Little Liars star Lucy Hale; Hollywood's very own Sandra Bullock.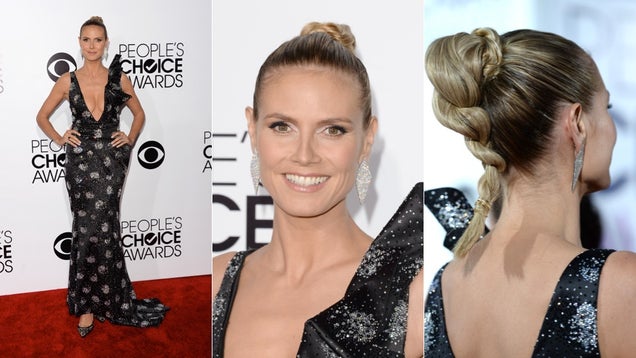 S
Smashed innerboob. Tight, hard, eyebrow-raising hair. Shiny twist. Everything about Heidi Klum's getup looks painful.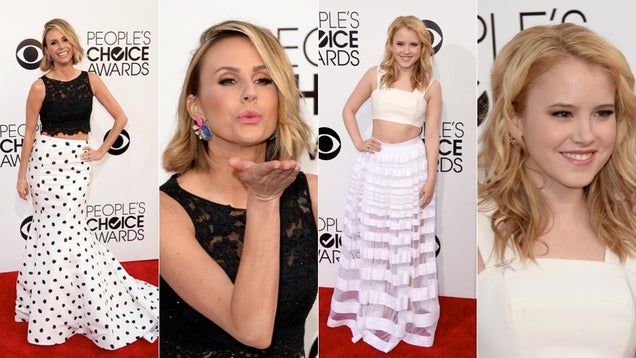 S
Crop tops aren't just for weddings! Insider correspondent Keltie Knight mixed lace and polka dots; Taylor Spreitler of Melissa & Joey bared her belly and played peek-a-boo with her legs.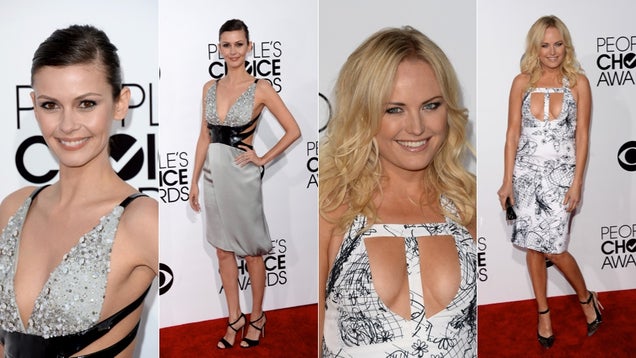 S
Boobs and straps: Olga Fonda of Vampire Diaries and Real Steel cinches the sides; Trophy Wife's Malin Akerman keeps the cleavage in a cage.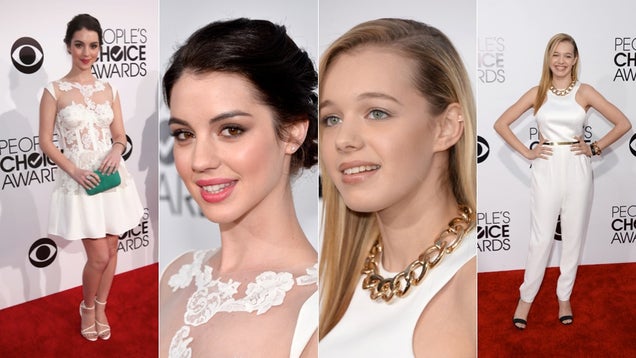 S
Bright white: Love the little lacy number on Adelaide Kane, who plays Mary Teen of Scots on Reign. And battling Anna Faris in the War Of Weird Crotches is Sadie Calvano (of the TV show Mom).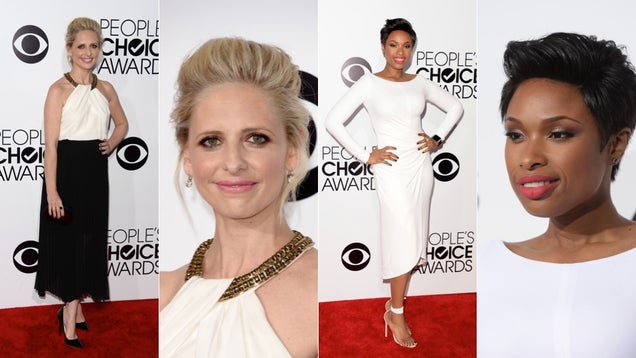 S
Above the waist, Sarah Michelle Gellar did alright. That hemline, though. Meanwhile, working tight white like the rent is due tomorrow: Jennifer Hudson. Damn.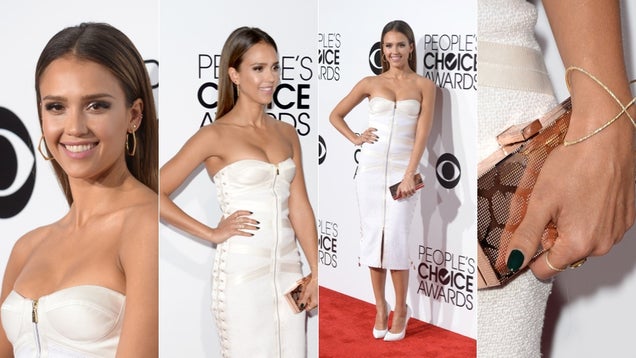 S
While the breast cups may not be exactly the correct size, Jessica Alba's white bandage dress — paired with gold accessories — gets an A+. Nicely done.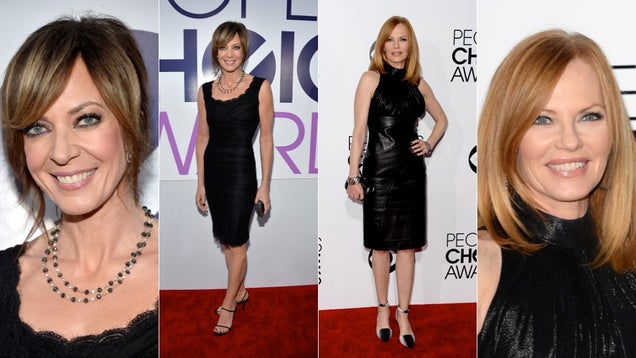 S
Elegant and classy as hell in jet black: West Wing/Mom star Allison Janney; CSI's Marg Helgenberger.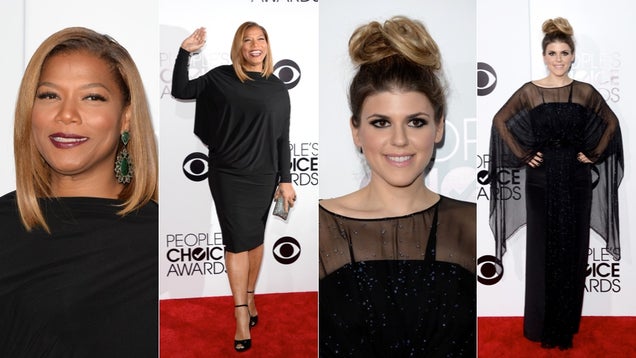 S
More glamorous black: Queen Latifah; Awkward's Molly Tarlov.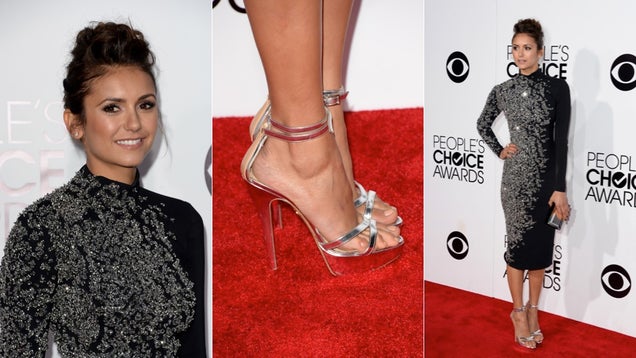 S
One of the best looks of the night: Jewel-encrusted, long-sleeves anything-but-basic black on Vampire Diaries' Nina Dobrev.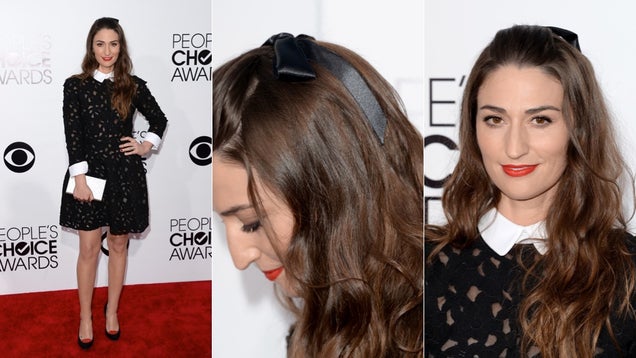 S
Another favorite: singer Sara Bareilles in a girlish frock complete with Peter Pan collar and shiny satin hair ribbon. So sweet.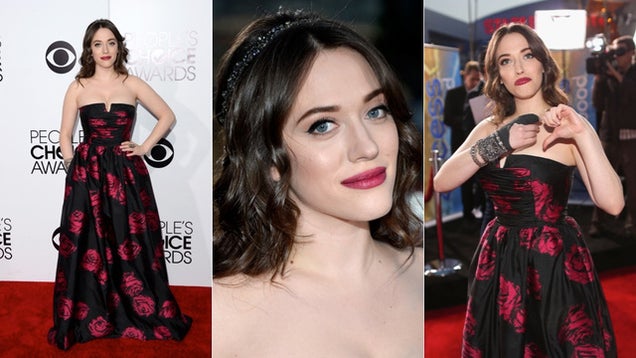 S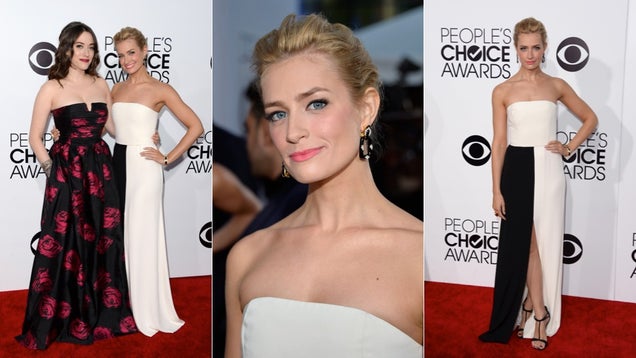 S
But the two best-dressed? The hosts, 2 Broke Girls stars Kat Dennings and Beth Behrs. Kat's hair is pretty and romantic, her floral print gown is on-trend without being eye-searing, and the lips and eyes! Swoon. As for Beth, a dress with clean, simple lines — no fussy neckline, no necklace, no wrist-jangling arm candy — shows off her beautiful skin and shoulders.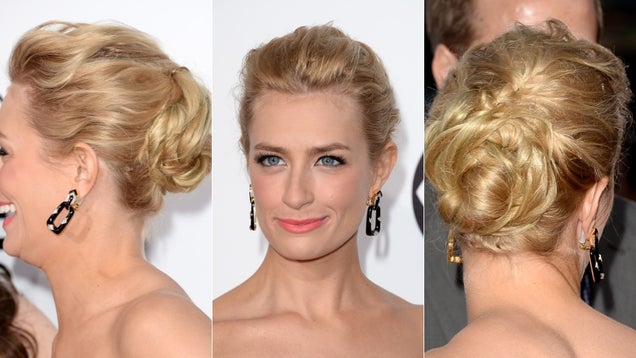 S
The hair — a messy slash organized bun — is astoundingly good. Kudos.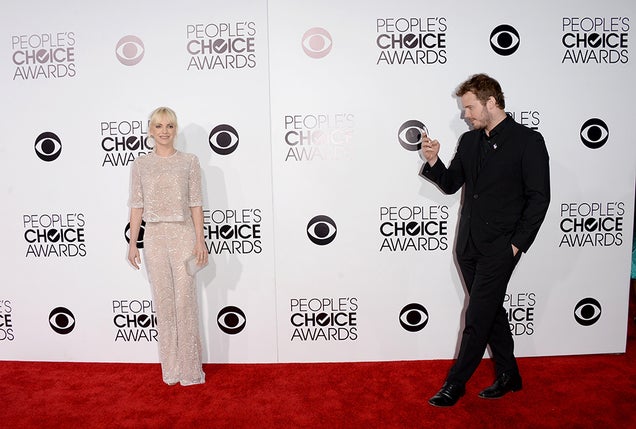 S
Images via Getty.