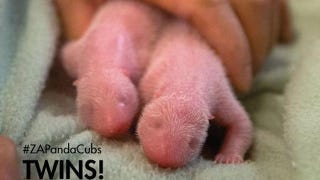 The good news: America has its first pair of giant panda twins in 26 years! The bad news: They're totes fugs.
Lun Lun, a 15-year giant panda who was artificially inseminated, gave birth to the twins two minutes apart at Zoo Atlanta on Monday evening after a 90-minute labor (compared to the 36-hour labor she endured during her first delivery in 2006). But unlike the black-and-white, roly-poly adorableness of giant pandas, the newborn cubs are gross and rodent-esque, with indents instead of eyes. And why are they so tiny? Isn't it weird that a 235 lb animal would pop out something that fits in the palm of a human hand?
However, Zoo Atlanta has promised, via Twitter, that, "They'll definitely cute'n up!"
Twins are unusual but not unheard of for pandas. Apparently, if this happens in the wild, the panda mom will only take care of one cub and ignore the other. (Jacob Have I Loved!) But Zoo Atlanta will be rotating the cubs out with Lun Lun so that they will be receive their mother's affection.