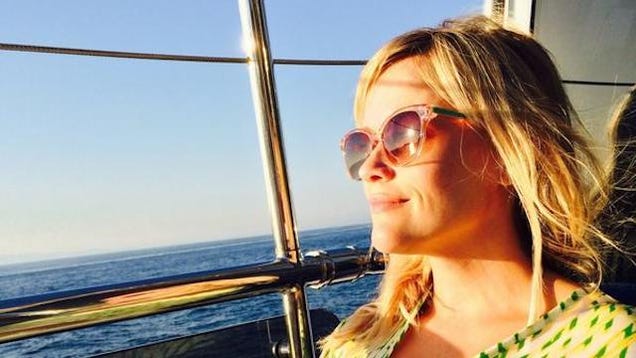 In today's Tweet Beat, Reese Witherspoon thoroughly enjoys her vacation, Katy Perry ruminates on peak hipster-dom and let's all join Mara Wilson in giving a warm sendoff to one of the shittiest weeks ever.
The world is awful this week.

— Mara Wilson (@MaraWritesStuff) August 15, 2014
You know how pug dogs always look like they are smiling? I find that annoying.

— Jim Gaffigan (@JimGaffigan) August 15, 2014
You know you're on a small plane when there is no sink in the airplane bathroom. 👐🚫😝😷

— Gillian Jacobs (@GillianJacobs) August 15, 2014
Made iced coffee in the blender. Turns out the lid was loose so let's just say the kitchen walls are real hopped up on caffeine today.

— Jessica Biel (@JessicaBiel) August 15, 2014
My tv family and my birthday cake today! #blackish pic.twitter.com/xJHJvjATKK

— Anthony Anderson (@anthonyanderson) August 15, 2014
What did you do during Prohibition if you were a woman who wanted to drink AND vote?

— Mindy Kaling (@mindykaling) August 15, 2014
It doesn't get anymore hipster than a DeLorean IN a coffee shop.

— KATY PERRY (@katyperry) August 15, 2014
I have an exquisite talent for turning long pants, be they denim or cotton, into short pants, or "shorts."

— dax shepard (@daxshepard1) August 15, 2014
#Goldenhour #Bliss pic.twitter.com/fvEXIyty3V

— Reese Witherspoon (@RWitherspoon) August 15, 2014
There aren't many things more irritating than a bra. I just wish my boobs were perky so I wouldn't have to wear these things.

— The Graytest (@MacyGraysLife) August 15, 2014
I wish I could live in slo-mo.

— Kirsten Smith (@KiwiLovesYou) August 15, 2014
If you need me I'll be over here pic.twitter.com/rMvNVbEV7x

— Emma Roberts (@RobertsEmma) August 15, 2014
Image via Reese Witherspoon Twitter.