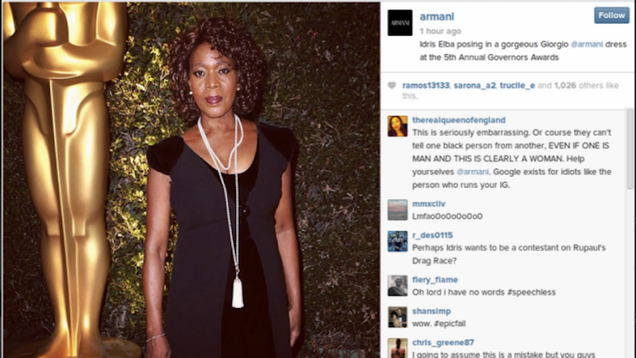 On Monday night, Akoto Ofori-Atta of The Root posted a screen cap of a photo from Armani's Instagram account that the clothing company had captioned "Idris Elba poses in a gorgeous Giorgio @armani dress at the 5th Annual Governors Awards." The news that Idris Elba was wearing a dress would certainly have been something, but no; it was really a photo of actress Alfre Woodard.
According to comments on their Instagram account, after posting the photo of Woodard, Armani posted a picture of Elba with Naomie Harris and referred to her his girlfriend. Both the photo of Woodard and the photo of Elba and Harris are still up, captions amended.
Armani also apparently sent out inaccurate tweets for the photos as well, before fixing those too.
The mistake prompted the creation of the hashtag #armanicaptions with sometimes hilarious results:
india.arie wows fans with new auburn hair color. #armanicaptions pic.twitter.com/YyyfO7Hvf7

— Brian Patrick Davis! (@blacksocialite) November 19, 2013
Jackie Chan stuns on the red carpet #ArmaniCaptions pic.twitter.com/jSey5DywwX

— Bougie Black Girl (@BougieBlackGurl) November 19, 2013
Solange Knowles covers Vogue magazine in Armani menswear! A true beauty #ArmaniCaptions pic.twitter.com/UtuW3tSYOj

— Talisha (@charmful) November 19, 2013
Best Man Holiday nearly overtakes THOR as Race Themed Films Soar. #armanicaptions pic.twitter.com/eLWyiYFL1L

— DALAYYYY (@TheToast2013) November 19, 2013
The company has yet to apologize or make a statement.
Alfre Woodard shows up as Idris Elba [The Root]
Screenshot via The Root/Armani/Instagram