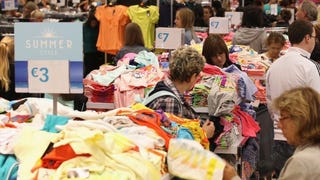 Another shopper has reportedly discovered a note from a factory worker in article of clothing purchased from Primark.
Karen Wisínska said she found in the note in a pair of pants she purchased in June 2011, which she had stored and not worn until recently. According to UTV, Wisínska posted the pictures to her Facebook and contacted Amnesty International when she found the note:
According to Amnesty, it reads: "We are prisoners in the Xiang Nan Prison of the Hubei Province in China. Our job inside the prison is to produce fashion clothes for export.

"We work 15 hours per day and the food we eat wouldn't even be given to dogs or pigs. We work as hard as oxen in the field.

"We call on the international community to condemn the Chinese government for the violation of our human rights!"
This is the third time within a week shoppers have reported finding notes from workers in their clothes. Earlier this week, a woman in Wales reported finding a note in a $10 dress from Primark which read "forced to work exhausting hours." Rebecca Jones also found a note in a similar dress from Primark which read "degrading sweatshop conditions."