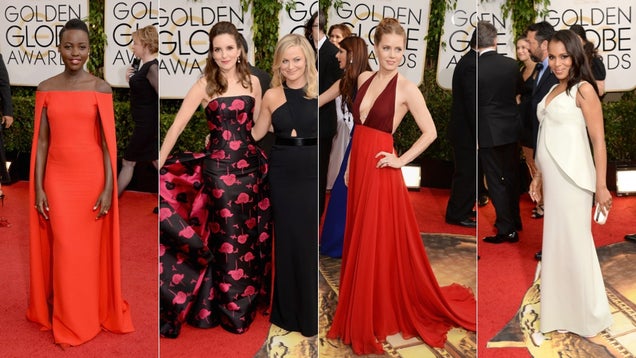 S
IT'S TIME FOR THE GOLDEN GLOBES, EVERYONE! The red carpet has been rolled out (and leaked sewage upon), and all the celebrities are ready to tromp down it, looking gorgeous and/and bizarre.
Here's a compendium of who wore what — I will update consistently as the night unfolds: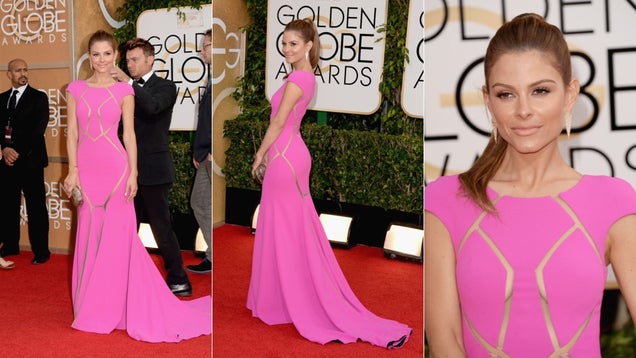 S
Here's Maria Menounos flaunting some delicate strips of sidebutt and innerboob, as well as the famed under-crotch region, in a cutout Max Azria Atelier gown.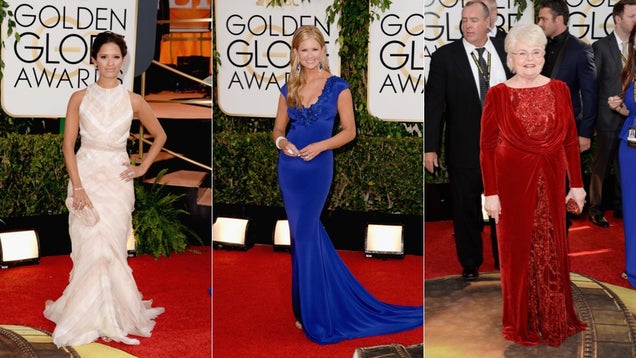 S
TV personality Rocsi Diaz wearing a conceptual mummy costume; Nancy O'Dell channeling the Heart of the Ocean; June Squibb contradicting her last name (WHICH MEANS "A NON-MAGICAL PERSON") in a velvet wizard drape.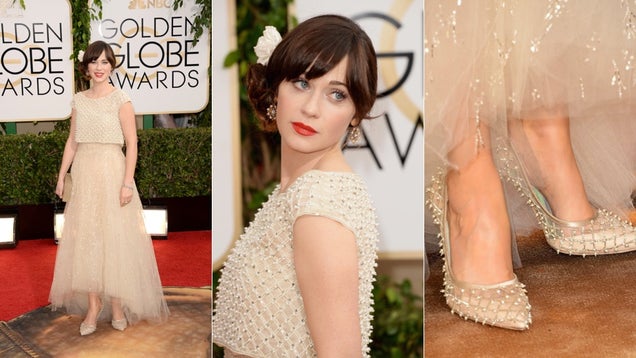 S
Zooey Deschanel going for a romantic dominatrix ballerina clad in beige vibe (???) in Oscar de la Renta. "She can water it with water that exploded on the red carpet," quoth Erin Ryan in response to my query "Why is she wearing that stupid flower in her hair?"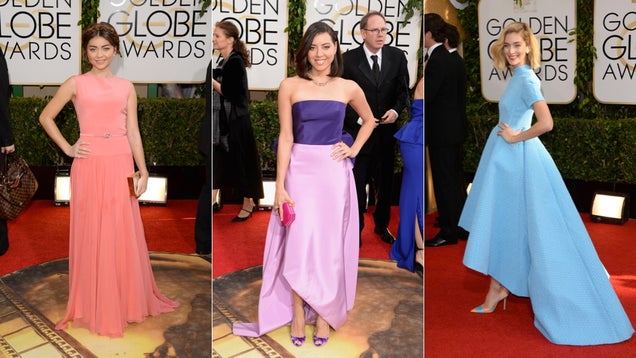 S
Pretty in pastels: Sarah Hyland in princess pink and a braid crown; Aubrey Plaza and Caitlin Fitzgerald, both of whom are wearing crazy shoes.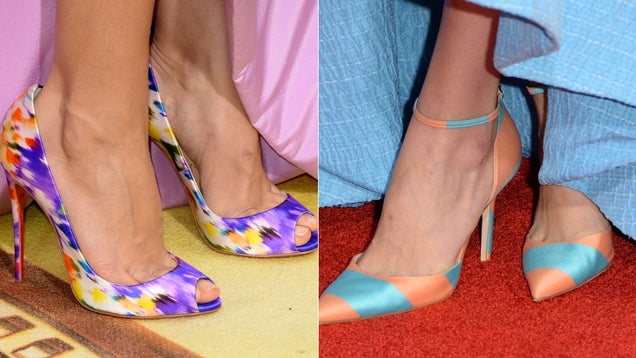 S
SERIOUSLY, LOOK AT THESE SHOES. Caitlin Fitzgerald's look like they belong in Candy Crush.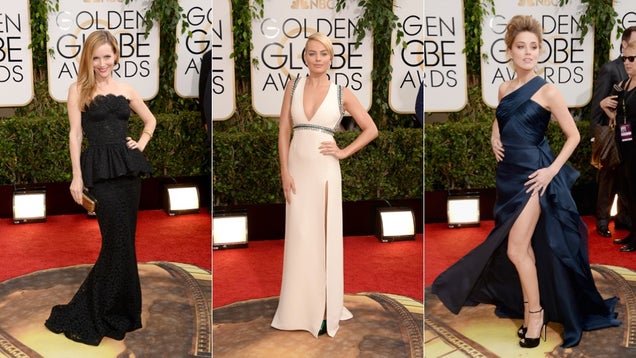 S
Leslie Mann looking like a beautiful peplum-sorceress; Margot Robbie in Not The Most Interesting Gucci dress ever designed; the entire lower portion of Amber Heard's body is poking out of her very serious thigh-slit.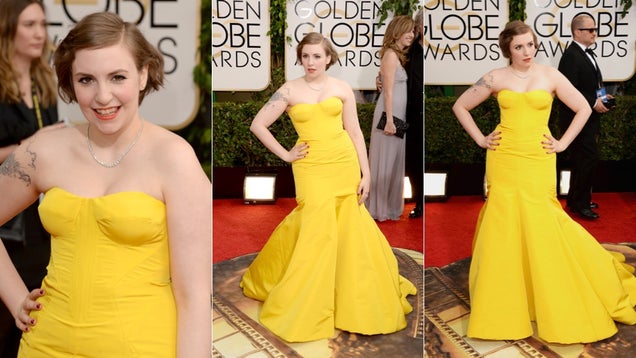 S
WE'VE GOT LENA DUNHAM, PEOPLE!!! She looks great in a very bright Zac Posen number. It appears that she was instructed to have a minimum of one hand on her waist at all times.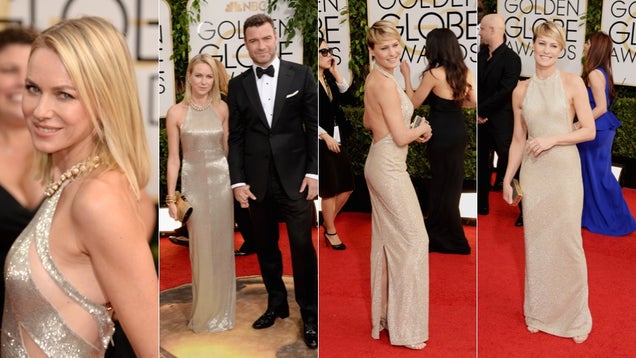 S
Naomi Watts and Robin Wright both wore iridescent golden halter dresses! Naomi Watts accessorized hers with Liev Schrieber.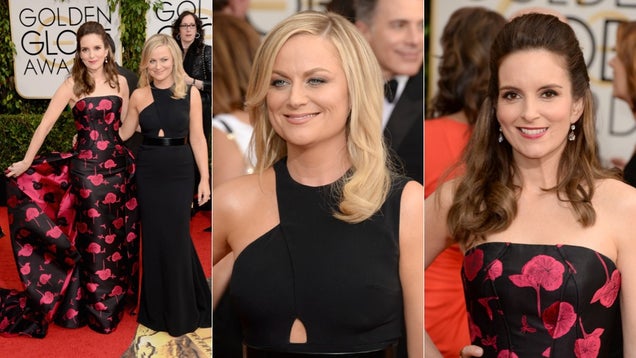 S
Tina Fey and Amy Poehler, our most illustrious hosts, look perfect. Tina is in Carolina Herrera and Amy is in Stella McCartney.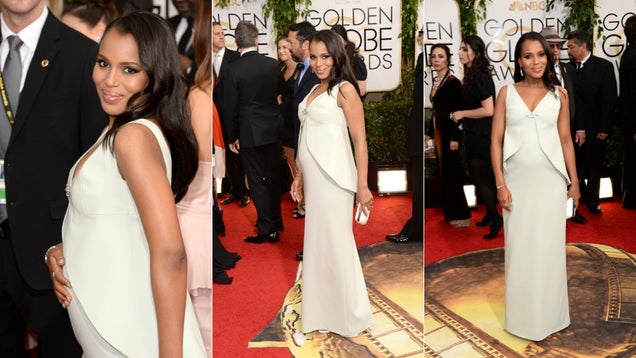 S
KERRY WASHINGTON. LOOKS AMAZING. This is like some Gandalf-inspired maternity couture. A++++.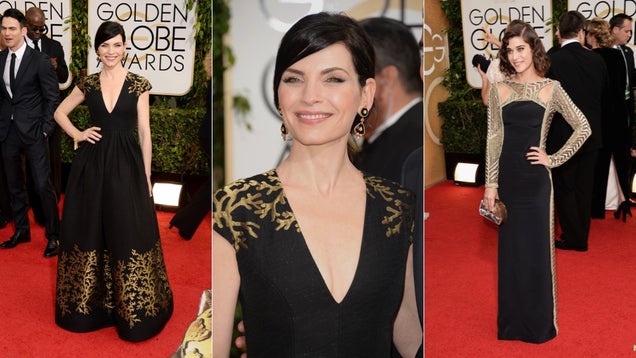 S
Julianna Margulies of The Good Wife is wearing one of the best dresses of the night. I'm not crazy about what Lizzy Caplan has on. My first impression of her dress was, "That looks like a birch tree," if that means anything to anyone.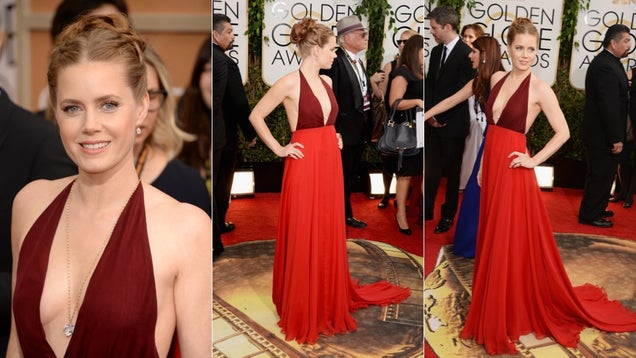 S
Amy Adams gloriously sticking with that "extremely lowcut dress" thing she perfected in American Hustle. Yaaaaas.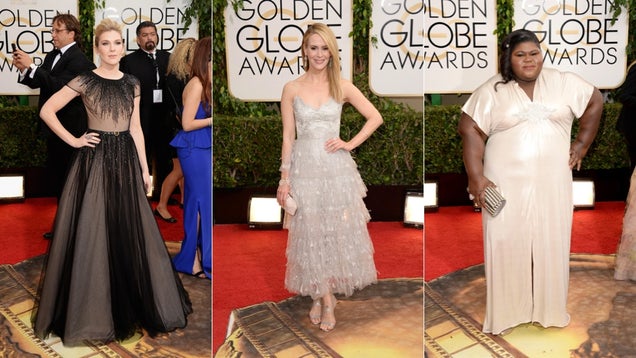 S
Some AHS: Coven ladies. Lily Rabe is the Supreme of everything in this goth-y, regal gown. Sarah Paulson's dress is a bit too juvenile-looking for me. Gabourey Sidibe joins Team Iridescent Gold Dress and looks lovely doing so. Her hair!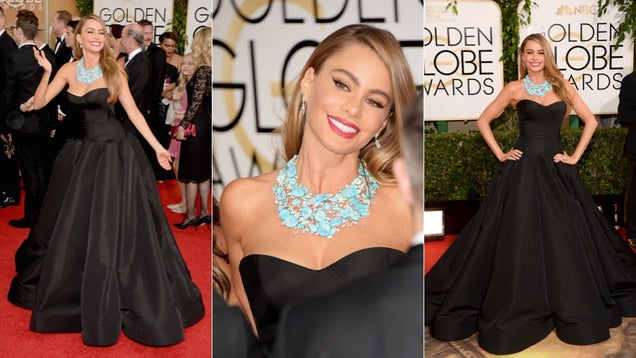 S
SOFIA VERGARA. Eschewing subtlety, she is wearing the most voluminous gown of all time and also a giant necklace. Am I the only one who thinks like she looks like a high-fashion spider? I'm probably not.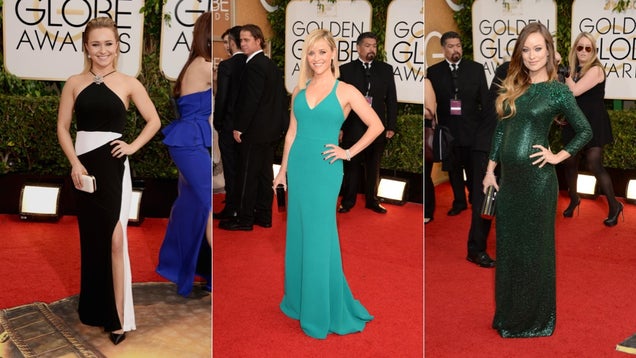 S
Hayden Panettiere is wearing my least favorite hair trend of all time but also a mod Tom Ford Dress. Reese Witherspoon plays it safe in a simple emerald gown. Like Kerry Washington, Olivia Wilde has completely nailed maternity red carpet fashion, opting to wear a glittery, slinky Gucci dress.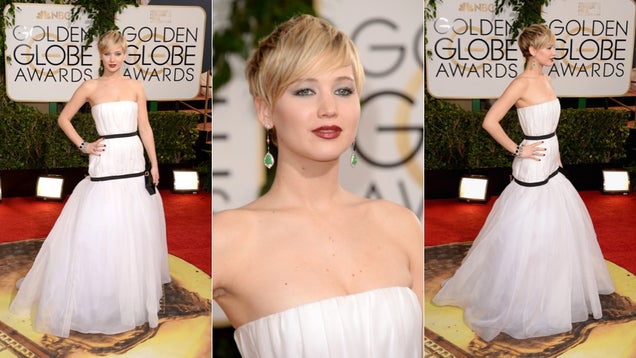 S
Jennifer Lawrence! In Dior! (WHO WOULD HAVE GUESSED?) This Dior dress happens to be a belted ethereal sack. She still looks great, though.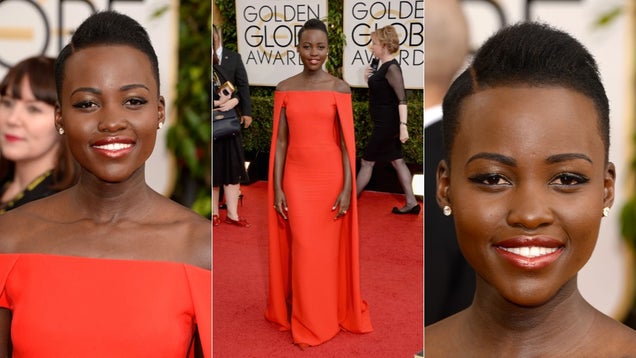 S
Lupita Nyong'o, in Ralph Lauren, looks better than everyone in existence because duh. And she does it so effortlessly! LUPITA 4EVER.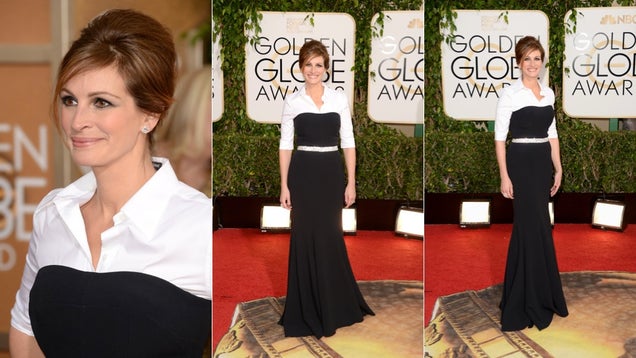 S
Ooooof. I think Julia Roberts has the first bad look of the night. She looks like a chaperone at a first grade Thanksgiving pageant (Team Pilgrim).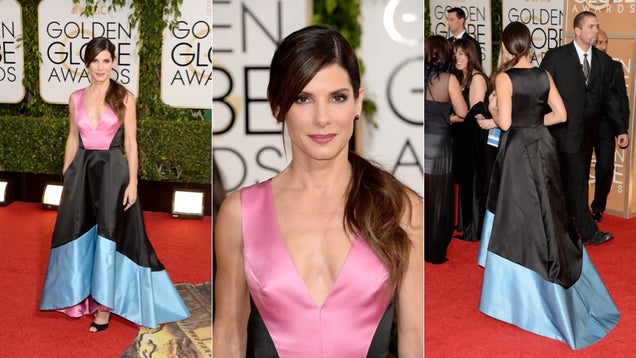 S
Ok, not sure how to feel about Sandra Bullock's dress, by Prabal Gurung. It looks like a Bauhaus depiction of the Daily Show's vagina costume on the top — but that could be a good thing!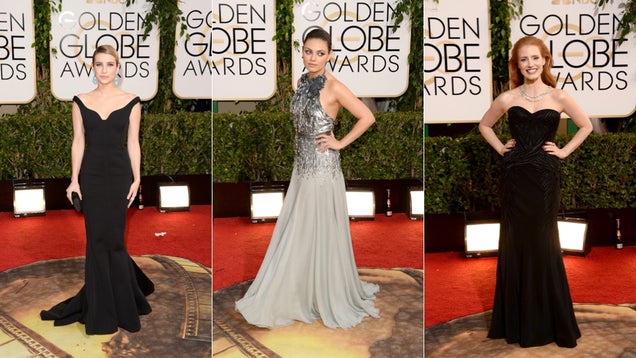 S
Looking very elegant/slinky, we have Emma Roberts (whose dress doesn't fit as well as it could and who is wearing some chandelier earrings I would have coveted in sixth grade), Mila Kunis looking stunning in sequins, and Jessica Chastain in a fairly simple Givenchy design.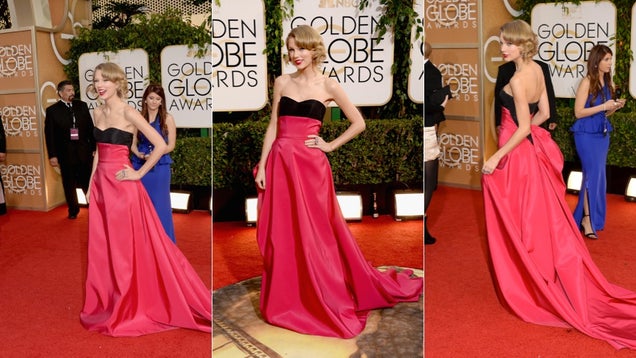 S
Taylor Swift loves looking Old Hollywood-esque and glamorous. She can't get enough of it. Here she is up to her old tricks, wearing Carolina Herrera.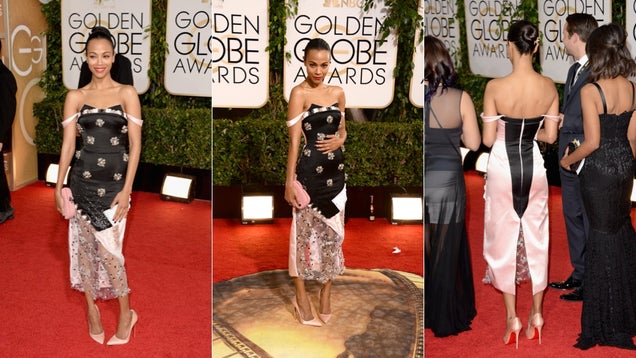 S
Zoe Saldana wore a very daring Prabal Gurung off-the-shoulder dress.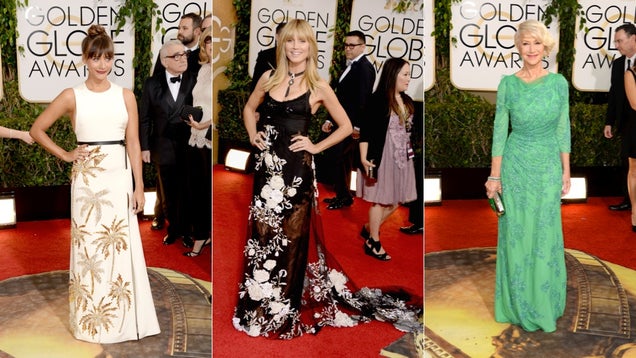 S
Some fauna-patterned ensembles, none of which look too great: Rashida Jones in a top-knot, Hedi Klum in a choker; Helen Mirren in the glory of Helen Mirren.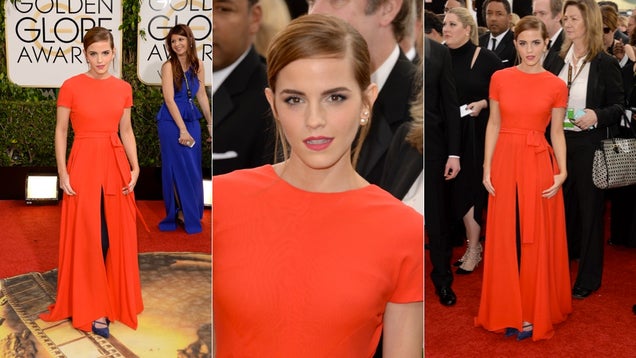 S
EMMA WATSON WORE A FORMAL ROMPER. And also figured out one facial expression that worked and stuck with that.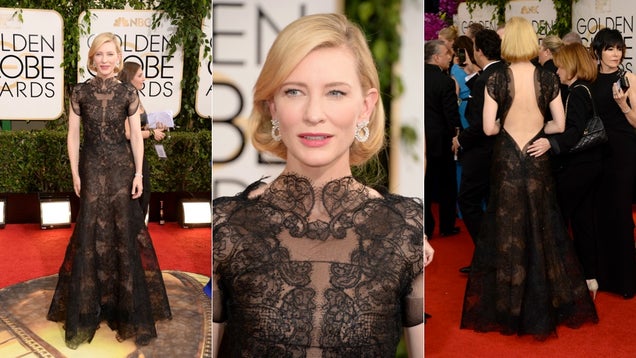 S
Cate Blanchett had another one of the night's best looks; this Prabal Gurung gown is the stuff of beauteous dreams, and she looks amazing in it.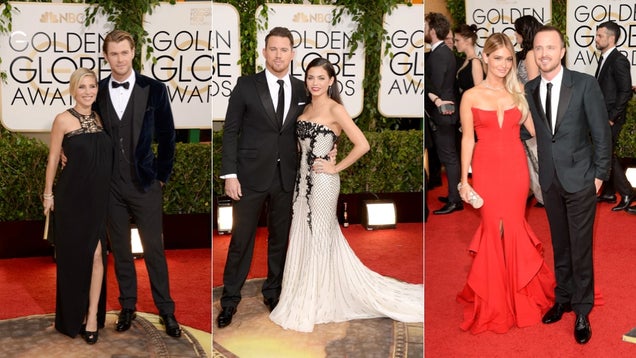 S
Some couples, for your viewing pleasure: Chris Hemsworth and Elsa Pataky; Channing Tatum and Jenna Dewan; Aaron Paul and Lauren Parsekian.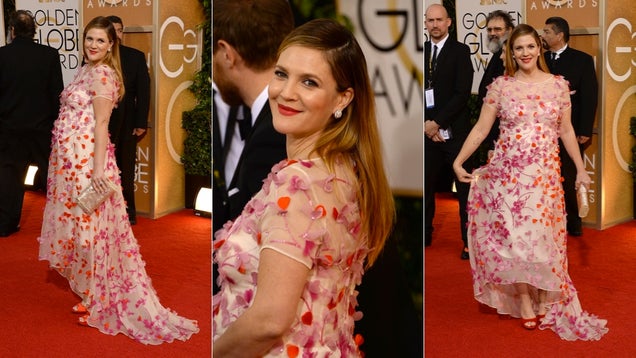 S
Drew Barrymore with a third take on maternity couture, looking simply radiant.