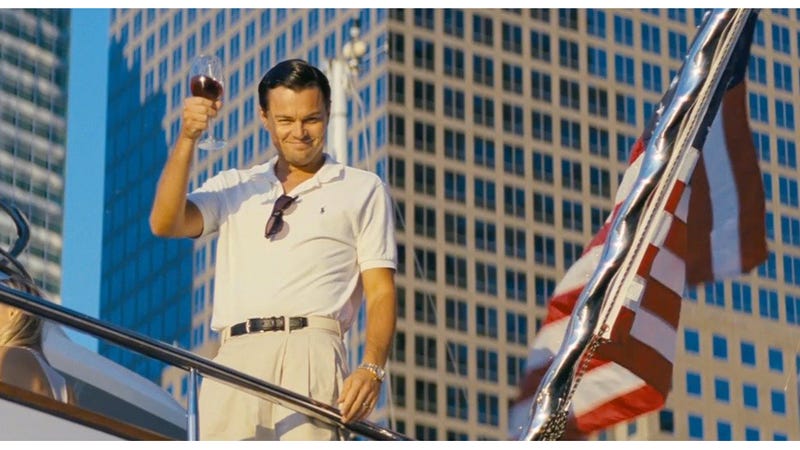 Dear Man I Sat Next to at the 3:10pm showing of Wolf of Wall Street at the Regal Cinemas L.A. LIVE Stadium 14,
I know it's very important for you to see Wolf of Wall Street because of the amazing review you read in the New Yorker. I, too, was interested in seeing Martin Scorsese unleash "furious, yet exquisitely controlled, kinetic energy, complete with a plunging and soaring camera," and I wish I could've taken the time to ask you what you thought of the "swirling choreography on a grand scale."
But you were too busy.
By the way, what'd your kid think of Jonah Hill's dick?
You seemed to really enjoy the movie, as evidenced by the way you were rhythmically eating popcorn and nodding along with Leonardo DiCaprio's cronies. I noticed this because I could not keep my eyes off your fucking five year old watching a sex orgy on a yacht. I wish we could have talked about the movie after, but you were too concerned with getting your small child into his coat and, well, I know that's an ordeal. Maybe you were hurrying to the next showing of the new James Franco leather film? I hear there's lots of dick but much less blow in that one.
My main concern here is that I'm pretty sure your child didn't even enjoy the movie. I want to believe that the only reason you would bring a five year old to see the filthiest film of the year that's not actual porn is because he's the boss in your relationship and bullied you into taking him. Hey, maybe he's interested in considering the feminist implications of such a film? Or perhaps we're dealing with a tiny genius who's studying Scorsese in hopes of getting into NYU film on full scholarship next year? Hold up, do you have the number for the MacArthur grant people? They should probably be in on this.