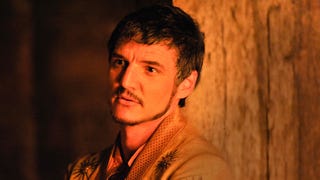 You'd think we'd have learned by now not to get too attached to anyone on Game of Thrones. The show seems to take perverse glee in destroying our emotions. Even knowing what was coming, though, didn't make me ready for it.
(Spoilers ahead, of course.)
I started writing this last night, while the episode was still airing, unable to bring myself to watch. Having read the books, I already knew what was going to happen, and it left me a nauseous, emotional wreck. I watched Ned Stark die and felt nothing, I handled the Red Wedding without batting an eye — but I don't think I'll ever be able to watch this episode. If I don't see it with my own eyes, maybe a part of me can pretend it didn't happen. But I know the truth: Oberyn Martell, the most important male bisexual character in TV history is dead.
I'm more than slightly insane when it comes to stories. I look up the plot synopsis and ending to any dramatic show, movie, or book before I watch or read it — I hate surprises specifically because of situations like this. So because I'm a neurotic mess of a human being, I knew where this was headed from moment one. Obviously, I was far from alone. Anyone who'd read the books (or is as much of a lunatic as I am) knew we'd love Oberyn as long as Pedro Pascal was even half-awake at the wheel — as it turned out, he was so perfect for the role that everyone basically shut up with the "he's not dark enough" stuff as soon as he hit the screen. What we didn't know is just how much he'd mean to us.
Before fans of the Doctor Who spinoff series Torchwood say anything, I'm aware of the existence of Captain Jack Harkness. I know that the Torchwood character is bisexual, and that he actually mocks the "narrow" 21st century sexuality paradigm during the pilot. Two reasons why he isn't as significant as Oberyn Martell, though: 1) Torchwood was a lesser show on a lesser network (don't even pretend you don't know this is true), and 2) having a time-traveling space pirate be into both men and women doesn't quite count, at least not in the same way. The very fact that he mocks the sexuality paradigm hurts his case because his existence is inherently othered, and his bisexuality is a tacit admission of our own otherness in contemporary society.
Oberyn, though, is a product of the same (albeit fantasy) universe that created everything else in Game of Thrones. Dorne is seen as exotic and different from the other Westerosi kingdoms, true, but even that's a sly point in his favor: it's as if Martin's intent was to point out the obvious truth that people would be a hell of a lot less hung up on the definition of their own sexuality (and there would be a hell of a lot more openly bisexual men) today, rather than in the future, if the culture that produced them didn't place sexual orientations within a hierarchy of value. It's strange, but Westeros resonates more with reality than Torchwood's fictionalized version of actual reality. I watched both shows after I came out, and only one of them hit me in the feels. That isn't nothing.
There's another difference, too: while Captain Jack laughs off concerns about his sexuality, Oberyn comes at them confrontationally. He's asked the question by Olyver (the man he's in mid-orgy with, no less): "You really prefer both boys and girls?" and Oberyn treats the query like the absurdity every bisexual knows it is. I guarantee you that every single out bisexual of both genders has been asked that question at least once. Even being asked hurts: would you ask a gay man if he was sure he was into dudes?
Oberyn, for his part, points out that it's a ridiculous question. Then this exchange happens:
Olyver: "Everyone has a preference."

Oberyn: "Then everyone is missing half the world's pleasure. The Gods made that, and it delights me. The Gods made this...and it delights me. When it comes to war I fight for Dorne, when it comes to love...I don't choose sides."
I've spent thousands of words trying to explain my bisexuality, and a fictional character needed only 42 of them to do a better job of it than I ever could.
It's worth noting that in the books, Oberyn is only rumored to be bisexual — there's never any confirmation on the page. The same was true of the relationship between Renly Baratheon and Loras Tyrell back in season one. David Benioff and D.B. Weiss knew EXACTLY what they were doing in both cases — showing Oberyn (and Renly) in that capacity was a call they didn't have to make, but they chose to do it anyway. Say what you will about any of their other choices (and there's a lot that needs to be said), but on this particular call, I can't thank them enough.