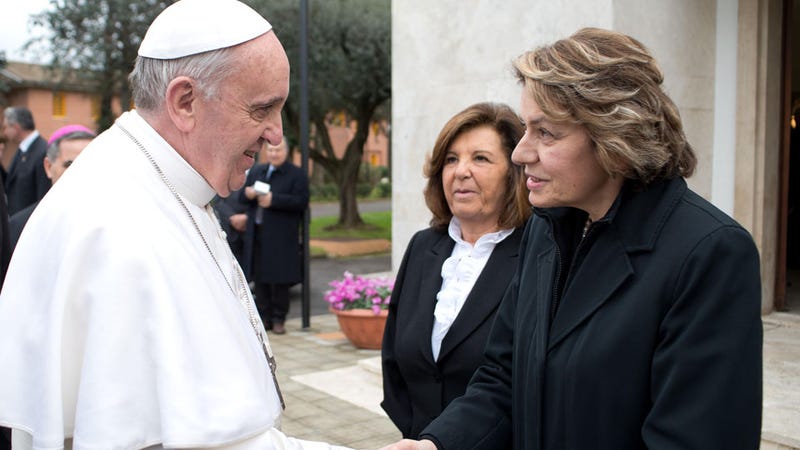 Pope Francis called women "fundamental" to the Catholic Church today, angering Catholics who believe women should stay away from holy matters because Jesus preferred bros to hos. Is the pope a feminist?!? Let's break it down.
What He Said
From Reuters:
Francis, elected last month as the first non-European pope in 1,300 years, said women had always had a special mission in the Church as "first witnesses" of Christ's resurrection, and because they pass belief onto their children and grandchildren.

"In the Church, and in the journey of faith, women have had and still have a special role in opening doors to the Lord," Francis told thousands of pilgrims at his weekly audience in S. Peter's Square.

He said that in the Bible, women were not recorded as witnesses to Christ's resurrection because of the Jewish Law of the time that did not deem women or children to be reliable witnesses.

"In the Gospels, however, women have a primary, fundamental role ... The evangelists simply narrate what happened: the women were the first witnesses. This tells us that God does not choose according to human criteria," Francis said.
What Conservatives Think
The Vatican's official stance on ladies is that women can't be priests because Jesus Christ chose only men as his apostles. Conservatives employed the same argument last week, when Pope Francis dared to wash two women's feet on Holy Thursday, angering Catholics who consider the custom a re-enactment of Jesus washing the feet of his apostles, who were all dudes. We could spend a significant amount of time listing things Vatican officials do that Jesus did not do — use running water, not get crucified, etc. — but, somehow, I don't think that will stop them from bringing up the "What Would Jesus Do? NOT hang with women" argument.